2021 Australian Young Horse Championships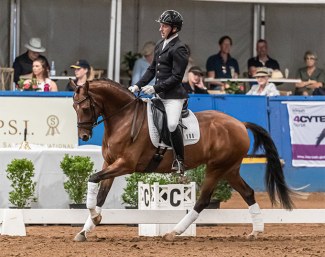 The 4-year old Tamlyn Farm Calamity Jane, the 5-year old Freemanslodge Divine Essence, and the 6-year old Belmore Park Perfect Timing became the winners of the 2021 Australian Young Pony Championships held at Dressage & Show Jumping with the Stars in Werribee, Australia, on 17 - 20 March 2021.  
At the end of the show Tamlyn Farm Calamity Jane was also proclaimed the Pony Champion of Champions. 
Performance Sales International has been the long-time sponsor of the Australian Young Horse Championships at Dressage with the Stars, which has included pony classes for the past decade.  
The Pony Championships consists of two rounds with the first being a warm up, an intermediairy consolation round followed by an official second, finals round of which the ranking counts for the medals.
4-YO: Tamlyn Farm Calamity Jane
The 4-year old pony finals were judged by Maria Schwennesen, Chris Sievers and Luciano d'Elia.  Justin Worthy and Mardi Ramsay's German Riding pony mare Tamlyn Farm Calamity Jane  (by Cheval De Luxe x Gandalf) became the winners of the 4-year old pony class with a score of 83.80. The pair moved from a second place in the warm-up round with 81.80%. Bred by Andrea Taylor, Calamity Jane scored 8 for walk, 9 for trot, 8.2 for canter, 8 for submission and 8.7 for perspective in the finals. 
The runner-up was Karen Blythe aboard the Welsh pony Long Park Lucky (by Bookra Sovereign Edition x Rosnaree Cascade). Bred by Julie Tozer and owned by Emma Turnbull, this pony scored 8 for walk, 7.5 for trot, 8 for canter, 7.9 for submission and 8.2 for perspective to finish in silver medal position with 79.200%
Andrea Newlands and Grenwood Rendition surged from a 7th place in the warm-up to a bronze medal earning third place in the Finals. The 19-year old Newlands rode the Welsh bred Rendition (by Grenwood Revelation x Grenwood Shakespeare) to a 7 for walk and trot, 8 for canter, 7 for submission and 7.5 for perspective to finish on a total of 73.00% Rendition is bred by Sabina Helmgens. 
5-YO: Freemanslodge Divine Essence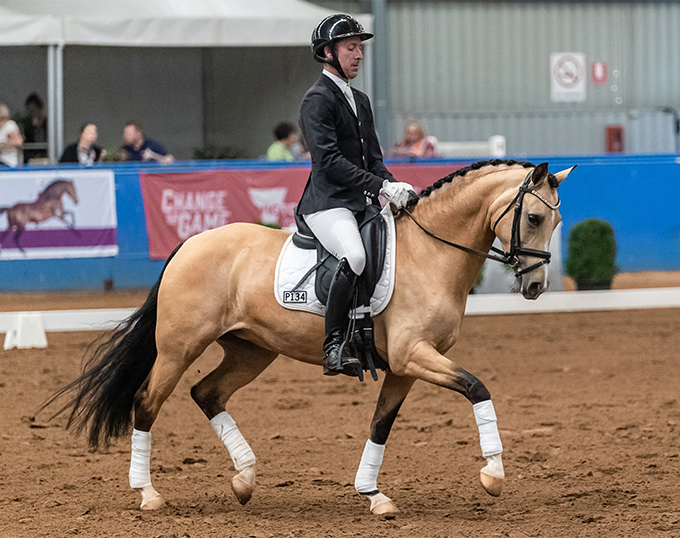 The 34-year old Justin Worthy collected his second gold medal and title of the weekend in the 5-year old pony finals, which were judged by Virginia Creed, Connie Murray and Helen Heagney. Aboard Vicki Chidgey's German riding pony Freemanslodge Divine Essence (by Classic Dancer x Bodyguard P), Worthy scored 84.000% for the victory after placing third in the warm up with 78.20%. His pony got 8.7 for trot, 9 for walk, 7.8 for canter, 8 for submission and 8.5 for general impression in the finals. 
The silver medal went to Annie Creed aboard Welsh pony Brookside Shazam (by Dracmoore Firestorm x Top der Da). The winner of the warm-up dropped to second place in the Finals with 83.80%. The 20-year old Creed rode Shazam, who is bred by Leisha Salter, to 9s for walk and trot, 8 for canter, 7.5 for submission and 8.4 for general impression. 
Clair Arnold and her own Welsh pony Fawks Crocodile Rock (by Burrowa Rockstar x Abergavenny Achilles) got the bronze with a 79.00% earning finals test. They moved from a fourth place in the first round onto the third step of the podium in the Finals after posting 8 for walk and trot, 8.2 for canter, 7.4 for submission and 7.9 for general impression. Crocodile Rock is bred by Fern Wright. 
6-YO: Belmore Park Perfect Timing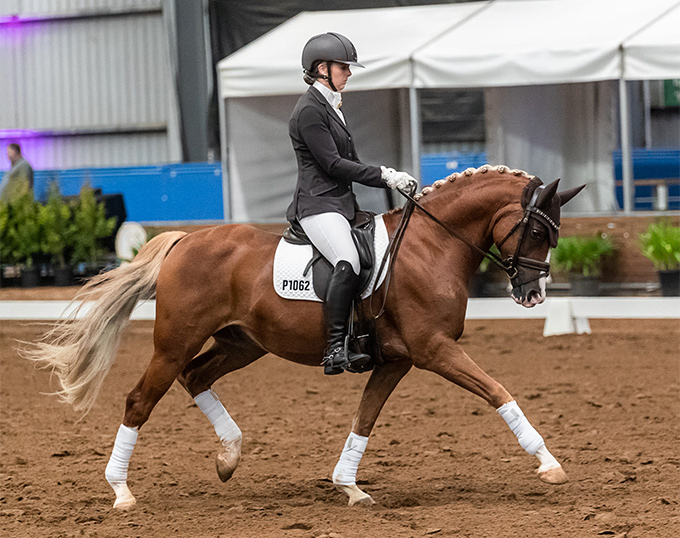 Just three pairs competed in the 6-year old division of which the finals were judged by Creed, Murray and Heagney.  The 29-year old Faye Hinchcliffe and Belmore Park Perfect Timing persevered and grabbed the title after winning the warm-up round. The pair scored 82.00 for gold with the pony receiving 8 for walk, trot and canter, and 8.5 for submission and general impression. Perfect Timing is owned by the breeder, Siobhan Belmore. 
The 15-year old Ava Braniff rode Gaylene Whitten's Welsh cross Buckwell Park Peter Pan (by Indi Pavarotti) to silver with a 75.600% earning test. The pony received 7.5 for walk, 7.8 for trot, 7.6 for canter, 7.3 for submission and 7.6 for perspective. 
The 52-year old Jenny Bray and Ann Newman's Welsh pony Laceby Park Jazz (by Owendale Jordan x Joelyn Wee Jasper) completed the top three with a 68.20% score. The pony got 7.3 for walk, 6.8 for trot, 7 for canter, 6 for submission and 7 for perspective. 
Photos © Simon Scully Photography
Results - 2021 Australian Young Pony Championships - Werribee
4-year olds - Finals
1. Justin Worthy - Tamlyn Farm Calamity Jane (by Cheval De Luxe x Gandalf) - 83.80
2. Karen Blythe - Long Park Lucky (by Bookra Sovereign Edition x Rosnaree Cascade) - 79.20
3. Andrea Newlands - Grenwood Rendition (by Grenwood Revelation x Grenwood Shakespeare) - 73.00
4. Natasha Moody - Penmain Puddles (by Triple Trees Prince Perfect x Penmain Posh) - 72.80
5. Aulikki Laver - Cantik Park Tribute (by Triple Trees Prince Perfect x Boston Bittermint) - 72.10
6. Justine Greer - Hollingrove Nova Scotia  (by Noble Dancer x Belissimo M) - 71.20
7. Steph Hann - Rainbow Dancer BHI (by Diamond Dancer BHI x Weston Park Verdasco) - 71.10
8. Leisha Salter - Brookside Grand Illusion (by Dracmoore Firestorm x Top der Da) - 69.400
9. Bettina Kopetzky - San Sebastien (by Owendale Sunstone x Don Ramiro) - 68.80
9. Steph Hann - Golden Delight BHI (by Hilkens Black Delight x Golden Dancer) - 68.80
5-year olds - Finals
1. Justin Worthy - Freemandslodge Divine Essence (by Classic Dancer x Bodyguard P)- 84.00
2. Annie Creed - Brookside Shazam (by Dracmoore Firestorm x Top der Da) - 83.80
3. Clair Arnold - Fawks Crocodile Rock (by Burrowa Rockstar x Abergavenny Achilles) - 79.00
4. Caitlyn Porter - Paradise Valley Cocktail (by Cocktail Zauber x Warrawee Dundee) - 78.40
5. Jodi Dobson - Willaurem Park Sundance (by Noble Dancer x Amaranda Swiss Chalet)  - 74.80
6. Natasha Moody - Colquhoun Park Scarlet (by ?) - 74.20
6-year olds - Finals
1. Faye Hinchcliffe - Belmore Park Perfect Timing - 82.00
2. Ava Braniff - Buckwell Park Peter Pan (by Indi Pavarotti)  - 75.600
3. Jenny Bray - Laceby Park Jazz (by Owendale Jordan x Joelyn Wee Jasper) - 68.20
Related Links
Glamour Rock BHI, Kizashi, Charlie Sheen Win 2019 Australian Young Pony Championships
Palomino Power at the 2018 Australian Young Pony Championships
The Silver Rose, Buckton Thellini, FS Carry Gold Win 2017 Australian Young Pony Championships
Burton Invited as Guest Judge Rider for Australian Young Pony Finals at 2013 CDI-W Werribee
Sugarloaf Sirhara and Rosewater Driving Miss Daisy Win 2012 Australian Young Horse Championships
Annabel Frenzen Guest Judge Rider for Pony Classes at 2011 Dressage with the Stars