The Netherlands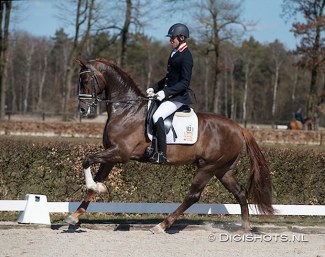 Dutch professional dressage rider and horse dealer John Tijssen has decided to leave his base in Belgium, De Begijnhoeve, and relocate back to The Netherlands.
For the past three years the 37-year old Tijssen has been based at Rob van Puijenbroek's state of the art equestrian facility, first in Retie (BEL) and then at the newly built yard in Mol (BEL). 
As a professional Tijssen worked for Renee Franssen, Joop van Uytert, Huug de Koning and de Dalhoeve, where he rode stallions such as Zhivago, Armani, Dude, and Easy Game, before going independent in Belgium. He has mainly focused on national competition in The Netherlands, and in 2008 won the Pavo Cup on Zuidenwind. His international career is limited to one CDI in Le Mans in February 2018. He trains with Anky van Grunsven and Rieky Young.
Tijssen has moved his 11 horses, including the full brother of KWPN sire Bordeaux, to Julia Groenhart's equestrian centre De Watertoren in Hardinxveld- Giessendam, The Netherlands, where he has rented a stable unit to set up his own business.
"After almost three fantastic years in Belgium at De Begijnhoeve I realised I missed The Netherlands too much," John explained. "When the opportunity arose to go to De Watertorn, where he have family and friends living in the vicinity, we made the decision."
John is joined in the move by his partner, Rob van Rijthoven.
Photo © Digishots
Related Links
Tijssen moves to De Begijnhoeve in Belgium
Zuidenwind and Wynton Win 2008 Pavo Cup Finals
Scores: 2018 CDI Le Mans
Southern Cross Stud Acquires Armani for Hayley Beresford
Zhivago Sold to Canada
Julia Groenhart on the Road to Recovery after Severe Stable Accident