F.O.C.U.S.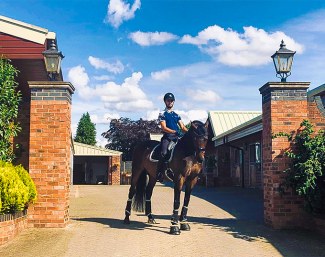 Two-time French Young Rider team member Thomas Bobis disappeared from the international show scene in the autumn of 2016.  In September 2018 he moved from France to Great Britain to take up a working student position with Ferdi and Michael Eilberg. The now 25-year old Bobis has settled down in the U.K., and found his groove.
In the new year 2021 he began his own independent horse training and sales business, based at Vanessa and Henrietta Windsor-Phillips's yard in St. Albans. 
Looking at the Horizon
Thomas began riding as a 3-year old and was initially a jumping rider. His first mare was a trotting horse with which he combined jumping and dressage. In 2010 he quit riding for a while because of a herniated disc; but returned to the sport as soon as he had recovered.
Bobis made his international show debut as a junior rider at the 2012 CDI-J Moorsele aboard Liebenstar, a Hanoverian gelding by Likoto xx Brentano II x Weltmeyer that later on sold to American Heather Rothwell.  
"In 2013, I sold Liebenstar to Stephan and Caroline Cheret. We then became friends and they invited me several times to come over at their yard in New Jersey (USA) to ride and gain experience," Thomas told Eurodressage. "We also went once in Florida for a week where I met Robert Dover who was training Caroline and see the Wellington CDI. For an 18 year old, it was an amazing experience."
Back in France and coached by Laurence Blaya, Thomas moved to international Young Riders level with new mount Woodstock de la Guiche, a Hanoverian by Weltmeyer x Lauries Crusador xx, in 2015.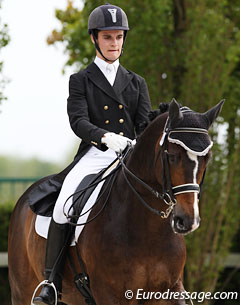 After premiering at the CDIO Compiegne, they were selected on the French team for the European YR Championships in Vidauban, where they were 46th in the individual test. In 2016 they returned on the team for the Europeans in Oliva Nova and finished 32nd in the individual test. It was Bobis' last international show.
At national level, Bobis was reserve French Young Rider champion in 2015. After his second Europeans, Woodstock was partnered with Camille Thibault, while Thomas continued with Marie-Pierre Sangleboeuf's Florenzo and Hit Shot. 
Pink Green Farm
In the summer of 2018 the opportunity arose for Thomas to do an apprenticeship at the Eilberg's Pink Green Farm, which Thomas took with open arms.  It was the start of an adventure in the United Kingdom. 
Half a year into his apprenticeship he made his British show debut at Summerhouse aboard Will.I.Am, a now 8-year old British bred Wawavoom x Rockstar offspring. In 2019 he extensively competed this horse, alongside Christian V (by Christ x Bachus) and MSJ Distinction (by Dimaggio x Caprimond).
His stay with Eilberg was educational and gave him plenty of opportunity to develop himself as a competition rider. In 2020 he got Figlio Ballante (by Fidertanz x Diamond Hit), as well as the Eilberg's two home-bred youngsters Glamour Girl EDH (by Glamourdale x Rockstar) and Fleur EDH (by First Ampere X Woodlander Wesuvio) added to his tally. 
Independence
After 2.5 years under Eilberg's tutelage, Bobis has decided to spread his own wings.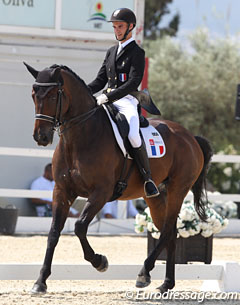 In an interview with Dressprod, he stated that "the Eilberg family guided me in getting my started through the exceptional quality of their training, while offering me the necessary flexibility to develop my own base of clients. We have formed a tightly knit connection with the Windsor-Phillips family and Woodcroft stud."
The 25-year old Thomas and his girlfriend Manon Rigal will be moving their business Smart Move Dressage to the stables of Vanessa and Henrietta Windsor-Phillips, Shafford Field Livery Stud, where they will train young horses and sell some. At the same time they will collaborate with Woodcroft stud, with which he already been working for the past year.
To Eurodressage, Bobis explained that, "the Windsor Philips' are a British family who have been very successful in showing winning several times at HOYS. They have now moved into dressage and we are working together to build a small but super qualitative unit with aims to compete at international level in the future. We share the same vision about the importance of ethics and patience regarding this project of producing horses which is a long term one. Therefore, we have chosen together some young horses to go through the levels and build an international career. We will have a select few for sale,but very few because again we want to produce the horses following ethics, quality and longevity principles."
Bobis does not think of returning to France anytime soon.
"I came to the UK for the horsemanship and the quality of training but I also found a real dynamism and craze around dressage. I love my country but I fell in love with British Dressage," he told Eurodressage. "Nothing would have been possible without the horsemanship and riding skills I gained with the Eilberg family where Michael has been real mentor, and for that I could not be more thankful."
Photos © private - Astrid Appels
Related Links
French Teams Selected for 2016 European Junior/Young Riders Championships
French Teams Selected for 2015 European Junior/Young Riders Championships
Pinto, Chevanne, Ducos Blanchet, Judet Cheret Win 2015 French Youth Riders Championships
French Dressage Groups for 2012 Announced
Ferdi Eilberg: Meet the Eilbergs