FEI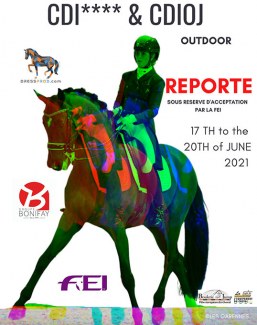 The international FEI Dressage calendar continues to undergo changes due to the ongoing corona pandemic and national travel and health restrictions. 
2021 CDIO Falsterbo Cancelled
The Falsterbo International Horse Show decided to cancel the Dressage Nations Cup as the best riders will already be preparing for the Tokyo Olympics and will not attend Falsterbo.
"The dressage combinations, who will participate in the Olympics, are already in Tokyo when Falsterbo takes place," said Jana Wannius, chairman of Falsterbo Horse Show,. "Therefore, instead of international dressage, we will arrange two national Grand Prix classes, a GP and GP Kür in which the Swedish elite can compete. All national dressage classes for young horses, young riders, ponies and amateurs will be carried out according to plan."
2021 FEI Nations Cup Series in "Light" Version
After the entire cancellation of the FEI Nations Cup series in 2020, the  2021 edition is losing force each week as more shows get cancelled.
Of the original six legs, two have been cancelled: the CDIO Alter do Chao in Portugal due to lack of entries and corona restrictions and Falsterbo, who knew that its dates were close to the Tokyo ones when it rescheduled last year for 2021. 
Two CDIO's have already changed dates: Rotterdam has been moved by one week and the CDIO Aachen (30 June - 4 July) has been moved to mid September
The other CDIO this year that remains unaltered so far is Compiegne on 27 - 30 May.
CDI Le Mans Hopes to Reschedule for June
The CDI 4* and CDIO-J Le Mans, which was supposed to take place on 28 April - 2 May 2021 has been cancelled. The organisers have requested new dates for 17 - 20 June 2021.
"Because of the health measures concerning Covid and EHV-1, we are unfortunately obliged to cancel the 4* and CDIO-J, intended for 28 April - 2 May," said Philippe Rossi, who heads the Le Mans equestrian center. "We are waiting for approval from the FEI to host it on 17 - 20 June."
Related Links
2021 CDIO Alter do Chao Nations Cup Dropped, CDIO Rotterdam Looks to Reschedule
FEI Nations' Cup Series for 2021 Announced, New CDIO in Portugal