Belgian Warmblood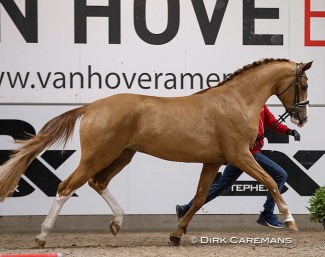 Sunny Boy van de Kempenhoeve has been named dressage champion of the 2021 Belgian Warmblood Stallion Licensing. 
On 12 April the postponed third phase of the licensing took place in equestrian centre Azelhoef in Lier, Belgium.
Six dressage bred stallions were presented to the licensing committee, chaired by Eddy Schuurmans. Two of them were accepted for breeding. 
The champion is Sunnyboy van de Kempenhoeve, bred and owned by Mieke Dries. He is by Don Deluxe out of a Quaterback dam. 
The other licensed stallion is Nashville van de Nethe (by Secret x Polarion), bred by Lieve Berthels of De Nethe and owned by Bertels and Veronique Swagemakers. 
"We saw six stallions and chose to approve two," said Schuurmans. "We are very well aware that were maybe stricter (with the dressage stallions) than with the show jumpers. We recently did a survey amongst dressage breeders and it showed that they believe we are making good progress with dressage, but that we should go faster. With this decision we believe that we can make dressage breeding improve faster. We don't want to put the bar for dressage extra high, but we hope that the breeders support our choice to go for quality."
Photo © Dirk Caremans
Related Links
Five Dressage Colts Move to Third Phase of 2021 Belgian Warmblood Stallion Licensing
Quinten Begijnhoeve, Champion of the 2019 Belgian Warmblood Stallion Licensing
Pegase van 't Ruytershof, Champion of the 2018 BWP Stallion Licensing
Ons Noud, Dressage Champion of the 2017 Belgian Warmblood Stallion Licensing
Naxcel V Named Champion of the 2016 Belgian Warmblood Stallion Licensing
Mac Donovan, Dressage Champion of 2015 Belgian Warmblood Stallion Licensing
Kozinsky van den Dries Approved at 2014 Belgian Warmblood Stallion Licensing
Kasanova de la Pomme, Champion of the 2013 Belgian Warmblood Stallion Licensing
Jappeloup van het Dauwhof, Champion of the 2012 Belgian Warmblood Stallion Licensing
Inshallah de Muze, Champion of the 2011 BWP Stallion Licensing