KWPN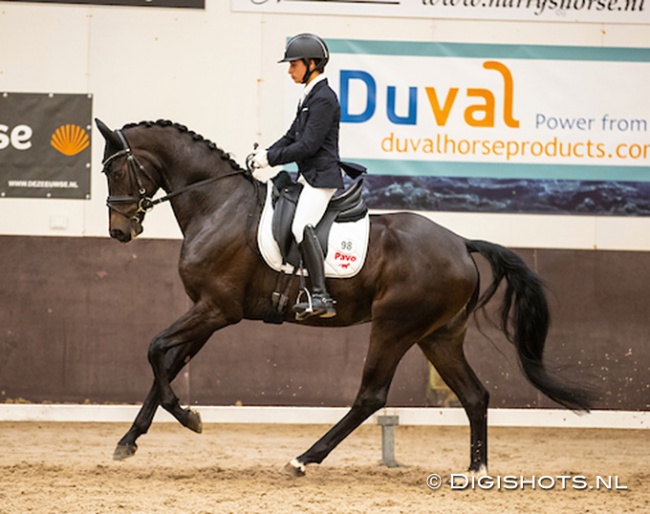 The starters list for the first "selection moment" as part of the Dutch team selection process for the 2021 World Young Horse Championships have been published. 
The 2021 World Championships for Young dressage horses take place in Verden (GER) on 25 - 29 August 2021. 
Dutch WCYH Process
A first selection of a long list of team potentials will be made on two selection "moments", where the selectors will pick a group of the 30 best horses per age division. These two moments are on 20 and 27 April 2021 at the KNHS/KWPN headquarters in Ermelo.
After a long-list has been drafted, three observation trainings will be held between May and August at which the selectors will narrow down the long list to a short list and eventually the team.
All horses that were team selected for the 2020 World Championships can automatically participate in the first observation training.
Starters List First Selection Moment
The first selection moment in Ermelo is on 20 April 2021.
5-year olds
Curro Benitez Sanchez - Lord Platinum (by Ferguson)
Dinja van Liere - Labarron (by For Romance)
Lisanne Veenje - Aftonmora friesians Alco (by Jehannes 484)
Janine Raatjes - Brinkhof's Lots Of Likes (by Grand Galaxy Win)
Roger Schulkens - Lord Heros (by Heros Begijnhoeve)
Kris de Vries - Lexington GS (by Dark Pleasure)
Marije van Thuyl - Tromp - Linvasion (by Sir Donnerhall )
Benedek Pachl - Hexagons Larimar (by Gotcha-Utopia)
Jessica Nijpjes - Luna (by Governor)
Dinja van Liere - Leonidas (by Trafalgar)
Kim Alting - Leonardo Lapache N (by Apache)
Curro Benitez Sanchez - La Luce (by Glamourdale)
Krista Kolijn - Lord Diamond (by Daily Diamond)
Diederik van Silfhout-  L'Addobbo (by Expression)
Benedek Pachl - Louis 14 Sollenburg  (by For Romance)
Emma Laarkamp - Lexus O (by Fürstenball)
Linda Kouwenhoven - Landlord H (by Dante Weltino)
Curro Benitez Sanchez - Le Grand Ayden Hb (by Grand Galaxy Win)
Maybrett Schreur - Lotus (by El Capone)
Gerdine Maree  - Levinus (by Dream Boy)
Janneke van Riet - Lorava (by Giovanni)
Charlotte Fry - Lionell VE (by Negro)
Benedek Pachl - Hexagons Luxuriouzz (by Johnson)
Floor Vos RVS - Glamourboy (by Glamourdale)
Franka Loos - Las Vegas (by Ferdeaux)
Sergio Garcia Bermejo - Hexagons Leon Art (by Ferdinand )
Esther Hoekstra - Lisariska D&E (by Desperado)
Benjamin Maljaars - Lexie (by Galaxie)
Charlotte Fry - Lantanas (by Sir Donnerhall)
Eline van Egmond - Leonardo Da Silica (by Millennium)
Lisanne Boer -  Limited Edition Rw (by Charmeur)
Lisa Minkema - Florus van de Lits (by Jasper 366)
Floor Vos - Lapache DFV (by Apache)
Michelle Bourgonje - Lord's Guardian (by Guardian)
Sanne van der Giessen - Las Vegas (by Jazz)
6-year olds
Chiel van Bedaf - Key-West Texel (by Toto jr.)
Marijke van Giesen - Kurona (by George Clooney)
Marjan Hooge - Kymona (by Johnson)
Diederik van Silfhout - Kyando (by Arlando)
Lisanne Veenje - Wetser RV  (by Hessel 480)
Thamar Zweistra - Hexagons Kaygo (by Carpi Sonne jr.)
Thalia Rockx  - Koko JR de La Fazenda (by Toto jr.)
Annika Roodhart - Kintyre (by Grand Galaxy Win)
Marjan Hooge - Kadans SW (by Vivaldi)
Jessica Nijpjes - Kroonfee (by Expression )
Kris de Vries - King Fan Weerdenbras (by Dark Pleasure)
Jose Kouwenhoven - Verhoef - Kasanova (by Lord Leatherdale)
Kim Alting - Kobalt Spring (by Giovanni)
Nars Gottmer - Kaiser Weltino (by Dante Weltino)
7-year olds
Marijn van Dijk - Journalist (by Charmeur)
Britt Muis - Tomas fan't wegje (by Maurits 437)
Liesbeth Geven - Jamaica (by Jazz)
Japke Heerschap - Kramer - Jenson Button (by Damon Hill)
Charlotte Fry - Especial (by Everdale)
Nars Gottmer - Jaguar (by Spielberg)
Photo © Digishots
Related Links
Eurodressage Coverage of the 2021 World Championships Young Dressage Horses
Dutch Selection Process for 2021 World Young Horse Championships Announced