2021 CDI Camarma de Esteruelas
Last weekend Spanish dressage returned to Madrid to compete at equestrian centre Las Cadenas for the CDI Camarma de Esteruelas. Las Cadenas has became the mecca of Spanish equestrian ballet and hosted the first Spanish CDI3* of the 2021 season.
With more than 130 entries, the show counted "la crème de la crème" of Spanish dressage. Big names such as team riders Beatriz Ferrer Salat, José Daniel Martín Dockx, Claudio Castilla, José Antonio García Mena, Juan Antonio Jimenez, or Jordi Domingo were there among others. Most of the riders were from Spain, but there was a presence of riders from Portugal, Bermuda, Brazil, Sweden, Russia and Cuba.
Several of the national and foreign riders had a clear goal:  get their first or second MER for the Olympics. For the national riders, this show was mandatory by the federation as an observation for the Olympic selection.
Beatriz Ferrer- Salat Reigns Supreme
As if it were the Hunger Games, the competition was very intense, captivating and above all attractive. Twenty-nine riders completed the starting list for the Grand Prix, and 15 riders made it to the Special, four to the Freestyle.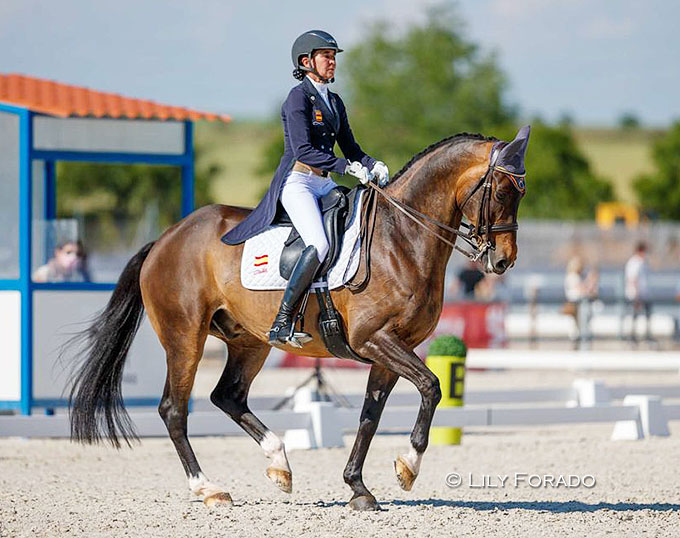 The atmosphere was electrifying and as the Grand Prix progressed, the excitement was higher and higher. And one of the home favourites, Beatriz Ferrer- Salat with her Dutch warmblood gelding Elegance (by Negro x Monaco) did not disappoint. The Spanish dressage queen left the entire audience stunned with her passage-piaffe transitions. They were jaw-dropping. With 75.130% she claimed the first position in the Grand prix.
The second place went to the current Spanish number one pair, Claudio Castilla with his great companion Alcaide (73.978%). The 2019 CDI-W Madrid Horse Week was their last show. In Las Cadenas, they made it clear, that after a year and a half break, they are unstoppable. The chestnut Lusitano by Novilheiro gave all his heart in the arena.
From one Lusitano to another Lusitano, Juan Antonio Jiménez with Euclides Mor (by Riopele x Gingão) completed the winning trio. Beating his own personal best score with a 72.978%, the Olympic rider performed one of his best tests to date.They debuted in 2018 and since then, already in their fourth season,  the pair is a clear example of being solid as a rock.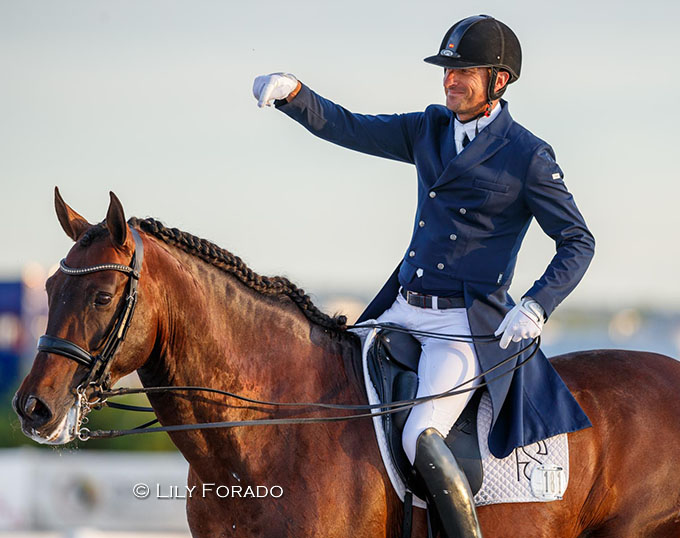 The Iberian horse sandwich continued. José Daniel Martin Dockx with his new rising P.R.E star Malagueño LXXXIII (by Joyero XXIV X Malagueña XXXIV) placed fourth (72.413%). Many times, the role of the P.R.E at the highest level has been questioned, but Dockx together with Paco de Santiago's stallion has proven the detractors wrong, again. The P.R.E horse is a must at the highest levels.
Jordi Domingo with Esprit Dond D (by Johnson x Ferro) closed the top 5 with a 71.717%.  Their international debut says it all. This combination might seem new, but the savoir faire and expertise of Jordi Domingo is - key. Throughout the years, Jordi Domingo has shown that his training system does not fail. Every season he has a new rising star at the highest level. Names like Wonder, Mango Statesman, Mango Eastwood, Dolman, Sonata DSH or Mango Handsome are from Jordi's production line.
Dockx impresses in Special, Jiménez takes the Freestyle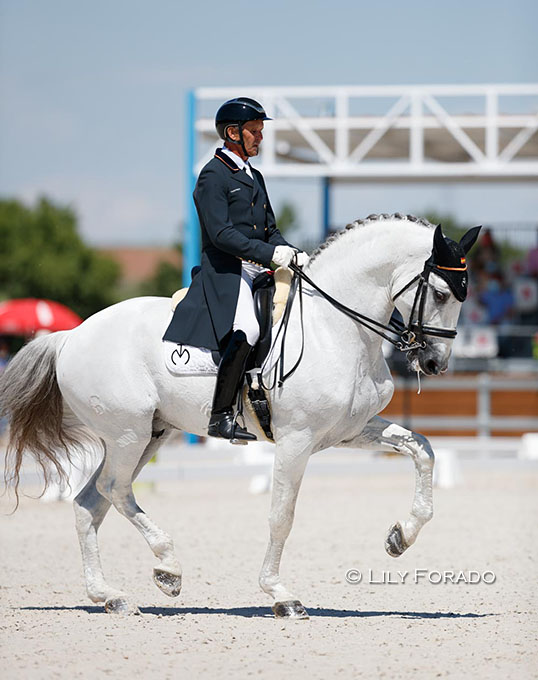 On Saturday, the Grand Prix Special class went to Ferrer-Salat, completing a dressage double victory (74.596%). Martin Dockx was last to go and went for it. The trot extensions were powerful, but the passage was captivating; impulsion, strength and above all elevation and rhythm. This was only the fifth time that this horse completed the Special programme and the progression is simply dizzying. He became the runner up with 73.575%. José Antonio García Mena and his ballerina, Divina Royal (by Desperados) finished third, scoring a 72.213%.
Juan Antonio Jiménez and Euclides Mor rounded out their weekend with the Freestyle victory. Smashing a new personal best with 76.800%, Jimenez rode all the exercises with the music. The piaffe and passage were exquisite. The degree of difficulty of the floorplan was remarkably high. The Olympic rider went from collection to extension with great ease. Jordi Domingo and Dolman (by Lord Loxley x Partout) claimed second place (72.000%), while Agustí Elias danced to third on a score of 69.220% with Altaneiro BCN (by Altivo).
Small Tour Sweep for Guillermo García 
Twelve pairs rode onto the centerline for the Prix St. Georges, but García and Poeta de Susaeta were a league of their own finishing at the top of the leader board. The son of Cacique IX is one of those horses that creates expectation wherever he goes. Poeta de Susaeta is like a masterpiece in terms of P.R.E. Perfection does not exist, but Poeta de Susaeta is close to it, a kind of once in a lifetime horse. He has it all: beauty and functionality.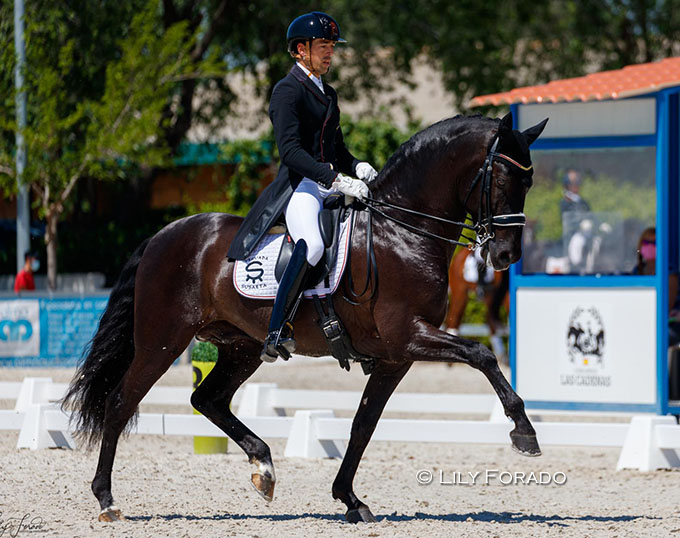 Hyped on social media, the 9-year old Poeta de Susaeta had a three year break from interntional competition. His last CDI start was the 2018 World Young Horse Championships, where he was 22nd in the consolation Finals. At the 2021 CDI Las Cadenes he scored a winning 73,059% in PSG  and 72.029% in Intermediaire I.
Beatriz Ferrer- Salat and the Dutch bred mare First Lady (by San Remo x Tolando) were the runner up in both small tour tests, scoring  72.029% and 70.794%. Completing the winning trio were Juan Matute Guimón and the 8-year old Wurttemberger stallion Birkin (by Bretton Woods x Laurentio). They scored 70,265% and 70.500%. Birkin was presented at the 2016 South German Stallion Licensing in January 2016 but not accepted. At auction he sold for 25,000 euro as a sport horse to Spain.
Text and Photos © Lily Forado, edited by Eurodressage
Related Links
Scores: 2021 CDI Camarma de Esteruelas