Westfalian
The Westfalian breed society has been holding a string of online auctions to market the foals of their breeders. Here is an overview of the best sellers at the last two Westfalian auctions.
12 April - Viva Vitalis
On 12 April, the Westfalian society offered 16 foals for sale in an online auction and 12 of them found new owners. The foals were filmed at the breeder's home instead of centralising them in Munster-Handorf. 
The top priced foal was the filly Viva Vitalis (by Vitalis x Charmeur), bred by B. Wezenberg. A Hessian customer paid 17,000 euro for the filly. 
The filly Viana W (by Valverde x For Romance) sold for 10,500 euro, La Rouge W (by La Vie x Floriscount) sold for 8,250 euro. The pony foal Deep Snow S (by D-Gold AT x Diamond Touch) will start her journey to the USA for 6,750 euro.
The average price for a foal in this auction was 8,917 euro.  
3 May - Deichgraf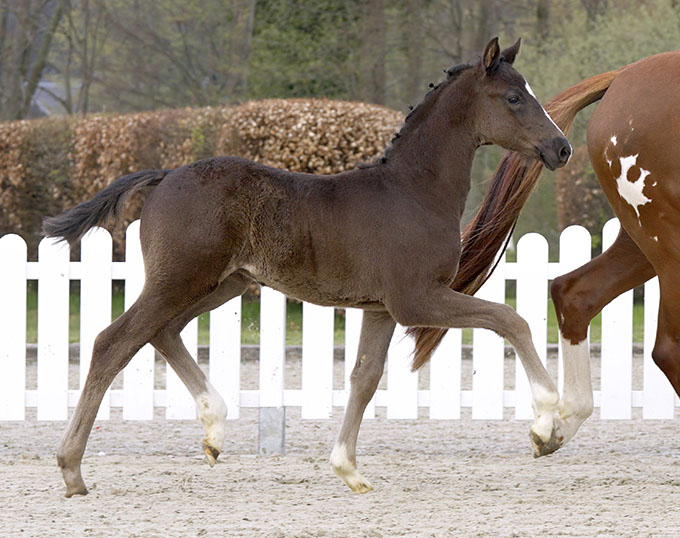 Deichgraf (by Dream Boy x De Niro) became the price highlight of the next online foal auction held on 3 May 2021. Bred by Ludger Wigger-Pieper, the colt was highly coveted and bidders from Ukraine were up against Germans. In the end, a Rhineland based German buyer secured the foal for 60,000 euro. 
The colt Dark Dynamic (by Dynamic Dream x Captain Collin) was the second best selling foal. Bred by ZG Wierling, Dark Dynamic sold to Brandenburg for 40,000 euro. 
Filly Tova Rose (by Total Hope x Furstenball) sold to Ukraine for 17,500 euro. The best selling pony foal was Date 4 You (by Dimension AT x Genesis B). The full brother of licensed stallion Dating AT sold for 13,500 euro. 
Other foals selling for more than 10,000 euro were Zuckerprinz (by Zoom x Furst Grandios - 19,500 euro),  Titania (by Taurus x Rock Forever - 12,000), Sir Weihe (by Sir Donnerhall x Apache - 15,500 euro), Valegro (by V-Plus x Scuderia - 14,000) - Salvador (by Spökenkieker x Franziskus - 12,000 euro), Feingold (by For Gold x Danciano - 12,000 euro), Viel Spass (by Valverde x Fidertanz - 13,500 euro), Zinnamon (by Zackerey x De Niro - 12,500 euro) and Fantissima (by Fusionist x Don Nobless - 10,000 euro).
More than 80% of the foals in this auction were sold. Twenty riding horse foals were sold for an average price of 14,925 euro.