2021 CDIO Compiegne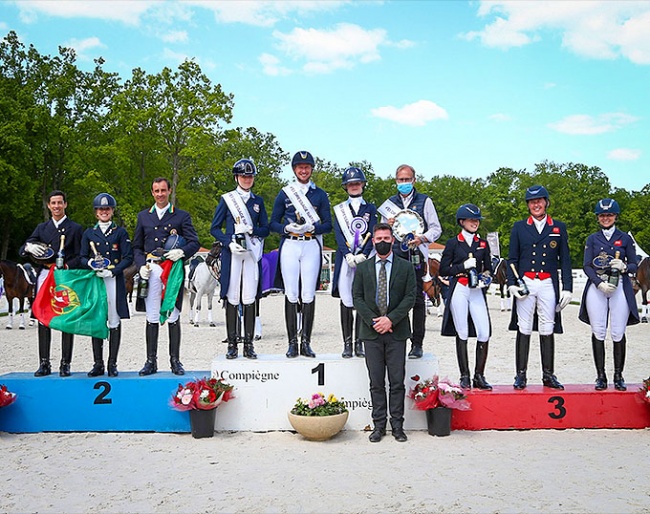 This is a CDI Compiegne press release, a big Eurodressage report of the CDIO Grand Prix with a photo gallery to follow soon
Led by Patrik Kittel, Sweden secured the Nations Cup leg at the 2021 CDIO Compiègne in France, after the overnight leader - Denmark - got removed from the team competition after the elimination of the World Number 6, Cathrine Dufour on Bohemian.
The podium was completed by the surprising Portuguese (Maria Caetano, Joao Torrao, Rodrigo Torres), who landed second place, in front of Great Britain (Louise Bell, Emile Faurie, Charlotte Fry).
Denmark Eliminated
The battle was expected to be fierce. After the Ville de Compiègne Grand Prix on Saturday, Sweden and Denmark were only separated by a tiny point, yet far ahead of the other nations. However on Sunday, the last day of competition at the 10th "Internationaux de Dressage of Compiègne", organised at the Grand Parc equestrian stadium, the suspense didn't last long.
In the Grand Prix Special, Denmark's Cathrine Dufour was unable to persuade her gelding Bohemian (by Bordeaux x Samarant) to enter the arena. The horse spooked at the score board, reared and then refused to set a foot further. A huge disillusion for the rider, who is ranked 6th in the World with this horse and who considers Bohemian her ticket to Tokyo. The pair's last outdoor competition was the CDIO Aachen in July 2019. The elimination of the rider and consequently her team, prematurely brought an end to the Danish hope for the Nations Cup.
Sweden Wins Second FEI Nations' Cup Leg of 2021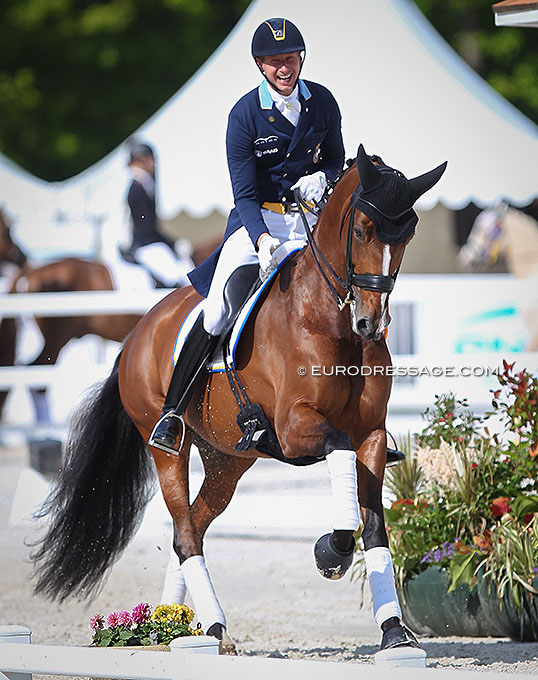 Sweden didn't let the opportunity escape them. With a second and fourth place achieved by the two Ramel sisters in the Grand Prix Special, Sweden took the lead. Juliette scored 76.681% on Buriel K.H. and Antonia posted 74.787% with Brother de Jeu (74.787%). 
At the beginning of Sunday afternoon, under a lovely blue sky and sunny weather, which prevailed throughout the three days of competition, Patrik Kittel, claimed his second victory of the weekend. After already winning the Ville de Compiègne Grand Prix, the German based Swede concluded his Compiègne competition with a second trophy. He took the Crédit Mutuel Nord Europe Freestyle Grand Prix with Well Done de la Roche CMF with an 81.455%.
Two More Legs
The 2021 FEI Nations' Cup Dressage is held in a "light" version as the corona and EHV-1 virus already made two shows drop out. 
The series kicked off in Wellington, Florida, in March, where the German team won. The next leg is the CDIO Rotterdam in The Netherlands on 1 - 4 July, where the Dutch will hold its Olympic team selection trial. The series concludes in September in Aachen. 
Related Links
Scores: 2021 CDIO Compiègne
Charlotte Fry in Peak Condition, Wins 3* Grand Prix at 2021 CDIO Compiègne
Photo Report: Buzzing With Excitement at the 2021 CDIO Compiègne