Germany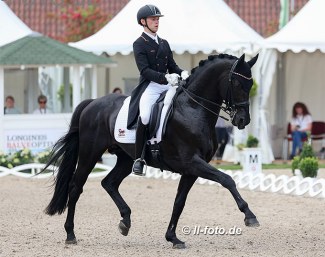 Yesterday evening Raphael Netz officially withdrew himself from the 2021 German Under 25 Kur Championship finals on Sunday 6 June 2021 in Balve after his horse ran a fever Friday night.
The 22-year old Netz and Akane Kuroki's Dutch warmblood stallion Elastico (by Johnson x Concorde) won the silver medal on Friday 4 June 2021 at the inaugural German Under 25 Championships.
Later that evening the horse ran a fever and a PCR test was immediately carried out to check if the horse has become EHV-1 positive. The horse was immediately moved to the quarantine stables on the Balve show grounds. On Saturday night the test results came back negative and the horse's fever had also disappeared.  
Netz and Elastico are based at Jessica and Benjamin Werndl's yard in Aubenhausen, Germany. The three Werndl horses (Dalera, Zaire E and Daily Mirror), who are in the running for German Olympic team selection, were shipped home separately after Jessica won Kur to Music gold on Saturday afternoon.
Elastico returned home Saturday late night in his own lorry. Netz' other two horses he competed in Balve,  Lacoste and Exclusive BB, were also withdrawn from the rest of the show and moved back home.
"In the home stable the hygiene and quarantine measures will be taken," the press release stated. "All three horses arrived well in Aubenhausen this morning," Netz added.
Photo © LL-foto
Related Links
Scores: 2021 German Dressage Championships
Elastico, Second Iron in the Fire for Akane Kuroki