The Netherlands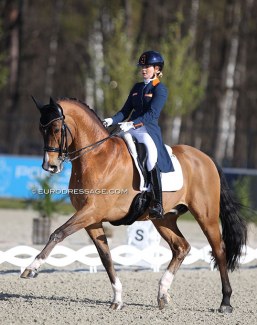 Anne Meulendijks, who was member of the silver medal winning Dutch team at the 2019 European Dressage Championships, has announced that she will no longer ride the Dutch Tokyo team trials with Avanti. 
Meulendijks and her 16-year old Dutch warmblood gelding Avanti (by United x Farrington) can no longer match up to the scoring level of a new generation of horses that came into the spotlight this 2021 show season.
In 2019 Meulendijks made it onto the Dutch team with international Grand Prix scores between 68 .826 (Kronenberg) and 74.326% (Geesteren). In the early autumn of 2019 Anne left her long-time coach Jeanine Fiechter for former Dutch team trainer Sjef Janssen. 
Meulendijks' Olympic campaign for a Dutch team spot took a rocky start in 2021 with a 68.478% test at the CDI Opglabbeek, followed by 70.319% at the CDI Exloo two weeks later. At the first Dutch Olympic team selection trial - the National Championships in Ermelo last weekend - the pair finished 16th with 70.383% in the first round. 
Anne withdrew from riding the consolation final in Ermelo on Sunday and announced that she is pulling Avanti out of the running for Tokyo. 
"Sometimes you have to make decisions that are not so nice, but to me one thing is important and that's Avanti," said Meulendijks, who is also the 2014 European Young Riders Champion and 2017 KNHS Talent of the Year. "Together with the team trainer (Alex van Silfhout) I decided to pull Avanti out of the running to the Games in Tokyo. Avanti is of course 16 and maybe this one year later does not work to our advantage. He is still top fit and I enjoy him every day. I want to continue doing so for a while, so we chose to only ride him at the fun and beautiful competitions."
She continued, "The circumstances in Tokyo are not easy and there is quite a risk, especially for an older horse. We choose for Avanti's well-being so we can enjoy him for longer and have more nice moments together."
Photo © Astrid Appels
Related Links
Anne Meulendijks Gets Second Anky & Sjef Horse to Ride, Issey Myake
Anne Meulendijks and New Ride Edison Dance to Victory at 2019 CDI Kronenberg
Anne Meulendijks Sustains Head Injury in Stable Accident
Anne Meulendijks Named KNHS Talent of the Year 2017
Meulendijks Puts Best Foot Forward and Wins Kur Gold at 2014 European Young Riders Championships