Germany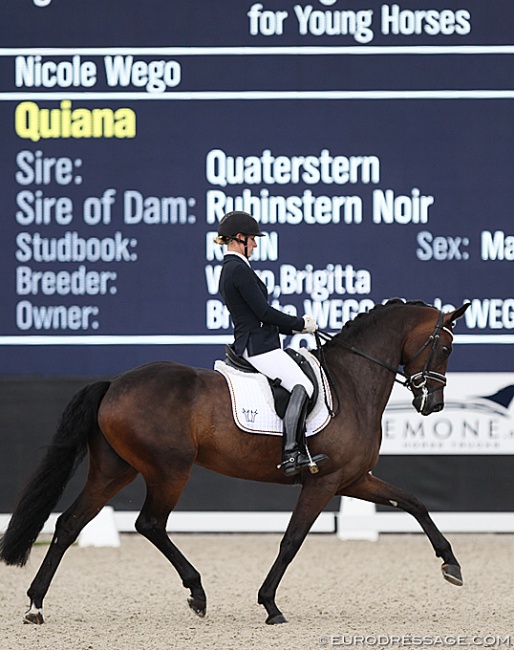 On 21 - 23 June the German equestrian federation is hosting its first of two selection trials for German team selection for the 2021 World Championships for Young Dressage Horses. 
The DOKR carries out the selection of the German horses. Germany is eligible to send 7 horses per age division to the World Championships, which take place in Verden, Germany, the last weekend of August 2021. 
The two German selection trials are held in Warendorf. The first one on 21 - 23 June and includes a training day and a selection day. A long list of horses will be picked for the second selection trial on 26-27 July 2021. 
Entered for these trials are:
5-year olds
Danciero (Hann, by Dancier x Floriscount) - Möller,Eva
Vendome (Hann, by Veneno x Fidertanz) - Strandby Hansen, Anne-Mette
Aringer (Westf, by AC-DC x Ehrentusch) - Taylor,David 
Belvedere DB (Westf , by Belissimo M x Danone) - Wolf,Stefanie
DeLaurentis (Hann, by DeLorean x Stedinger) - Stegemann,Lena
Diaton (Hann , by Dimaggio x Benetton Dream) - Wandres,Frederic
Felissimo (Westf , by Franziskus x Belissimo M) - Wilimzig,Anja
Venezia GV (Westf , by Villeneuve x Fackeltanz) - Durand,Joline
Bohemian (Old , by Bon Coeur x Rotspon) - Casper,Nicole
Bitpanda (Old , by Bon Coeur x Argentinus) - Finken,Holga
Boa Vista (Hann , by Bon Coeur x Scolari) - Heemsoth,Greta
Bollinger (BaWue , by Bon Coeur x Dimaggio) - Fischer,Lukas
Bon Vivaldi NRW (Westf , by Benicio x Vivaldi) - Bewerungen,Eike
Damaschino (Hann , by Danone I x Fidertanz) - Laser,Hannah
Define Dynamic (BaWue , by Danciano x Samarant) - Horler,Lisa
Diamante Negro (BrAnh , by DeLorean x Fürst Romancier) - Busch-Kuffner,Silvia
Dreikäsehoch (Westf , by Dimaggio x Louis le Bon) - Geßmann,Sabrina
Va Bene (Bay, by Veneno x Belissimo M ) - Wadenspanner,Walter
Francis Drake (Old , by Franklin x Don Schufro) - Möller,Eva
EMH Rock'n Rose (BaWue , by Rock my Soul x Sir Donnerhall) - Schepper,Anna-Lisa
Escorial Q NRW (Westf , by Escolar x Flanagan) - Nowag,Bianca
First Vienna (Hann , by Vitalis x First Dance) - Baumgürtel,Lucie-Anouk
Fynch Hatton OLD (Old , by Formel Eins x Sir Donnerhall) - Richter,Leonie
Fürst Knight EDI (Westf , by Fürstenball x Quattro B) - Dominguez Bernal,Manuel
Gran Torino HR (Rhld , by Glamourdale x Londontime) - Reiser,Yvonne
Lorina G (Rhld , by Lord Loxley x Riccione) - Hinkelmann,Nicole
Barcelo (Old , by Bon Coeur x Caprimond) - Frank,Tessa
Moncler (Westf , by Millennium x Ehrenpreis) - Schrödter,Jana
Robert Downey junior (Dt.Pf , by Real Grandios x Santano) - Hartmann-Stommel,Wibke
Serious (Old S, by San Amour x Fürst Romancier) - Tebbel,Friederike
Dirty Mike (Hann, by Dancing World x Riverside) - Vidaurre Puente,Daniela
Total Target (Old , by Total Hope x Bretton Woods) - Ligus,Lars
Final Call (Westf , by Foundation x Dimension) - Strandby Hansen, Anne-Mette
Fürstenerbe (Old R W v. Fürsten-Look x De Niro) - Taylor,David
Ellis (Westf , by Escolar x Dimaggio) - Wolf,Stefanie
Rod Laver (Hann, by Rock Forever x Fidertanz) - Stegemann,Lena
Fürst Bayram (Old, by Fürstenball x Sir Donnerhall) - Wandres,Frederic
Le Vermont (Hann, by Le Vivaldi x Fürst Heinrich) - Zwambagt,Febe van
Global Player (Old, by Grand Galaxy Win T) - Möller,Eva
6-year olds
Riders' names were not published on 21 June 2021
Bakarigold OLD (OLD, by Belissimo M x Bretton Woods
Dalwhinnie (Hann, by Dancier x Farewell III
Dark Diamond HM (by Dante Weltino x Londonderry)
Dark Hill (HANN, by Damon Hill x Stalypso)
Detox (OLD, by Diamond Hit x Florencio)
Danny Cool (DSP by Danciano x Sandro Hit)
Escalla (OLD, by Escolar x Dimaggio)
Escamillo (RHLD, by Escolar x Rohdiamant)
Escona (RHLD, by Escolar x Sir Donnerhall)
Emilia Galotti (RHLD, by Escolar x Fidertanz)
For Sure (HANN, by Finest x De Niro)
Forever Valentine (Westf, by Franziskus x Laurentio)
Fortunity S (Hann, by Franziskus x Weltmeyer)
Forty Seven (OLD, by Fahrenheit x De Niro)
Frizzantino (Hann; by Finest x Quaterback)
Golden Romance Malleret PS (Old, by Governor x Sir Donnerhall)
Jetset (Hann; by Johnson x Beltoni)
Lexicus K (OLD, by Licotus x Davignon II)
Maracana (Westf, by Millennium x Lord Loxley) - Lena Waldmann
Scarlett O'Hara (Westfl, by Scuderia x Laurentianer)
So Unique (Rhld, by Sezuan x Donnerhall)
Special Blend (OLD, by Sezuan x Hotline)
Suarez (HANN; by Sezuan x Desperados)
Tara OLD (OLD, by Tomahawk x Hotline) - Annika Korte
Vivaldon (OLD, by Vivaldi x Diamond Hit) - Isabel Freese
Ferati FH (Hann, by Furst Belissaro x Del Piero - Lucie-Anouk Baumgurtel
7-year olds
Señor Charming (Westf, by Stanford x .Fürst Piccolo) - Soddemann,Kira Laura
Zaeta de Malleret (Old, by Zonik x Sir Donnerhall) - Langehanenberg,Helen
Valverde (Westf , by Vitalis x Ampere) - Reichert,Yara
Zantana (Old, by Zonik x Sir Donnerhall I) - Lierop,Robin van
All We Need (Rhld, by All at once x Fidermark) - Krull,Leonie
Anthrazit (Westf, by All at once x Weltmeyer) - Heemsoth,Greta
Bretton's Firegirl (Old, by Bretton Woods x Fürst Heinrich) - Schürmann,Charlott-Maria
Dante's Herzchen (Hann, by Dante Weltino x Hochade) - Damil,Santiago
Doc-Holliday (Hann, by Dancier x Landclassic) - Kogel,Marie-Christin
Dolciario (Hann, by Danciano x Don Frederico) - Niklova,Eva
Cosmopolitan (BaWue, by Concetto x .Larimar) - Schöffner,Anna-Catherine
Wild-Elektra (Bay, by Escolar x Coriograf B) - Kornprobst,Ralf
Elitist (Rhld, by Escolar x De Niro) - Brunkhorst,Juliane
Eternity (Westf , by Escolar x Sir Donnerhall) - Strandby Hansen, Anne-Mette
FaceTime (Westf, by Follow Me x Rock Forever) - Finken,Holga
Final Result (BaWue, by Franziskus x Royaldik) - Blessing,Marc-Oliver
Flynn (Hann, by Fahrenheit x Sir Oldenburg) - De Winne, Flore
Lamantia (Hann, by Lorenzio x Florencio) - Kirschnick,Nicole
Zoom (Hann, by Zack x Don Schufro) - Langehanenberg,Helen
Quiana (Rhld, by Quaterstern x Rubinstern Noir) - Wego-Engelmeyer,Nicole
Related Link
Eurodressage Coverage of the 2021 World Championships Young Dressage Horses