Germany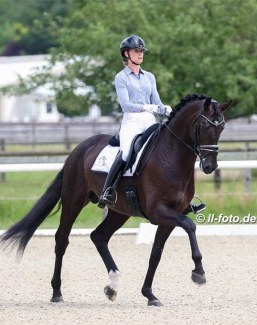 German selectors Monica Theodorescu, Reinhard Richenhagen, and Dietrich Plewa have announced the horses that are qualified to move on to the second German team selection trial for the 2021 World Young Horse Championships in Verden, Germany, in August.
The German Olympic Equestrian Committee (DOKR) carries out these selections of the German team horses. Two trials are held in Warendorf, the first one on 21 - 23 June, which includes a training day and a selection day. A long list of horses will be picked for the second selection trial on 26-27 July 2021. 
Germany is eligible to send 7 horses per age division to the World Championships, which take place in Verden, Germany, the last weekend of August 2021. 
Out of the entire group of selected horses,  only four mares were picked and five geldings. All other horses are (licensed) stallions.
The horses selected for the second trial are:
5-year olds
Belvedere DB, Westfalian stallion by Belissimo M - Danone I (Stefanie Wolf)
Bohemian, Oldenburger stallion by Bon Coeur – Rotspon (Nicole Casper)
Boa Vista, Hanoverian Stute by Bon Coeur – Scolari (Greta Heemsoth)
Damaschino, Hanoverian stallion by Danone I – Fidertanz (Hannah Laser)
Danciero, Hanoverian stallion by Dancier – Floriscount (Eva Möller)
Diaton, Hanoverian stallion by Dimaggio - Benetton Dream (Frederic Wandres)
Va Bene, Bavarian stallion by Veneno - Belissimo M (Walter Wadenspanner)
Ellis, Westfalian stallion by Escolar – Dimaggio (Stefanie Wolf)
First Vienna, Hanoverian mare by Vitalis - First Dance (Lucie-Anouk Baumgürtel)
Francis Drake, Oldenburger stallion by Franklin - Don Schufro (Eva Möller)
Global Player, Oldenburger stallion by Grand Galaxy Win T - Don Schufro (Eva Möller)
Lowlands, Oldenburger stallion by Millennium – Donnerball (Dinja van Liere/NED)
Rod Laver, Hanoverian stallion by Rock Forever I – Fidertanz (Lena Stegeman)
Vendome, Hanoverian stallion by Veneno – Fidertanz (Anne-Mette Strandby Hansen).
6-year olds
Jetset, Hanoverian gelding by Johnson – Beltoni (Kira Soddemann)
Detox, Oldenburger gelding by Diamond Hit - Florencio I (Yvonne Reiser)
Lexicus K, Oldenburger stallion by Licotus - Davignon II (Birgit Hild)
Suarez, Hanoverian gelding by Sezuan – Desperados (Mette Sejbjerg Jensen)
Danny Cool, Bavarian gelding by Danciano - Sandro Hit (Lisa Horler)
Escamillo, Rhinelander stallion by Escolar – Rohdiamant (Manuel Dominguez Bernal/ESP)
Forever Valentine, Westfalian mare by Franziskus – Laurentio (Thomas Schulze)
Frizzantino, Hanoverian stallion by Finest – Quaterback (Borja Carrascosa /ESP)
Escalla, Oldenburger mare by Escolar – Dimaggio (Yvonne Reiser)
7-year olds
Señor Charming, Westfalian gelding by Stanford - Fürst Piccolo (Kira Soddemann)
Valverde, Westfalian stallion by Vitalis – Ampere (Yara Reichert)
Anthrazit, Westfalian stallion by All at once – Weltmeyer (Greta Heemsoth)
Eternity, Westfalian stallion by Escolar - Sir Donnerhall I (Anne-Mette Strandby Hansen)
Zoom, Hanoverian stallion by Zack - Don Schufro (Helen Langehanenberg)
Quiana, Rhinelander mare by Quaterstern - Rubinstern Noir (Nicole Wego-Engelmeyer)
Photo © LL-foto
Related Links
Participants for German Selection Trial 2021 World Young Horse Championships
Eurodressage Coverage of the 2021 World Championships Young Dressage Horses