Germany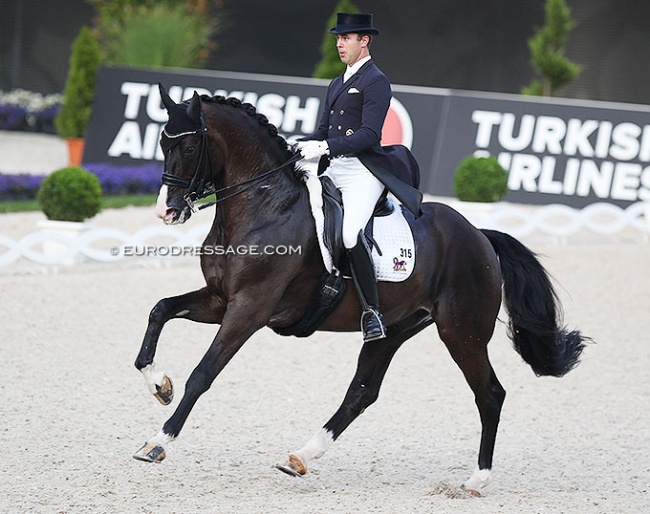 Benjamin Werndl and Daily Mirror will not be going into quarantine in Aachen as second reserve pair to the German Olympic team. The Westfalian gelding has injured himself.
Werndl and Flora Keller's 17-year old Westfalian gelding Daily Mirror (by Damon Hill x Florestan) were named second reserve after the second German Olympic team selection trial in Kronberg.
Langehanenberg vs Werndl
Werndl battled it out for the travelling team reserve spot with Helen Langehanenberg on the Holsteiner mare Annabel (by Conteur x Linaro).
At the first Olympic team trial in Balve, Werndl was twice right behind Helen with a fraction of a point less. In the GP Special Helen scored 77.804% and Werndl had 77.569%; in the Kur to Music, Helen got 83.475% and Werndl 83.175%.
At the second trial in Kronberg, Werndl outclassed Langehanenberg in the Grand Prix with 76.87%, while Helen had dropped to a 71.218%. In the Special, however, Langehanenberg bested Werndl again with 76.17% to 75.83%.
Langehanenberg was named first travelling reserve and Werndl second non-travelling reserve, joining the team in quarantine in Aachen, but not flying to Tokyo.
On his social media account, Benjamin expressed his gratitude but also disappointment at the end of the journey: "Thank you Ken (Daily Mirror). You give it your all. My happiness and gratitude for you and our rides outweigh the small disappointment to have lost the race for the 4th place in Tokyo."
No Quarantine
Today the German Equestrian Federation announced that Daily Mirror injured himself in Kronberg and will not be going into quarantine. 
Frederic Wandres and Duke of Britain now become the second reserve pair, while Carina Scholz and Tarantino will be third reserve. 
"Only four riders and horses will fly to Tokyo on 14 July, but just to be sure nine horses will take part in the quarantine/training camp at the CHIO Aachen to be able to compensate for late drop outs," the German NF stated.
Photo © Astrid Appels
Related Links
German Olympic Dressage Team for 2021 Tokyo Games Selected
Von Bredow-Werndl Makes it a Double, No Surprises on Kur Podium at 2021 German Dressage Championships