Great Britain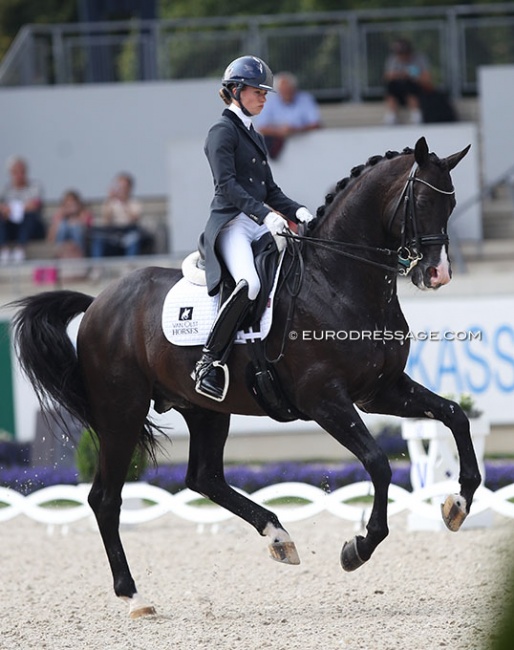 The British Olympic Association (BOA) have named the three combinations and one travelling reserve that will represent Great Britain at the 2021 Olympic Games in Tokyo
Two riders will be making their Team GB Olympic debut while all four horses compete on the Olympic stage for the first time at the Equestrian Park which is the same location used for the 1964 Games.  
Team GB Equestrian Dressage Team includes:
Charlotte Dujardin (35) based in Newent, Gloucestershire with Renai Hart, Carl Hester and her own Gio (chestnut, gelding, 10yrs, Apache x Tango, Breeders: H J de Jong, A Valk NED, Groom: Alan Davies)
Charlotte Fry (25) based in Den Hout, the Netherlands (from Scarborough, North Yorkshire) with Van Olst Horses and her own Everdale (black stallion, 17.2hh, 12yrs, Lord Leatherdale x Negro, Breeder: P Kluytmans NED, Groom: Steven Caley)
Carl Hester (54) based in Newent, Gloucestershire (from Sark, The Channel Islands) with Sandra Biddlecombe, Charlotte Dujardin, Lady Anne Evans and his own En Vogue (dark bay, gelding, 12yrs, 17hh, Jazz x Contango, Breeder: A Van der Goor NED, Groom: Lucy Scudamore)
Travelling reserve
Gareth Hughes (50) based in Southam, Warwickshire with Judy Firmston-Williams and his own Sintano Van Hof Olympia (bay, gelding, 16.3hh, 11yrs, Sandro Hit x Silvano, Breeder: Hof Olympia NED, Groom: Steph Sharples)
No Freestyle, but Gio
The biggest surprise of the team nomination is that Charlotte Dujardin has been selected on Gio and not her number one ride, Mount St. John Freestyle.
"After close consultation with the selectors, I will be partnering with Gio," Dujardin stated. "The decision is no reflection on the incredible Freestyle, with whom I have also had great results with throughout the year. She is a world class mare, but we feel Gio is the horse for the team, for these Games."
Quarantine in the UK
These four nominated riders as well as two extra reserves - Emile Faurie (Dono di Maggio) and Laura Tomlinson (Rose of Bavaria) - will do their mandatory pre-flight quarantine in the U.K.  
While European and American team riders quarantine on the show grounds at the CHIO Aachen before the flight to Tokyo, the British combinations have their own quarantine camp in the UK.  Dutch based Charlotte Fry will quarantine in Aachen.
The horses fly to Japan from Liège, Belgium, on 15 July. The British horses will travel from the UK quarantine camp straight to Liege. 
Difficult Selection and Preparation
Speaking about the selection, British Equestrian Performance Director and Equestrian Team Leader for Tokyo, Richard Waygood, said; "Selection and preparation has been difficult ahead of Tokyo however we continue to remain resilient and focused to overcome the challenges of this year's Games. The squad is a great mix of youth and experience and each one of the combinations travelling to Tokyo has the potential to finish on the podium.  Our human and equine sports science teams, working with the riders' home teams, have left nothing to chance to ensure the athletes, both equine and human, are ready to fulfil that potential."
Experience on the Team
For Carl Hester this will be his sixth Olympic Games. Dujardin will ride her third Olympics and Fry and Hughes are first-timers. 
"Undoubtedly this will be a very different Olympics, but to represent my country on the biggest stage there is...is such a privilege for me," said Carl Hester, who also the trainer of Dujardin and Hughes.
"There is an immense amount of experience across this team which will undoubtedly stand them in good stead in Tokyo. We are confident that we will send more female than male athletes to Tokyo this year which is an historic moment for Team GB, and to have double Olympic gold medallist Charlotte amongst them is something that I and the rest of the team are incredibly proud of," said Chef de Mission, Mark England. 
Related Links
Eurodressage Coverage of the 2021 Olympic Games
British Olympic Team Short Listed Pairs for 2021 Tokyo Games Nominated