2021 French Pony Championships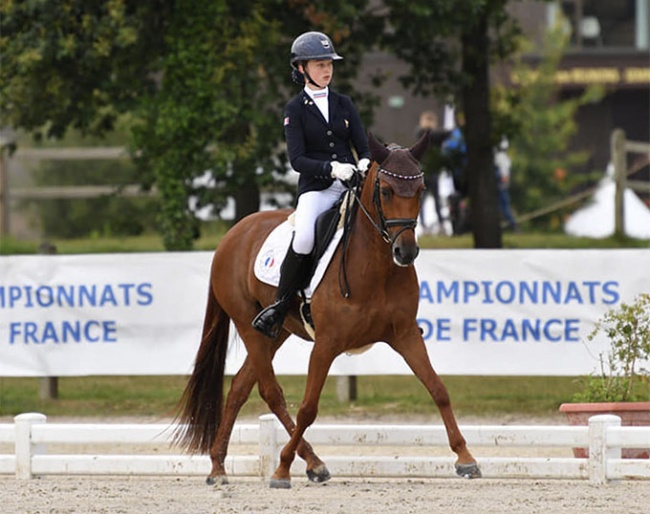 Blanche Carré Pistollet became the winner of the 2021 French Pony Championships held in Le Mans, France, on 9 - 11 July 2021. 
The annual French Pony Championships serve as final French team selection trial for the European Pony Championships, which will take place in Strzegom, Poland, in 10 - 15 August 2021. Eight combinations contested the Nationals at FEI pony level.
Traditionally the pony championships are held in Lamotte-Beuvron, but this year they moved to Le Mans. The second day of competition was rained out but that didn't dampen the spirits and competitive atmosphere.
Pistollet Shoots to National Title
Carre Pistollet and the 8-year old AES registered pony Dazzling Kid d'Herbord (by Oscar La Chevalerie x Flatteur) won the national title with a score average of 70.278% after placing second in the first round (68.931%) and winning the second round (71.626%). 
The silver medal went to pony team routinier Cassandra Rouxel on the 6-year old home bred Follow Me Fast (by Under Cover Fast x Doppelspiel). They averaged 69.527% after winning the first round with 69.786% and placing third in the second round (69.268%).
Follow Me Fast is the French Young Pony Champion as a 4 and 5-year old and is sired by Cassandra's 2020 European pony team ride Under Cover Fast, a long-time member of the French pony team, who already did three European Championships under two different riders (Cassandra and Charlotte Palas). The stallion has now moved on to a new rider... 
... and that is Stella Briand, who won the bronze medal with Under Cover Fast, a 13-year old licensed stallion by Noipan x Latimer). They averaged 68.628%. They scored 67.906% in round one and placed second in round two with 69.350%.
Photo © Les Garennes/courtesy Boulerie Jump
Results - 2021 French Pony Championships - Le Mans
1. Blanche Carre Pistollet - Dazzlign Kid d'Herbord - 68.931% 71.626% --- 70.278%
2. Cassandra Rouxel - Follow Me Fast -  69.786% 69.268% --- 69.527%
3. Stella Briand - Under Cover Fast - 67.906% 69.350% --- 68.628%
4. Valentine Bineau - Osbourne - 67.564% 68.862% --- 68.213%
5. Suzanne Camus - Oscar - 66.453% 67.480% --- 66.967%
6. Laure Billy Beauté - Robinson -   65.812% 66.382% --- 66.097%
7. Clara Duhalde - Tanan des Chouans -  63.504% 62.358% --- 62.931%
8. Romane Dubois - Quetzal Briovere -   62.607% 62.683% --- 62.645%
Related Links
Enora De Vienne Wins 2019 French Pony Championships
Alexandre Cheret Wins 2018 French Pony Championships
Charlotte Palas Wins 2017 French Pony Championships
Manon Desjardins Wins 2016 French Pony Championship
Clarissa Stickland Wins 2013 French Pony Championships
Joy Albeck Renews Title at 2011 French Pony Championships
A Day at the 2011 French Pony Championships in Lamotte-Beuvron 
Joy Albeck Wins 2010 French Pony Championship