Interview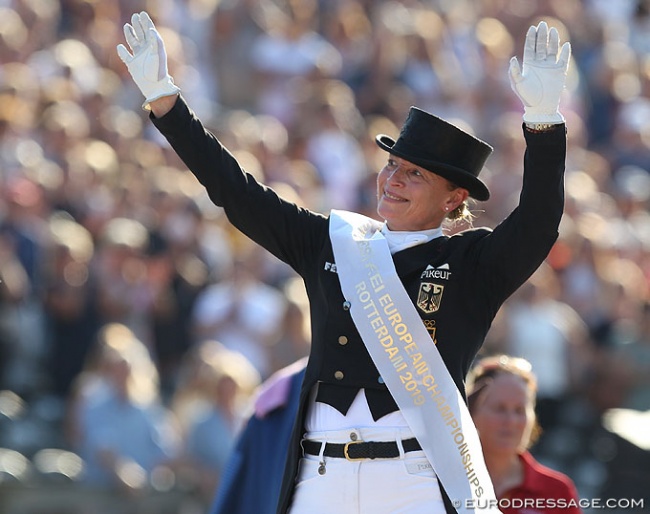 #RoadtoHagen Part 3 - The 20-time European Championships gold medallist Isabell Werth has her sights firmly set on the Dressage European Championships in Hagen a.T.W.
Here is an interview which Isabell gave right before Tokyo...
Right now the focus is still on the Games in Tokyo, but after that it will be almost straight on to the European Championships. What are your plans for Hagen?
IW: When I come back from Tokyo, I will sit on the three candidates who stayed at home and see who is in the best shape (laughs). Either the European Championships will be another nice Championship for Weihegold or a debut for Quantaz or Emilio will get a chance — I would like to leave that completely open, especially since ultimately it will not be up to me but the Dressage Committee to decide which horse will go to Hagen.
Does that mean that Bella Rose is definitely not an option for the European Championships in Hagen?
IW: You should never say never, but — regardless of how it goes in Tokyo — I think it's fair to spread the load across several shoulders, if you have the opportunity to do so.
Since 1989 you have participated in the European Championships every time, with the exception of 2005 and 2009. That means that you missed the 2005 European Championships in Hagen of all places...
IW: ...then it's about time I made up for it (laughs again).
What are you looking forward to most at the European Championships in Hagen?
IW: It will be a home event, only a good hour away from my home — that's wonderful. We will find the best conditions, we know that in Hagen, and I think it's great that those responsible have decided to hold two championships this year. The Olympics are still the Olympics, but the two championships are far enough apart to be able to compete in both, even if you only have one horse available. And I think it is important to set an example. Equestrian is in the spotlight more than usual at the Olympic Games. It is nice that we can take this attention to the European Championships. And maybe one or two people will compete there who otherwise would not have taken part in a championship.
You have been one of the most successful riders in Hagen for many years. Is there something like a special Hagen moment for you?
IW: I can definitely remember a very intense moment in Hagen. I don't think I ever got so thoroughly wet during a competition as I did in Hagen a few years ago (laughs). And my Johnny (Don Johnson) ran through the Grand Prix Special like clockwork. He was usually up for any kind of fun, but there he was totally on the ball. It was really a truly special and lasting experience. I have had a number of wonderful successes and experiences in Hagen, this year the victory with Quantaz with over 80 percent in the Special — I still have very good memories of that.
You have won 20 gold medals at the European Championships alone, nine of them individual gold. Can you name your favourite gold medal?
IW: The first one in 1991 with Gigolo will always stay in my memory. That was at the time when Rembrandt was considered unbeatable. At that time, as a youngster, I won against the big names without a care in the world. I rode in there according to the motto 'What's there to lose', completely unconcerned, and in the end I won. The 2017 European Championships with Weihegold in Gothenburg was also very special. Sönke (Rothenberger) and Cosmo had cracked the 90 percent mark for the first time in the freestyle with a score of 90.614 percent and put in a good performance, but Weihe was able to go one better with a score of 90.982 percent. That was extremely exciting. It had never happened before at a European Championships that two pairs scored over 90 percent. That was very cool.
Even more than the 20 European Championship gold medals, you are happy that you have saddled eight different horses at the European Championships?
IW: That definitely makes me prouder, that's true. Don Johnson comes to mind again in this context. When I came fourth in the freestyle with him at the Euro in Aachen in 2015, that was worth as much as a gold medal or two. Johnny wasn't expected to come close to medals back then, but that was a super day, his day, and he came fourth completely unexpectedly. I was incredibly happy about that.
With all the nice moments — what is a European Championship experience that you don't like to think back to?
IW: Of course, there were many nice European Championship moments, but I don't remember the 1997 European Championships in Verden so fondly. It was a real battle with the Dutch at that time, not a nice atmosphere. For example, I wanted to pick up my protocol after the ride — it was gone. Some time later I saw it printed in the Dutch magazine 'Hoefslag'. Now that is a thing of the past. Today the relationship is respectful and friendly.
For more than 20 years you have experienced the European Dressage Championships first hand. Can you describe the development during this time?
IW: In the past, only the Germans were strong across the board. The other teams had some strong pairs like Anne Grethe Jensen with Marzog, Christine Stückelberger with Granat and Margit Otto-Crepin with Corlandus, but as a team the Germans were dominant for too long. At some point the situation changed. It was almost a relief when the Dutch won the 2007 European Championships in Turin. The Germans were beatable again! Nowadays, everything is open again. We don't live in 1992 anymore, when the Germans could come with their second string and still win. Today it's a real competition in the dressage arena, where the form of the day decides.
Starting with the first official Championships selection at the beginning of June in Balve up to the European Championships — that's about three and a half months of pressure. Will you allow yourself two days of rest after the Europeans to recharge your batteries?
IW: That won't happen, the CHIO Aachen starts four days later. This is a personal must for me, an affair of the heart. I absolutely want to be there. With which horse we will leave absolutely open. But I have promised my son that we will definitely go on holiday together for a week during the autumn holidays. There's no escape from that and I'm really looking forward to it.
We are looking forward to seeing a smiling Isabell Werth and spectators on the stands in Hagen a.T.W. in September.
Tickets are now available at, https://hagenatw2021.ticket.io
Related Link
Eurodressage Coverage of the 2021 European Dressage Championships - U25/Seniors