2021 Danish Junior/Young Riders Championships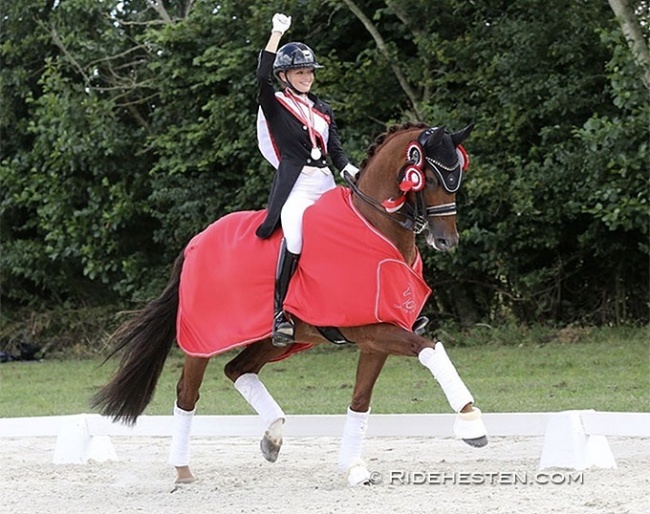 Junior rider Sophie Obel Jorgensen and young rider Sara Aagaard Hyrm became the winners of the 2021 Danish Junior/Young Riders Championships in Ringsted on 31 July - 1 August 2021. 
The event was plagued with terrible downpours of rain on Sunday afternoon, but that didn't dampen the fighter spirit of the riders to go for a medal. 
Junior Riders: Obel Jorgensen
In the junior rider division, pony rider Sophia Obel Jorgensen has proven that she has also found her way on horses as a junior. Aboard the 9-year old Oldenburg bred Brilliant (by Bretton Woods x Diamond Hit), bred by Paul Schockemöhle, she dominated a field of 36 Danish juniors, winning the first round with 76.433% as well as the freestyle with 79.050%. Riding to the tunes of Zoe Wees and Rihanna in her Kur, Obel Jorgensen totalled 155.483 points for the national title and gold. 
Elisabeth Cecilie Bonefeld-Dahl followed in her wake with 149.349 points for the silver. Aboard the 13-year old KWPN gelding Don Furioso (by San Amour x Jazz), she was third in round one with 72.324% and second in the kur, riding to music based on the Mission Impossible movies. 
The bronze went to Liva Addy Guldager Nielsen on the 9-year old Danish bred Don Caballero (by Blue Hors Don Olymbrio x Blue Hors Don Schufro). They were fourth in round one with 71.865% and moved into bronze medal position after posting 74.325% with their freestyle and totalling 146.190 points.
Denmark's bronze medal winning junior team at the Europeans was entirely absent from the Nationas. Alexander Yde Helgstrand (Grevens Sa Va) and Sophie Ludvigsen (Blue Hors Quintana) were no shows; Frederikke Gram Jacobsen and Annabelle Rehn both presented their second horses.
Young Riders: Aagaard Hyrm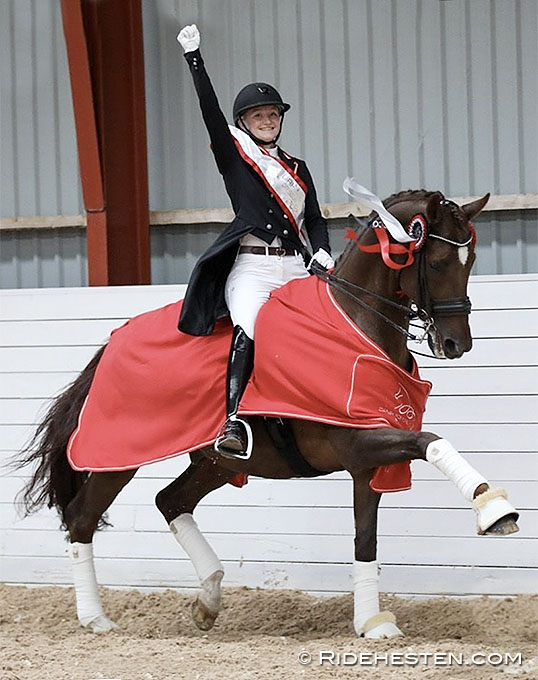 Denmark's strongest young rider at the European Championships in July, Sara Aagaard Hyrm, showed she's untouchable at national level and finished in the gold medal position with 154.496 points, almost a full seven % ahead of the other 21 riders competing in the Nationals. 
Hyrm and her long-time partner Skovborgs Romadinov, a 15-year old Danish bred Romanov x Mago xx offspring, won the first round with 74.921% and the freestyle with 79.575%. Hyrn rode her kur in the pouring rain and also had to deal with a break in her programme because of a power outage at the equestrian facility, but nothing could keep her away from the victory.
The silver went to Kristian Würtz Green on the 9-year old Danish bred Bovbjerg's Zhivago (by Blue Hors Romanov x Blue Hors Don Schufro). He was third in the first round with 72.184% and move up to third place in the freestyle with 75.425% to finish as the runner-up with 147.609 points. 
Last year's Danish Junior riders champion Anders Uve Sjøbeck Hoeck secured the bronze on the 10-year old Danis warmblood gelding Blue Hors Zwobber (by Blue Hors Zack x Blue Hors Romanov. He was second in round two with 72.500%, but dropped to fourth in the freestyle with 75.075%. However his total of 147.575 points was good for bronze. 
Two members of Denmark's European Championship bronze medal winning team, Laura Jarlkvist Rasmussen (Atoftens Dornier) and Sofie Hansen (Dieu d'Amour), did not compete in Ringsted. 
Photos © Ridehesten
Results  - 2021 Danish Junior/Young Riders Championships - Ringsted
Junior Riders
1 Sophia Boje Obel Jørgensen - Brilliant - 76.433 - 79.050 ---- 155.483
2 Elisabeth Cecilie Bonefeld-Dahl  - Don Furioso - 72.324  - 77.025 ---- 149.349
3 Liva Addy Guldager Nielsen  - Don Caballero -  71.865  - 74.325 ---- 146.190
4 Johanne Kofod Jensen  - Frida Gold - 75.108 - 70.325 ---- 145.433
5 Amalie A Bang - Blue Hors Dreamline - 70.973 - 73.775 ---- 144.748
6 Frederikke Gram Jacobsen  - Final Jam - 71.216 - 73.425 ---- 144.641
7 Thilde Rude Hare - Fred the Red - 70.568-  73.450 ---- 144.018
8 Fie Dybro Jensen - Norgaards Leonora - 69.351 - 71.750 ---- 141.101
9 Cecilie Maria Schrøder Dreymann  - Sarottie - 68.622 - 70.900 ---- 139.522
10 Sandra Holm - Onassis - 68.784 - 70.225 ---- 139.009
11 Dagmar Sofie Oxlund - Zwip Zwap Havdal -  68.135 - 70.000 ---- 138.135
12 Bjørk Schmidt Jefsen - Holballes Deeba - 69.757 - 67.825 ---- 137.582
13 Liv Jensen Hodal  - Super Tramp - 67.838  - 68.125 ---- 135.963
14 Ellen Bruun  - Spongebob - 68.378 - 65.075 ---- 133.453
15 Mathilde Sofie Jepsen - Arogato - 71.000 - 0.000 ---- 71.000
Young Riders
1 Sara Aagaard Hyrm  - Skovborgs Romadinov - 74.921 - 79.575 --- 154.496
2 Kristian Würtz Green - Bovbjergs Zhivago -  72.184 - 75.425 --- 147.609
3 Anders Uve Sjøbeck Hoeck - Blue Hors Zwobber - 72.500 - 75.075 --- 147.575
4 Victoria Cecilie Bonefeld Dahl - Comtesse -  71.579 - 75.625 --- 147.204
5 Ida Kirstine Bjørn  - Sogard Ballerina - 70.816 - 73.100 --- 143.916
6 Josephine Rathje Facius  - Stand Proud - 67.395 - 71.575 --- 138.970
7 Cecilie Hedegaard  - Silhuet - 67.079 - 71.125 --- 138.204
8 Caroline Krogh Hansen  - Count to Ten WN - 67.210 - 68.875 --- 136.085
9 Sofie Mahon  - Chrevi's De Lavall - 68.026 - 67.975 --- 136.001
10 Lea Andreassen Torabi  - Roberto des Frettes - 67.526 - 68.150 --- 135.676
11 Laura Høj Vraa  - Osterkjaer Filucca - 66.658 - 68.225 --- 134.883
12 Amalia Skjold - Stenagers Odessa - 65.579 - 68.925 --- 134.504
13 Emma Elisabeth Saur Feldstedt - Cash - 66.500 - 66.600 --- 133.100
14 Christina Gert Nielsen  - Fallulah V - 64.816 - 67.100 --- 131.916
15 Barbara Mona Mogensen - Rudi - 64.263 - 64.700 --- 128.963
Related Links
Hoeck and Ludvigsen Win 2020 Danish Junior/Young Riders Champion
Yde Helgstrand and Rørbæk Silfen Win 2019 Danish Junior/Young Riders Championships
Aagaard Hyrm and Rohmann Win 2018 Danish Junior/Young Riders Championships
Andersen and Henriksen Win Gold at 2017 Danish Junior/Young Riders Championships
Rohmann, Mejlgaard Jensen, Engermann Win 2016 Danish Youth Riders Championships
Vallentin and Sorensen Win 2015 Danish Junior and Young Riders Championships
Engermann and Dam Vestergaard Win 2014 Danish Junior and Young Riders Championships
Sorensen and Dufour Win Gold at 2013 Danish Junior and Young Riders Championships