Germany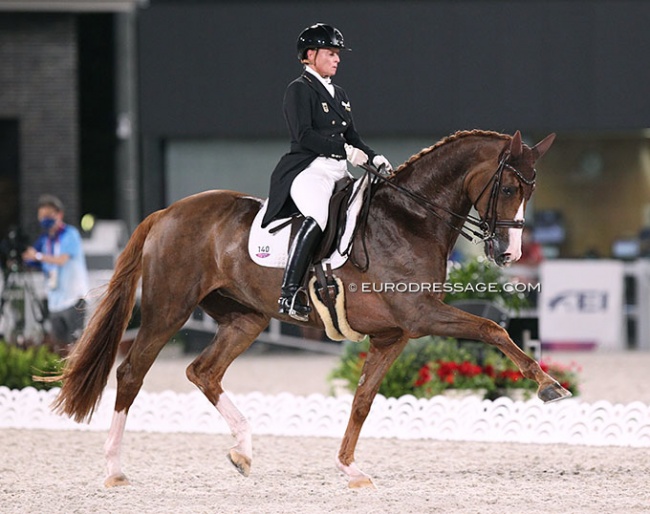 At the 2021 Olympic Games in Tokyo, Isabell Werth announced the retirement from sport of her top horse Bella Rosa. However, another show start has now been announced, at the CDIO Aachen.
Today the show organisation of the CDIO Aachen announced that Bella Rose will compete at one last show - Aachen - where she will meet her rivals for her swan song.
The 17-year old Westfalian mare's goodbye from the show ring will, therefore, be a competitive one. "It's clear, we'll go into the frontline one more time and want to show one last time on the international stage what we can do on our final start," Werth commented. 
Werth added, "in Aachen we feel obliged, in a certain way, to give it our all in order to give back to the special crowds what is possible."
Werth and Madeleine Winter-Schulze's Bella Rose (by Belissimo M x Cacir AA) won team gold at the 2014 World Equestrian Games, team and individual gold at the 2018 World Equestrian Games, triple gold at the 2019 European Dressage Championships and team gold and individual silver at the 2021 Olympic Games. 
Photo © Astrid Appels
Related Links
Jessica von Bredow-Werndl Sets Milestone with Individual Gold at 2021 Tokyo Olympics
Three Feat for Isabell Werth with Kur Gold at 2019 European Dressage Championships
Bella Rose Blows Away Competition for Special Gold at 2018 World Equestrian Games
Werth Makes Winning Surprise Come Back with Bella Rose at 2018 CDI Fritzens
Bella Rose Withdrawn from 2014 World Equestrian Games