F.O.C.U.S.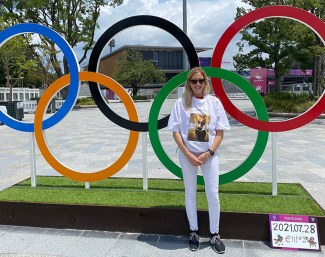 In 2016, 21-year-old Élisabeth Brosda of Gatineau, QC, was killed in a tragic car accident. While the up-and-coming dressage star would never see her name in Olympic lights, as was her lifelong goal, her spirit lived on through Brittany Fraser-Beaulieu and the Saint-Bruno, QC, native's journey to the Tokyo 2020 Olympic Games in Japan.
In 2018, 2020 and 2021, Brittany was selected as the recipient of the $10,000 Brosda Olympic Bursary – an award established by the Brosda family in partnership with Equestrian Canada and the Horsepower Foundation in memory of Élisabeth's goals and embodiment of Olympic values. The Bursary helps NextGen dressage athletes develop the skills and determination to represent Canada at the 2020 and/or 2024 Olympics – a intention successfully realized by newly minted Olympian, Brittany, and her partner All In (by Tango x Damiro), whom she co-owns with father, Craig Fraser and husband, Marc-Andre Beaulieu.
"As a Bursary recipient, Brittany shares Élisabeth's dream whole-heartedly and embodies her passion and determination in dressage," said Élisabeth's mother, Marie-France Maisonneuve. "We were very pleased to honour Élisabeth's legacy through Brittany's Olympic debut with the Canadian Dressage Team at the Tokyo 2020 Games."
The Bursary funds were used by Brittany largely to cover training costs. This critical support was made even more meaningful by the fact that she taught Élisabeth for a few months in 2016, right before her passing.
"Élisabeth was so determined; her horse was not easy and very hot," recalled Brittany. "She was a great rider with a lot of natural talent."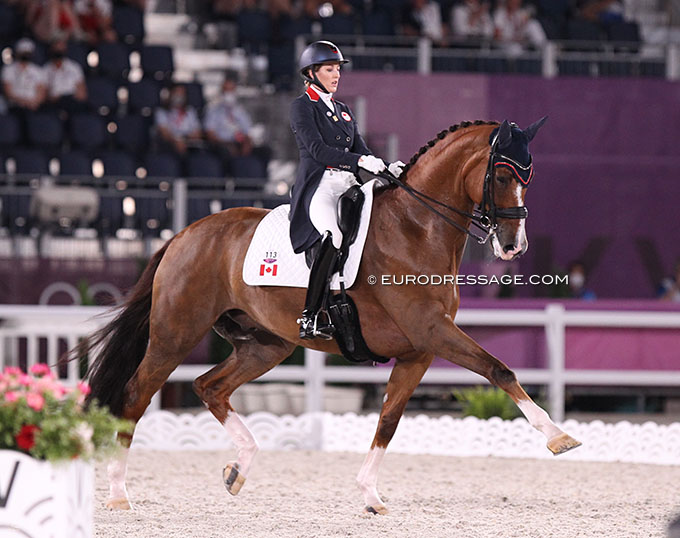 To honour Élisabeth and the support she received in her name, Brittany wore a t-shirt featuring Élisabeth and her horse, Viva's White Pearl, at the Equestrian Park before taking her turn down the centreline. She commented, "When I wore her t-shirt around the venue, I thought about how special life is and how you cannot take one thing for granted. Élisabeth wanted to be an Olympian. Her family should be so proud of what a wonderful person Élisabeth was."
The Bursary not only helped Brittany get to the Olympics but excel once there with her 16-year-old Dutch Warmblood gelding. She and All In executed a dream test in the Grand Prix and then became the second-ever Canadians to move forward to the Grand Prix Freestyle, setting a new Canadian record score of 76.404%.
"For us, it has been a very emotional moment to watch Brittany reach the Games with the support of our daughter's Bursary," concluded Marie-France. "Having Élisabeth's legacy playing such an important part of the journey is priceless and we feel very grateful for being able to keep Elisabeth's dreams alive through Brittany and the Canadian Dressage Team in Tokyo 2020."
Photos © Christine Peters - Astrid Appels
Related Links
2021 Brosda Olympic Bursary Awarded to Brittany Fraser-Beaulieu
Brittany Fraser-Beaulieu, Recipient of $10,000 Brosda Olympic Bursary for 2020
2019 Brosda Olympic Bursary Awarded to Tanya Strasser-Shostak
Brittany Fraser Inaugural Recipient of the Brosda Olympic Bursary for 2018