2021 Paralympic Games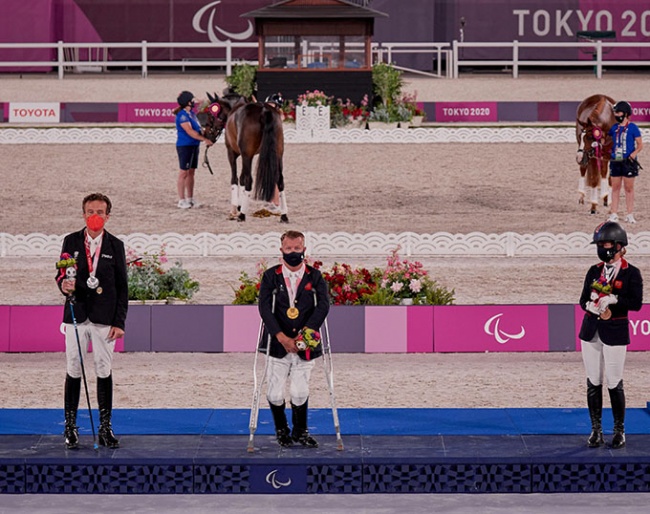 FEI Press release by Rob Howell
They came, they saw, they conquered. Some of the world's most experienced and decorated Para Dressage athletes took to the stunning Baji Koen arena today for the first competitions and medals of the Equestrian Events at the Tokyo 2020 Paralympic Games on 26 August 2021. 
Emotions were running high, as were temperatures, but everyone kept their cool for the first individual medals up for grabs in Grades II, IV and V – and the all-important qualification for the top eight ranked athletes in each Grade earning their spot in the Individual Freestyle to Music test which takes place on Monday 30 August. 
Sir Lee Pearson, the world's most decorated equestrian Paralympian, does it again…  
In an emotion packed first day of competition, Sir Lee Pearson (GBR) collected his 12th Paralympic gold medal at his sixth Paralympic appearance since 2000 at the Baji Koen Equestrian Park, winning the Grade II Individual Test.
Lee rode his home-reared Breezer to the title with a score of 76.265% to finish ahead of Pepo Puch (AUT), who rode Sailor's Blue to score 73.441%. These two highly experienced athletes are used to tussling for the top spot, with Pepo claiming Individual gold in Rio ahead of Pearson and vice versa for the Freestyle medals. 
Georgia Wilson (GBR) picked up a fairy tale of a bronze medal on Sakura, with 72.765%. She was the team's reserve rider and was called to the Paralympic Games just two weeks ago, when her teammate Sophie Christiansen was forced to withdraw due to a veterinary issue with her horse.
Speaking after his ride, Lee said "I am very, very emotional. I cried on the second X on hold in the arena. It's been such a long journey. Breezer is a horse who I've had since he was born. I am also a Dad myself now, and that has also made me more emotional.  
"I didn't think having a home-bred horse would give this a little extra meaning but it has. I saw him at hours old in a field and to complete that test, which at my last test event I did not complete, that added to the emotion."
Sanne gets the missing gold
There was more emotion on display when Sanne Voets (NED) won the Grade IV Individual Test, the one gold medal missing from her collection of European, World and Paralympic titles. 
Sanne scored 76.585% on Demantur N.O.P, which was the highest score of the day, while Rodolpho Riskalla (BRA) took the silver medal on Don Henrico with 74.659%. Belgium's Manon Claeys marked her Paralympic debut with a bronze medal, scoring 72.853% on San Dior 2.
"I think my face pretty much told it," said Sanne. "I'm just over the moon with him. He still amazes me every day and he travelled here well. When you enter the stable and you see he's happy, relaxed and at ease, you realise again that's what is most important.  
"Of course you're here to perform at your very best and you want to win medals, but there's always one thing more important than the result, and that's just your horse being happy.
"But when you are sitting on a horse like that, there's no way you cannot smile and not enjoy your test."
Seventh heaven for Michele George
The last medal of the night went to Michele George, in just her seventh competition with Best of 8. She scored 76.524% to finish ahead of Sophie Wells (GBR) who rode her reserve horse, Don Cara .M to an impressive 74.405% in his first ever overseas competition. Frank Hosmar (NED) took the bronze on Alphaville N.O.P., with 73.405%.
Michele wore the gloves and boots she wore at the Rio 2016 Paralympic Games at which she won the Grade V Freestyle, with a silver in the Individual Test, on the late FBW Rainman. 
"I'm really proud of my mare and I enjoyed the ride," she said. "And this is for me the most important thing, that I could come home and say I've done everything I could. She had a beautiful performance and she gave her best. Best of 8 gave her best!
"She did great half passes and I think she had a very nice extended canter as well. So it's amazing. I can't find the right words to express how impressive it was for me. It is a once in a lifetime experience."
More medals up for grabs
At the end of day one of the competition, Great Britain top the Para Dressage medal table with one gold, one silver, and a bronze, with The Netherlands and Belgium close behind on one gold and a bronze each.
There are a total of 11 sets of medals being contested at the Para Equestrian Events of the Tokyo 2020 Paralympic Games across the five Grades – five Individual, five Freestyle to Music and one overall team medal.
Tomorrow will see the Grades I and III Individual Test medals decided. Roxanne Trunnell, the world Number One in Grade I and across all five Grades will be aiming for her first Paralympic title, while in Grade III look out for a real tussle for the medals between the likes of Natasha Baker (GBR), Tobias Thorning Jorgensen (DEN), Rixt van der Horst (NED) and Rebecca Hart (USA).
Related Links
Scores: 2021 Paralympic Games
More Paralympic News on Eurodressage