2021 U.S. Dressage Championships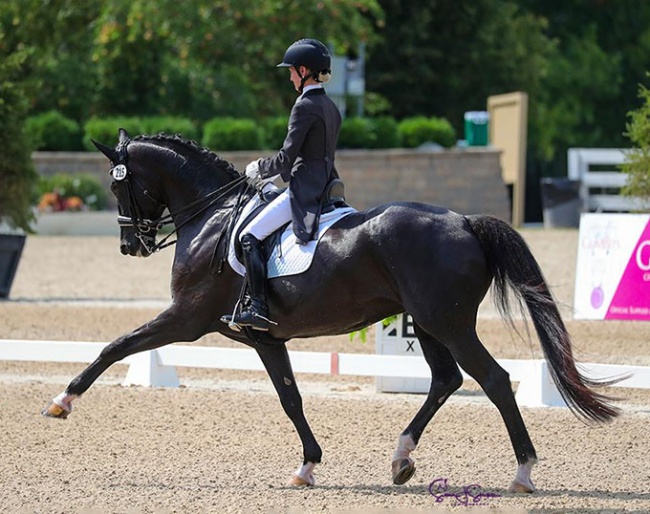 Alice Tarjan ruled the roost at the 2021 U.S. Grand Prix Championships held at the at the Lamplight Equestrian Centre in Wayne, ILL, on 24 - 29 August 2021. Aboard her two horses Candescent and Donatella M she was undefeated. 
The 2021 U.S. Dressage Festival of Champions came to a close on Sunday 29 August 2021 with the final national championship titles of the weekend.
Tarjan was the only one of the 12 short listed Grand Prix combinations for the U.S. Olympic team this year which made the trip to Wayne to compete for the national title. 
The U.S. Equestrian Federation uses a complicated system to determine the overall winner of a national championship: The scores of the Grand Prix count for 45%, those of the Special for 40% and those of the Kur for 15% 
Tarjan is the 2021 U.S. Grand Prix Champion
Twelve combinations rode the Grand Prix Freestyle to determine the winners of the U.S. Grand Prix Dressage National Championship. Alice Tarjan stamped her place atop the overall leaderboard, claiming the top two spots with Candescent and Donatella M. Tarjan (Oldwick. N.J.) and Candescent, her 2010 Hanoverian mare, won the class with a score of 77.165% and finished with an overall score of 73.434%.
Tarjan and Donatella M, her 2011 Oldenburg mare, earned reserve-champion honours with an overall score of 71.975%. Tarjan is a member of the Kundrun USEF Dressage Development Program with both horses.
"I was really pleased. I thought it was clean and that I stayed with the music, so that was a good thing," Tarjan said of her freestyle with Candescent. "I lost a lot of the self-carriage I think. It's hard; you prep these horses for so many tests, and they're all different lines. And I guess in a perfect world, the horse follows your aids and doesn't matter what line you ride it on, and maybe it messes me up mentally, and I don't know if it messes her up, but to try to keep the self-carriage through the whole test with different lines is still a challenge."
"We've done two CDIs, and now we're going to Aachen," she added about her future plans.
Bronze for Katie Johnson
Katie Johnson (Greenwood Village, Colo.) and Quartett, Kylee Lourie's 2008 Brandenburg gelding, were third overall with a score of 68.620%.
"I was really, really happy with the kur," Johnson explained. "It's the last day of a really long, hot weekend, and he tried so hard and put his best foot forward. It's a brand-new freestyle for us made by Terry Gallo. It rides so wonderfully and really showcases his good things. I was really happy with it. We made some mistakes, but there are still things to work on for the future."
Johnson received the Patsy Albers Award, which is presented to the highest-placing rider in the Grand Prix division who represented the U.S. at the FEI North American Youth Championships. The award provides financial support for continuing education and training of its recipient.
When asked about her horse's background, Katie said, "We bought him almost two years ago. He actually is the amateur horse for the owner of the farm. She graciously told me if we could finish him to Grand Prix in November that I could show him. His first and my first official Grand Prix were in December, then our first official CDIs were in January. He just keeps trying and trying, and he has a heart that is so big. We went to France for the Compiègne Nations Cup team. Unfortunately, we couldn't compete there because of EHV stuff, but we still got to compete at Achleiten in Austria, which was a wonderful show and a really good first experience. This is the end to a very, very unplanned and very exciting year. We are going home and going to give him a good break. He deserves a nice, easy month, and I think his owner is going to ride him some and enjoy him. Then, we will just kind of play next season by ear."
Small Tour: Dawn White-O'Connor Wins
Nine combinations completed their third and final tests by riding their FEI Intermediate I Freestyle Test of the USEF Intermediaire I Dressage National Championship. Dawn White-O'Connor and Hudson M led from start to finish to clinch a national championship title. White-O'Connor (San Diego, Calif.) and Four Winds Farm's 2012 KWPN gelding had a solid freestyle to score 76.355%, finishing with an overall score of 75.287%.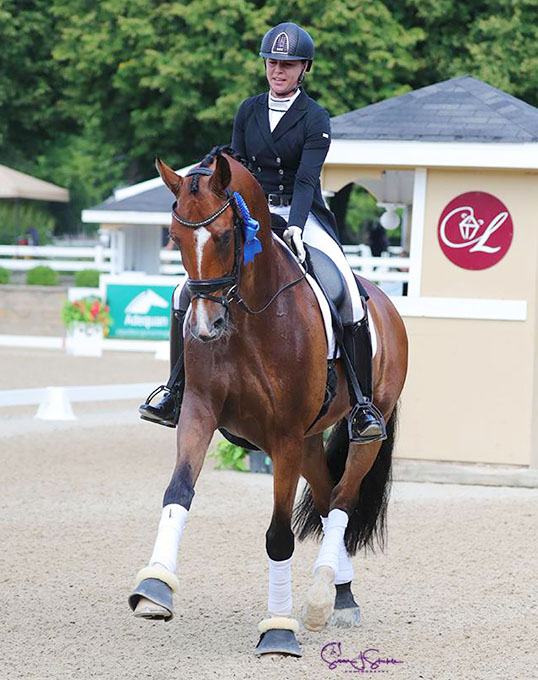 "I have had him just over a year and a half. He is the best horse; I could probably talk about him all day," White-O'Connor said of Hudson M. "I think everyone gets sick of me constantly showing them videos of what he is doing. He is a really, incredibly special horse. Even if he wasn't as talented as he is, he has got the best personality and he is the most fun horse to be around. He is pretty much good about everything. He is one of a kind I think."
Lindsey Holleger (Middletown, N.Y.) and MW Ave Maria, Jennifer Vanover's 2013 Oldenburg mare by Voice x Fidertanz, were the reserve champions with an overall score of 73.323%.
About her freestyle Holleger said, "It was pretty good. I got a little ahead of the music, so I had to improvise at the end, but I was really proud of her. This was her first big arena ever. She is only eight years old. I'm thrilled with her."
Karen Lipp (Ball Ground, Ga.) and Infinity, her 2013 KWPN gelding by Dream Boy x Koss, were third with an overall score of 70.227%. The top three are Kundrun USEF Dressage Development Program members.
Lipp explained that, "I got ahead of my music as well. I'm the old lady here; I struggled with the heat. I have to say he took care of me. He is a young horse and I have done the freestyle three times, so it is kind of like [White-O'Connor said] it is my weakest thing out of the tests, but he went in there and tried really hard."
Results - 2021 U.S. Grand Prix Championship - Wayne
Small Tour
1. Dawn White-O'Connor - Hudson M - 74.117  -  75.970 - 76.355 --- 75.287
2. Lindsey Holleger - MW Ave Maria- 73.087 - 73.087 -  74.660 --- 73.323
3. Karen Lipp - Infinity - 69.087 -  70.881 - 1.305 --- 70.227
4. Mette Rosencrantz - Chrevi's Ramour - 69.029 -  69.440 -  68.825 --- 69.183
5. Stephen Birchall - Damore - 69.235 -  68.117 - 68.430 --- 68.611
6. Martin Kuhn - Venivici - 68.440 -  68.440 - 67.855 --- 68.352
7. Laura Decesari-  Flower-Power - 67.587 - 68.264 - 70.190 --- 68.282
8. Taryn Hartnett - Edward - 67.146 -  65.028 - 67.650 --- 66.269
9. Kimberly Herslow  - Elvis HI  - 63.499 -  67.646 - 68.635 --- 66.136
Big Tour
1. Alice Tarjan - Candescent - 73.673 -  71.765 -  77.165 --- 73.434
2. Alice Tarjan - Donatella M - 71.782 - 71.978 -  72.549 --- 71.975
3. Katie Johnson - Quartett - 68.934 - 67.574 -  70.469 --- 68.620
4. Mikala Munter - Salsa Hit - 66.456 - 67.680 -  69.910 --- 67.464
5. Michael Bragdell - Qredit Hilltop - 67.282 - 65.467 -  70.330 --- 67.013
6. Mette Rosencrantz - Dzeko - 65.129 - 67.340 -  67.625 --- 66.388
7. Patricia Becker - Derk -  64.912 -  67.318 -  68.135 --- 66.358
8. Emily Wyman - Chigali - 66.151 - 64.467 -  68.870 --- 65.885
9. Abraham Pugh - Elfenperfekt - 63.564 -  63.999 -  67.635 --- 64.349
10. Claire Manhard - Wilfonia - 62.195 -  64.148 -  70.490 --- 64.220
11. Nicole Harrington - Wizard of Oz-  61.782 -  64.829 -  68.435 --- 63.999
12. Reese Koffler-Stanfield - Bingo - 64.173 -  61.680 -  66.225 --- 63.484
Photos © Susan Stickle
Related Links
Lamplight to Host 2020 and 2021 U.S. Dressage Championships
Jennifer Schrader-Williams Wins 2020 U.S. Grand Prix Championship
Ots and Wagman Win Senior Titles at 2019 U.S. Dressage Championships
Yang and Jorst Claim Titles on Final Day of 2018 U.S. Dressage Championships
Kasey Perry-Glass, Kaitlin Blythe and Adrienne Lyle Win 2017 U.S. Dressage Championships
Laura Graves Wins the 2015 U.S. Grand Prix Championship
Peters Scores Double National Title, Sadis Pony Champion at 2014 U.S. Championships
Peters, Herslow, Davis, Redston Earn National Titles to Close out 2013 U.S. Dressage Championships
Steffen Peters Wins 2012 U.S. Grand Prix Dressage Championships
Peters Overcomes the Elements to Win Grand Prix at 2011 Festival of Champions
Konyot Dominates 2010 U.S. Dressage Championships Taking Four in a Row
Tip Top Wins Grand Prix at 2009 U.S. Grand Prix Dressage Championship
Steffen Peters Perfect at 2008 U.S. Dressage Championships
Peters Leads Grand Prix, Hickey Leads Pan Am Selection Trial at 2007 Festival of Champions
Hattrick for Steffen Peters and Michelle Gibson at 2006 Festival of Champions