2021 German Youth Riders Championships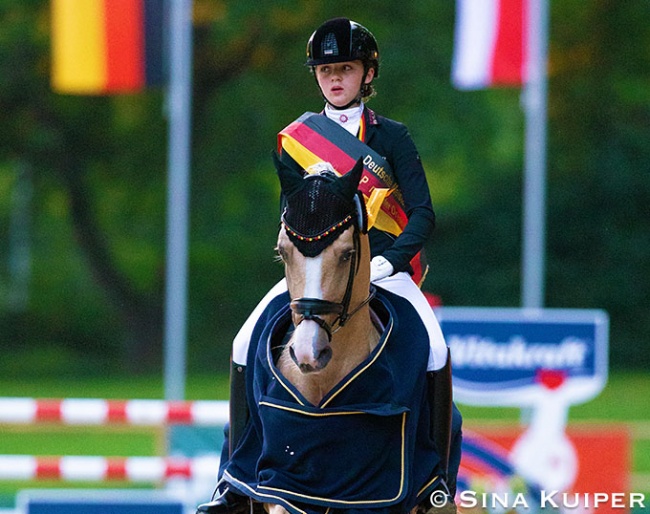 Pony rider Rose Oatley, children rider Lara Lattermann, junior rider Jana Lang, and young rider Luca Collin became the winners of the 2021 German Youth Riders Championships which took place in Darmstadt-Kranichstein on 9 - 12 September 2021. 
2021 European pony champion Rose Oatley continued her golden show season with another title to her tally, that of German Pony Champion, one she has claimed for the third year in a row! Aboard her 14-year old Daddy Moon (by Daddy Cool x Capri Moon) she was a league of her own, three times scoring above 80%. With 81,41% in the team test, 81,37% in the individual and 86,15% in the freestyle she was no match to any of the other pony riders. Her European Champion team members Antonia Roth was absent from the Nationals, while Julie Schmitz-Heinen placed only eighth. This left room for Maleen Kohnle to move to the front and capture silver on her 7-year old liver chestnut mare Dabia Dior (by D-Day AT x Validos Highlight). She was in a neck to neck race with German team member Antonia Busch-Kuffner on the stallion Kastanienhof's Cockney Cracker (by Cracker Jack x Don't Worry), as the two were just 0.3 points apart in the end. Kohnle got silver with  223.6 points, while professional pony rider Busch-Kuffner landed 223.3 points.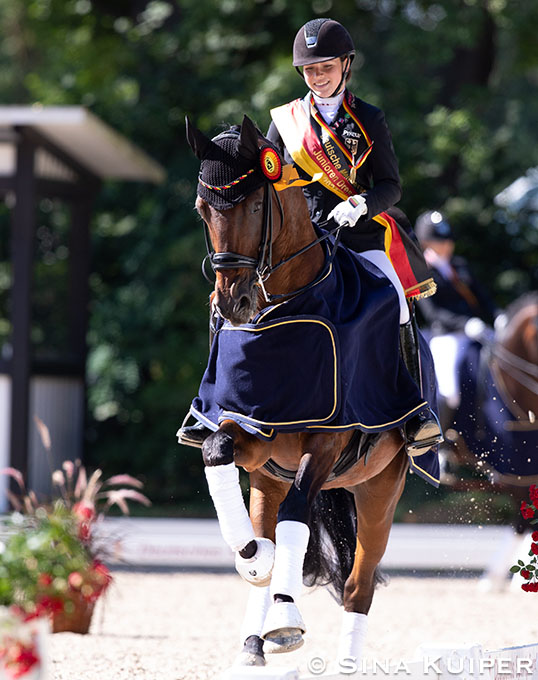 The children championship takes a different format in Germany in which the three best children riders from the first two rounds are invited to do a finals with horse change. 2021 European Children Champion Lara Lattermann and Soleil de la Coeur H (by Boston x Show Star) led the first two rounds as well as the horse change finals, scoring 9.5., 9.7, and 9.8 points on the three horses, her own, as well as those of Tietje and Plaas. The silver went to Matilda Tietje on the 6-year old mare Feingefühl (by Fürstenball x Farewell III), who was previously successfully competed by Sandra Kotter at the Hanoverian and German young horse championships. The bronze was for German team rider Lotta Plaas on her Trakehner bred Balsamico (by Hertug). 
In the junior division only two of the four German European team championship riders came with their number one horses. Jana Lang and the 15-year old KWPN gelding Baron (by Johnson x Krack C) bested the field and built up a gigantic lead for the gold medal on 229.29 points. They posted 73.49 in the team test, 75.03% in the individual and 80.78% in the Kur. Rose Oatley also brought her junior ride and placed second, although they had a little bobble in the individual test (67.55%) but relaunched them with a 78.83% earning freestyle to end up on silver medal position with 220.27 points. Team rider Lena Merkt and the Hanoverian stallion Sarotti Mocca Sahne (by Soliman x Lauries Crusador xx) got bronze with 220.16 points, just 0,12 short of silver.  An interesting new pair was to be spotted at the nationals: Lana Baumgurtel rode the 9-year old Founder (by Foundation x Sarkozy), previously shown by Austrian Astrid Neumayer and German Heiko Klausing. They were 8th overall.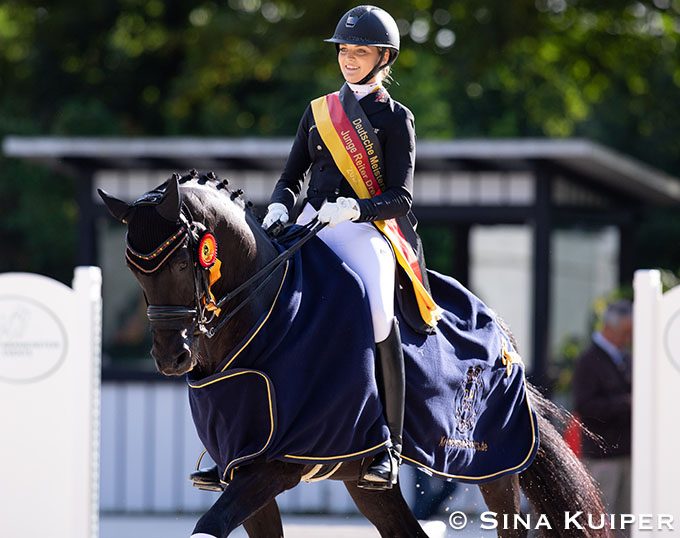 In the Young Riders division Luca Collin renewed her title from 2020 with the 11-year old Hanoverian gelding Descolari (by Desperados x Weltmeyer). She won the first two rounds with 74.78% and 74.29% but in the freestyle was bested by silver medal winning Jana Schrödter on her 2019 European Junior champion's horse Der Erbe OLD (by Dimaggio x De Niro). Collin collected gold with 225.50 points, while Schrödter ended up second overall with 223.92 points after winning the freestyle on 76.88%. The bronze went to outside Anna Derlien, who already made an impression in June at the CDI Hagen Future Champions competition. With Holly Golightly (by Hochadel x Hofrat) she posted 72.59%, 72.76% and 73.40% to finish on 218.75 points for bronze. 
Photos © Sina Kuiper
Results - 2021 German Youth Riders Championships 
Pony Riders
1 Daddy Moon - Oatley,Rose 81,41 - 81,37 - 86,15 --- 248,9
2 Dabia Dior - Kohnle,Maleen 74,31 - 74,42 - 74,90 --- 223,6
3 Kastanienhof Cockney Cracker - Busch-Kuffner,Antonia 70,95 - 73,59 - 78,75 --- 223,3
4 Del Estero - Duen,Sophie Luisa 74,44 - 73,68 - 74,40 --- 222,5
5 Celebration - Paschertz,Clara 71,92 - 72,59  - 75,78 --- 220,3
6 De Long - Binder,Marlene Maria 72,97 - 70,73 - 75,60 --- 219,3
7 Novellini - Miesner,Carolina 72,03  - 71,24 - 74,30 --- 217,6
8 Carleo Go - Schmitz-Heinen,Julie Sofie 76,00 - 76,10 - 65,55 --- 217,6
9 Tovdal's Golden Future Imperia -  Lohe,Mia Allegra 72,54 - 70,44 - 72,55 --- 215,5
10 Grenzhoehes Olivier K - Lindhorst,Nele Sophie 70,77 - 69,20 - 72,43 --- 212,4
11 Steendieks Morgenstern Dalai - Tronnier,Victoria 70,31 - 67,90 - 72,50 --- 210,7
12 Nobel Noir - Göbel,Chiara 70,03 - 69,15 - 68,05 --- 207,2
Children
1. Soleil de la coeur H - Lattermann,Lara -  15,950 - 16,779 32,729 --->  9,5. + 9,7 + 9,8 = 29  pointts in horse change finals
2. Feingefühl - Tietje,Matilda  -  15,802 - 16,649 -- 32,451 ---> 9,0 + 9,2  + 9,5 = 27,7 pts
3. Balsamico - Plaas,Lotta - 15,978 1- 6,716 32,694 ---> 9,3 + 8,8 + 9,4 = 27,5 pts
4 Darling - Dülffer,Katharina - 5,835 - 16,407 --- 32,242
5 GR Dorian Gray - Höfler,Lennea -  15,104  -15,880 -- 30,984
6 Sainte's Denpasar - Sainte Fare,Etienne de -  15,262 - 15,319 --- 30,581
7 La Costo - Wächter,Leni Sophie Louise - 15,387 - 15,115 -- 30,502
8 Fine Rose - Hladik,Kira Marie -  14,855 - 15,603 -- 30,458
9 Fandangho - Wullkotte,Leonie - 15,194 - 15,100 -- 30,294
10 Radisson -  Raupach,Martha -  16,009 - 13,963 -- 29,972
Junior Riders
1 Baron - Lang,Jana 73,49 - 75,03 - 80,78 --- 229,29
2 Rock Revolution - Oatley,Rose 73,89 - 67,55 - 78,83 --- 220,27
3 Sarotti Mocca-Sahne - Merkt,Lena 71,57 - 73,34 - 75,25 --- 220,16
4 Fair Game - Casper,Pia 72,49 - 71,34 - 75,05 --- 218,88
5 Ben Kingsley - Dülffer,Isabelle 71,92 - 70,45 - 74,20 --- 216,57
6 Fazz vh Bloemenhof - Nielen,Emma 71,38 - 69,37 - 74,50 --- 215,25
7 Donna Bella - Schnakenberg,Maja 68,92 - 70,58 - 74,15 --- 213,65
8 Founder FH - Baumgürtel,Lana-Pinou 68,49 - 70,63 - 71,70 --- 210,82
9 Jasper - Rother,Emily 70,11 - 69,08 - 70,60 --- 209,79
10 Aragorn T - Lukas,Fiona Serafina 70,54 - 67,37 - 71,88 --- 209,78
11 Darino Dackelblick - Richter,Lilli 69,95 - 67,82 - 71,49 --- 209,25
12 Cecil - Schwierking,Kenya 70,51 - 68,55 - 65,70 --- 204,77
Young Riders
1 Descolari - Collin,Luca Sophia -  74,78 - 74,29 - 76,43 --- 225,50
2 Der Erbe OLD  - Schrödter,Jana - 73,73 - 73,32  - 76,88 --- 223,92
3 Holly Golightly - Derlien,Anna - 72,59 - 72,76 - 73,40 --- 218,75
4 Summer Rose OLD - Allard,Romy - 71,75 - 71,87 - 74,38 --- 218,00
5 FBW Despereaux - van Loon,Emely - 73,51 - 72,03 - 72,28 --- 217,81
6 DSP Lifestyle - Schmitz-Morkramer,Helena - 70,35 - 73,37 - 73,70 --- 217,42
7 Serano - Erbe,Helen - 71,89 - 71,26 - 73,53 --- 216,67
8 Dante - Rühl,Charlotte - 72,15 - 69,53 - 73,48 --- 215,15
9 Quotenkönig - Friesdorf,Theresa - 70,18 - 71,82 - 72,83 --- 214,82
10 Sir Robin Off Loxley - Gömmer,Emma - 70,92-  69,61 - 73,48 --- 214,00
11 Consus - Locklair,Caroline - 69,47 - 68,71 - 72,90 --- 211,09
12 Free Willy - Nieberle,Romina - 68,90 - 71,45 - 70,35 --- 210,70
Related Links
Oatley, Rother, Schmitz-Morkramer, Collin Win 2020 German Youth Championships
Oatley, Schmitz-Morkramer, Schrödter, Rothenberger Win 2019 German Youth Riders Championships
Treffinger, Pistner, and Welschof Win 2018 German Youth Riders Championships
Alegra Schmitz-Morkramer Wins 2018 German Developing Pony Rider Championship
Middelberg, Allard, Rothenberger Win the 2017 German Youth Riders Championships
Erbe, Horstmann, Becks Win 2016 German Youth Riders Championships 
Rothenberger and Nowag Win 2015 German Youth Riders Championships
Mende, Abbelen, Rothenberger Win 2014 German Youth Riders Championships
Rothenberger, Abbelen, Niemann Win 2013 German Youth Riders Championships
Rothenberger, von Platen, Kienbaum Win 2012 German Youth Riders Championships
Walterscheidt, Voigtlander, Rothenberger Win 2011 German Youth Riders Championships
Photo Report: All the Action from the 2010 German Youth Riders Championships
Scores: 2009 German Youth Riders Championships
Photo Report: 2008 German Youth Riders Championships in Hannover
Photo Report: 2007 German Youth Riders Championships in Steinfeld
Photo Report: 2006 German Youth Riders Championships