2021 Paralympic Games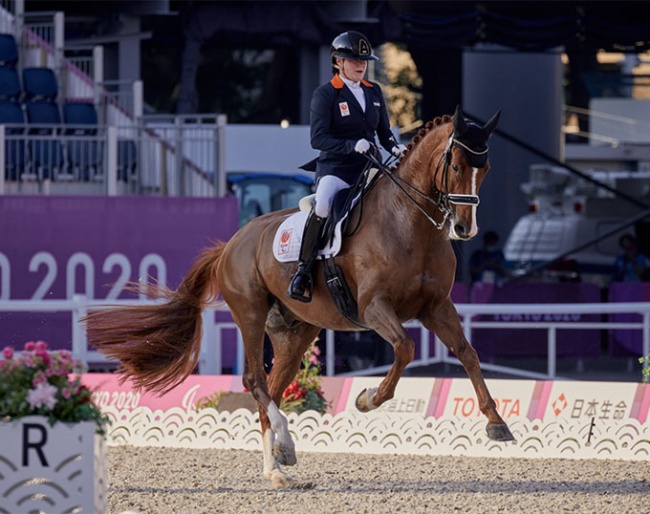 After two days of a most exciting team competition in which several nations had the chance to catch one of the coveted Paralympic medals and which finished with the closest ever result, there was another day ahead of thrilling sport at Baji Koen on 30 August 2021: the freestyle finals.
The freestyle finals in all five grades are usually the highlight of Paralympic dressage competitions and it was no exception in 2021.
The individual competition at the end of the previous week served as the qualifier for the freestyle and in rather big fields of 12 to 18 starters only the best 8 of each grade got qualified for the freestyle.
Early on freestyle Monday morning the horses had to prove their fitness in a second vet-check. One of the favourites in grade III, Rixt van der Horst's mare Findsley was withdrawn from the competition which allowed Canada's Paralympic veteran Lauren Barwick and Sandrino to present their freestyle as the 9th placed in the individual competition.
The freestyle programs in all five grades foresee certain obligatory movements, but riders are allowed add more difficult movements to their freestyle to increase the artistic difficulty and hopefully their artistic mark with it. The FEI programs clearly define which additional movements are allowed and which are not.
Grade IV: Gold and some little surprises
As the anchor"lady" of a very strong Dutch team that missed gold the day before by a blink of the eye to Great Britain, Sanne Voets and her appropriately "orange" coloured KWPN gelding Demantur (by Vivaldi) were the clear favourites for defending their freestyle title from Rio five years previously.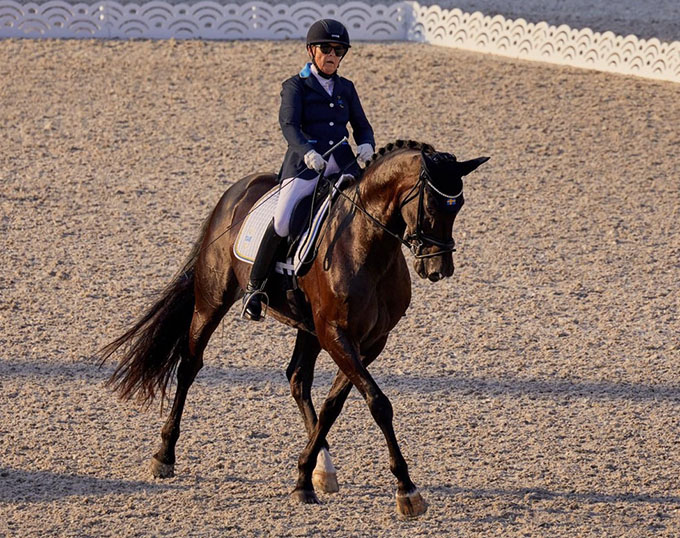 The soft flowing music by the renowned Dutch band Haevn fitted the flow in which the popular Dutch couple seemed to be, with the horse extremely willing and relaxed throughout their ride. Apart from a small hiccup in canter Voets rode not only technically on a very high level, but also set the bar artistically very high with movements like trot half-passes and from it into trot extensions on both leads. Their 82.085% brought them their well deserved second gold medal.
Louise Etzner Jakobsson from Sweden was the surprise silver medalist and this against the odds. The double bronze medalist from Rio only has her new four legged partner Goldstrike for about a year. The gorgeous black KWPN gelding by Dreamcatcher faced elimination at his international debut in Mannheim this spring when he seemed to find the big arena quite spooky  and then Louise broke her leg a bit later in the season. However, in Tokyo Goldstrike was very much in tune with his rider. She was able to ride him bravely forwards to produce a classy flowing test with fluent trot half passes on both leads, effortless trot-canter-transitions and super active trot extensions in an ideal frame.
75.935% secured her the silver medal over Belgium's Manon Claeys and her Oldenburger gelding San Dior who with 75.68.  Compared to some of her rivals Claeys seemed to have a bit less demanding floorplan, but her long legged super elegant horse managed to show an almost faultless freestyle in an exemplary frame in which the very clear and smooth trot-canter-transitions were a real highlight and underlining the horse's great submission and harmony with his rider.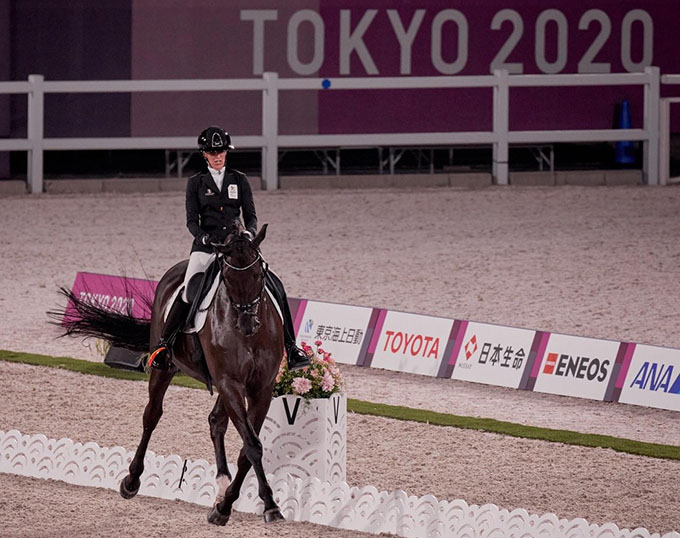 Whereas Claes already had been the individual bronze medalist in Tokyo, the USA's representative in grade IV, Kate Shoemaker came surprisingly close to this medal in the freestyle. After a 7th place in the individual class and contributing to the USA's first ever Paralympic team medal the day before, the equine vet had the ride of her life in the stadium of Baji Koen. Aboard her trusted partner Solitär, an elegant 14-year-old Hanoverian by Sandro Hit, she had a very harmonious ride to instrumental music with very expressive single flying changes and showing demanding movements like the transition from trot extension into shoulder-in and shoulder-in along the center-line. 74.910% brought her close to the medals.
After their silver medal in the individual competition and with Brazil not having a team, Rudolpho Riskalla and his Hanoverian stallion Don Henrico had their second appearance in Tokyo on the freestyle Monday. Having been as fresh as a daisy in the individual competition, in the freestyle some tension was creeping in with Don Henrico while he was probably the most expressive horse of his grade. Riskalla rode an artistically very demanding test with zig-zag trot half-passes, canter half passes with exemplary flexion, bend and rhythm and single flying changes. Regrettably Don Henrico spooked twice in the same corner during the canter tour and the score dropped down to 73.895%, so the sympathetic Brazilian missed out another medal.
German Paralympic newcomer Saskia Deutz proved that she 'ain't nobody', like her music suggested, and rode to 6th place with her Swarovski-mare Soyala. The dark brown Hanoverian is an expressive horse, but wasn't entirely free of tension in her artistically difficult choreographed freestyle. While the clear highlights were the canter movements in which Soyala moved in a very nice silhouette, the trot work was marred by a spook at the beginning of a trot extension in which the horse dropped into canter instead. However, 73.485% and certainly further room for improvement.
Grade V: And again George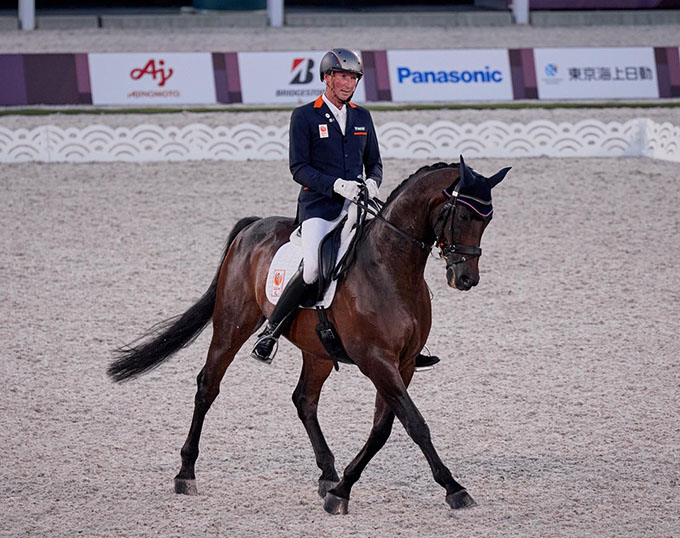 There is some resemblance with Germany's able bodied dressage star Isabell Werth when Belgian grade V flagship Michèle George punches the air after her rides. And indeed, she is collecting gold medals on the Paralympic with a similar consistency like Werth does at the Olympic Games. In Tokyo George added not only individual, but not entirely surprisingly also the gold medal in the freestyle to her golden collection of London 2012 and Rio 2016.
However, Dutch routinier Frank Hosmar gave her a run for the money. Hosmar was the first to go of both with his partner for many championships, the now 16-year-old KWPN gelding Alphaville. He had the perhaps most difficult floorplan, including canter half passes with a subsequent single flying change, two half canter pirouettes and single flying changes on the serpentine and finally flying changes to 4 tempi. The leggy elegant Alphaville was game on.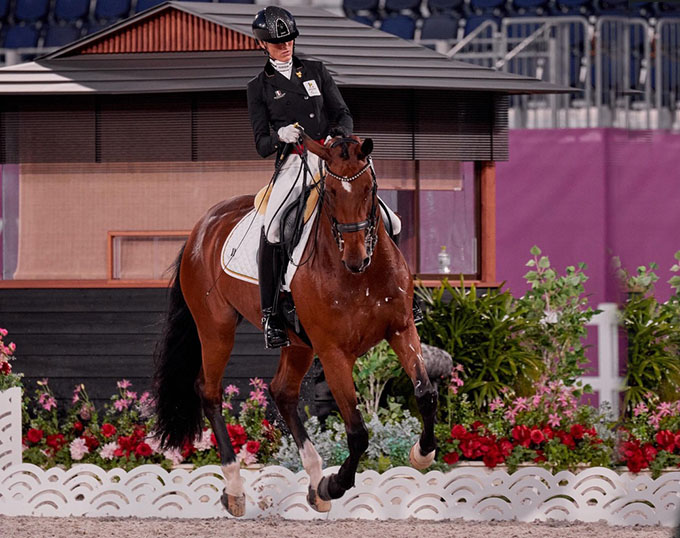 80.240% was the result to beat for Michèle George who was the last starter on her brown Westfalian mare Best of 8. That they became with a ride as dynamic as their music. The Bonifatius-daughter showed great submission and diligence in all movements which were confirmed. Their clear highlight were the canter half passes which stood out with their very good flexion, bend and activity. 80.590% meant the third consecutive Paralympic title for George.
For the bronze medal it was expected that Great Britain's Paralympic third timer Sophie Wells and Germany's Paralympic debutant Regine Mispelkamp to be those with the best chances and it proved to be true.
Mispelkamp, an experienced professional rider who is also active as a dressage judge in Germany, presented the 2nd youngest horse in her grade's field. The 9-year-old Florencio son Highlander Delight's is a stunning horse. Built very uphill and properly muscled he has the look of a stallion and can produce similar expression. Mispelkamp's music was clearly underlining the movements she had chosen to show with her horse. Highlander Delight's extended walk is one of a kind with the horse not only stretching copybook style, but marching through his whole body with clear overtrack. Unfortunately there was a major hiccup when the liver chestnut with the flame red mane and tail spooked before the half pass towards the end of their freestyle.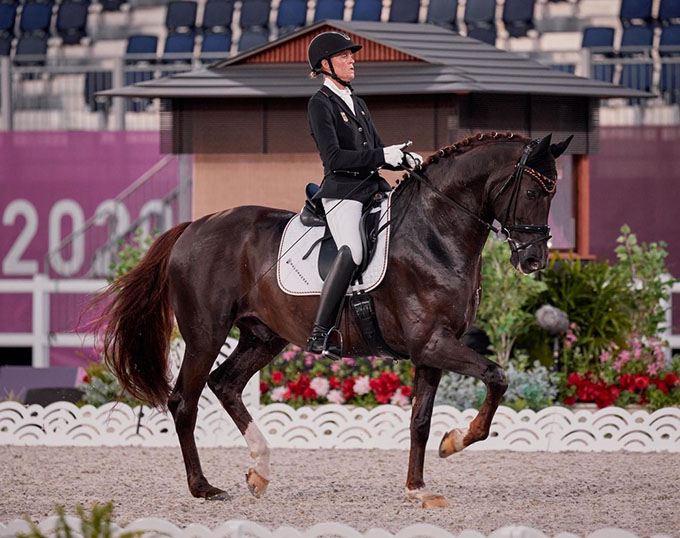 With 76.840% Mispelkamp had to wait what multiple Paralympic champion Sophie Wells and her championship rookie Don Cara M would produce, who started directly after. The Dutch bred dark liver-chestnut gelding by Don Jovi had replaced Sophie's experienced gold medalist C Fatal Attraction shortly before departure and had definitely lived up to the occasion with his individual silver and team gold at Tokyo. However, one could already see in the team test that Sophie literally had to throw all her experience into it to keep the super expressive gelding on track. In the freestyle too much tension was building up, already in the walk the horse was not stretching like usual. Sophie tried to release some tension in a bravely forwards ridden canter extension, but the simple canter changes were marred and it is to the mastery of the rider that she could still produce a decent ride to finish 4th with 73.560%.
Grade III: Gold and Poetry in Motion
With Rixt van der Horst dropping out of the field, at least the run for the bronze medal was open in Grade III.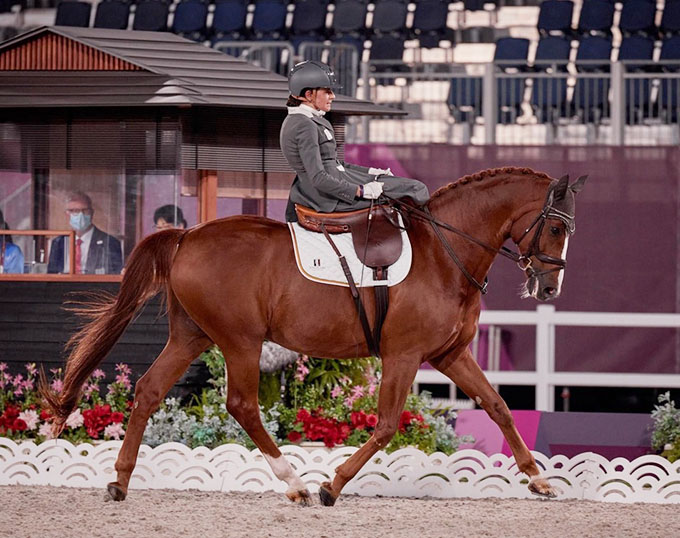 Norway's Ann Cathrin Lübbe, Rio gold medalist and also well remembered for her wonderful colored horse Zanko about a decade ago, Belgium's Barbara Minneci and France's youngster Chiara Zenati seemed the most likely one to catch a medal behind the two superior Grade III riders in Tokyo: Tobias Thorning Jorgensen and Natasha Baker.
First to go of those was three time Paralympian Barbara Minneci who has not yet won a Paralympic medal, but is well known for her side-saddle riding and the classical style she produces in the ring. After having started her para career on her very first horse, the skewbald Irish Cob Barilla, Barbara is now competing on the Oldenburger chestnut Stuart who's a sympathetic middle-sized horse well fitting to his rider.
To dreamy tunes of movie music their ride was stamped by great harmony, precise transitions and outstanding trot extensions in which the horse really swings and steps over in a lengthened frame. However, 73.840% would prove not to be enough for a medal, but their 4th place is Barbara's best Paralympic result so far.
Close behind Emma Booth from Australia scored 73.807% on Zidane. The horse always in a nice frame, in good harmony with the rider and showing very nice leg yielding in trot. This freestyle was Booth' horse's Zidane's swan-song as he retires from competition after Tokyo. What better way to end it on such a high mark!
Chiara Zenati from France who had ridden the third best result in the team competition had bad luck when her highly refined Hanoverian Swing Royal IFCE decided to live up to his name in the very first corner they passed in their freestyle. A violent swing and spook by the experienced 15-year-old did not unseat his rider, but understandably let her ride a bit conservatively for the rest of her freestyle to traditional French tunes. Nonetheless both form an incredibly elegant pair and were a joy to watch throughout the Paralympics.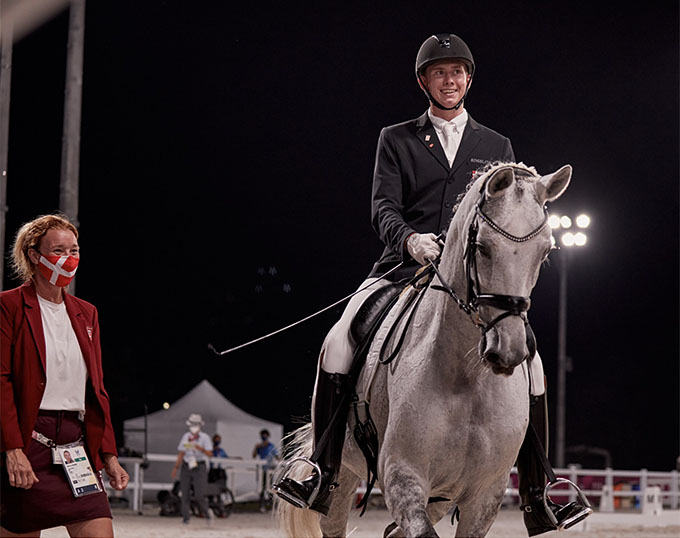 Finally it was Norwegian Ann Cathrin Lübbe whose fluent and pretty much fault-free freestyle to the well-known "Lemontree"-sound brought her the bronze medal with a result of 76.447% . On her 10-year-old Danish warmblood gelding La Costa Majlund (by Sir Lancelot) she was the only one who showed a canter tour with even a single simple change to a music which was perfectly composed to the transitions in her freestyle.
"Jolene, Jolene, Jolene" it sounded from the loudspeakers when Danish hot favorite, 21-year-young Tobias Thorning Jorgensen entered the arena with his grey mare "Jolene Hill" and immediately showed a trot half-pass to begin with.  The following minutes they did a freestyle as if made from one piece. The 13-year-old Danish warmblood mare by Schufro has incredible natural swing in her trot and is able to show trot extensions some Grand Prix horses would be dreaming of. Same could be said of her very rhythmic walk extension with very good stretching. It was poetry in motion and 84.367% were a never endangered second gold medal in Tokyo and over 6% ahead of Great Britain's grade III legend Natasha Baker and Keytstone Dawn Chorus, "Lottie" to her friends who scored 77.614%. The combination truly went for it with Baker riding positively forwards . Her dark brown Hanoverian mare by Dimaggio is such willing horse with a big engine behind, always diligently stepping under which showed over all on their energetic extended trots.
Grade II: Rule Britannia
None of the two favorites for gold left a stone unturned to realize their goal: Lee Pearson from Great Britain as well as Pepo Puch from Austria really went for it and had artistically difficult programs.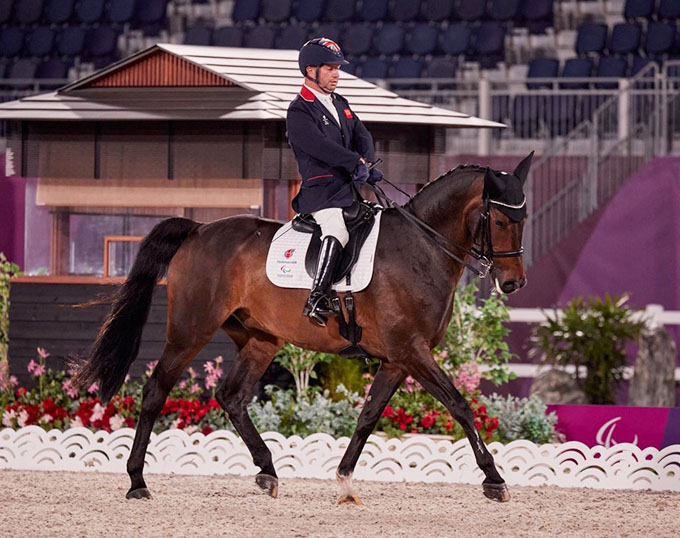 First to go of both was Lee Pearson on his homebred gelding Breezer who is a horse with a lot of cadence in trot and a remarkable overall suppleness. The horse's highlights were the leg yieldings on both leads which were rhythmic, supple and with good crossing as well as the very good trot extensions. It was a polished ride of a rider who could give his horse a lot of confidence and 82.447% was the bar set high for Pepo Puch who followed after.
It became clear from the beginning that the Austrian would not play safe. To the tunes of Gershwin's 'Rhapsody in blue' his Hanoverian Sailor's Blue, an elegant black gelding with a characteristic left eye, showed the best of his three rides in Japan. The 13-year-old Swarosvki- son is extremely safe in rhythm in walk and trot and owns amazing self-carriage with an always soft contact. His rider really went for it and risked all. The last trot extension was pretty much a medium trot from the textbooks. 81.007% left them both with another individual silver medal, but it was an outstanding ride as well.
Not on the British team which won the gold a day earlier, Georgia Wilson was nonetheless in for another medal after her bronze in the individual competition. Her cute appropriately named chestnut Oldenburger mare Sakura (= cherry blossom in Japanese) was once again tremendously diligent in the way she was executing her movements. A tiny loss of rhythm in the walk was the only clear wobble of at 7 the youngest horse in the field of an otherwise pleasing program. With 76.754% they defended the bronze medal against German's Heidemarie Dresing and La Boum who's a fascinating horse and forms a very elegant match with his rider. But on freestyle day the Hanoverian mare by Londontime seemed on fire which lead to a few rhythm problems in trot. 74.867% were nonetheless a good result, though on that day not (yet) enough to challenge Wilson.
Grade I: A Golden World and Paralympic Record
At first look there probably couldn't be more contrasting pairs than Roxanne Trunnell with her tall long legged Hanoverian Dolton (by Danone I) and Latvia's Rihards Snikus with his smaller strong boned Latvian bred King of the Dance (by Kadilak LS).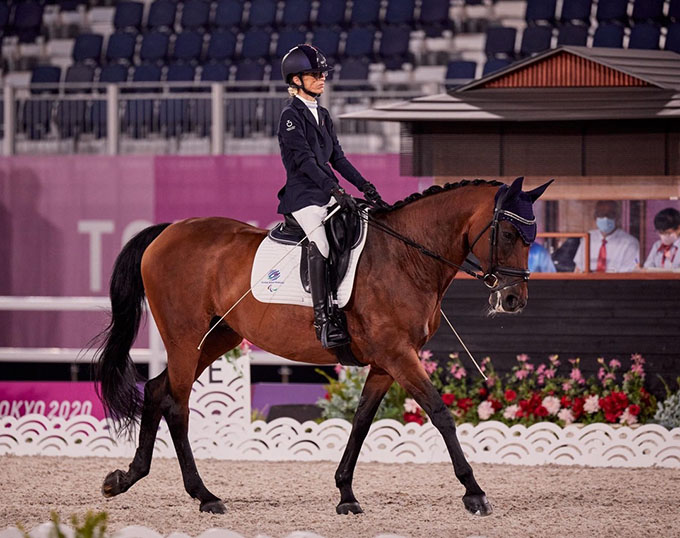 Based on the results of the individual competition both were the clear favorites to take the first two places, with Italy's reigning Worldchampion Sara Morganti in with a chance to challenge them for more than the bronze medal she had won in the individual competition in Tokyo with her longtime partner Royal Delight (by Royaldik).
First to go of this trio was Morganti who was the first of the day in her grade to score over 80%. Her brown Rhinelander gelding improved on his first two appearances in Japan and showed a really nice program in which the very good medium walk, the leg yielding which was fluent and rhythmic and the overall diligence with which the brown gelding marched through his freestyle positively stood out.
Morganti was directly followed by Rihards Snikus who in real life enjoys to work as a DJ which reflected in his modern rhythmic music he had chosen for his freestyle. Snikus, who also won silver at the WEG in Tryon three years earlier behind Morganti, is extremely in tune with his 13-year-old Latvian bred gelding with the fitting name King of the Dance. He might not have the mainstream warmblood look, but owns a walk which is bomb proof in rhythm. Snikus rode half a diagonal of walk half-passes on each lead which his horse executed very willingly, with correct flexion, bend and clear crossing of the legs. King of the Dance tried his heart out for his rider and showed excellent walk extensions. The strong gelding with the big head is a very consistent performer over the past years and amazingly is by the Latvian stallion Kadilak who himself represented his country at the 2013 European championships in Denmark.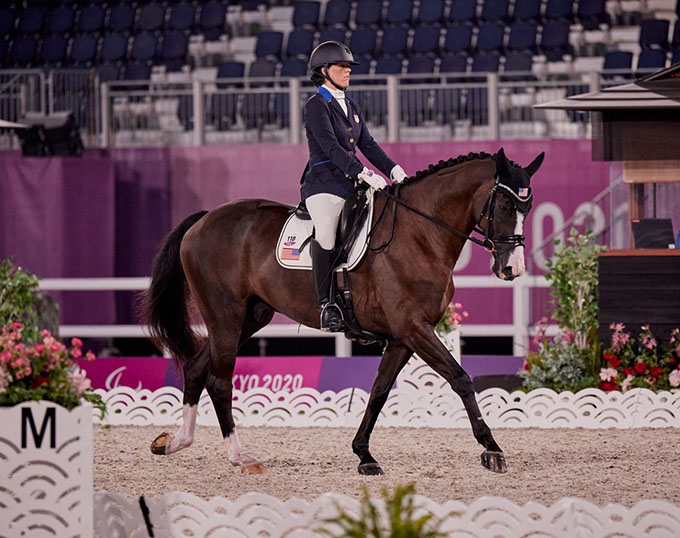 With 82.087% Snikus and King of the Dance could hold Morganti at bay, but in the end stood no chance against the United States' Roxanne Trunnell and Dolton who were last starters. The tall Trunnell is the perfect match for the equally tall big framed Danone I-son. The Hanoverian has an unbelievable walk regarding its quality and rhythm which hardly ever visibly changes, no matter in which tempo, turn or transition he is in. Additionally the attractive looking dark brown is in a consistent soft contact. To quiet piano music Trunnell managed to improve her own world record set at home earlier in 2021 and at the same time broke Great Britain Sophie Christiansen's Olympic record by more than 2%. 86.927% did not only mean the undisputed gold medal, but another mention in the record books.
In Conclusion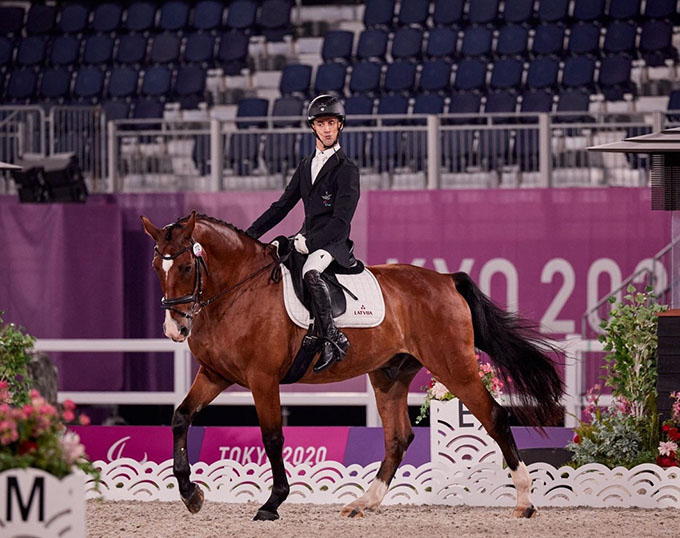 The Paralympic dressage in Tokyo had once again proven that the discipline is truly ever improving, over all considering that 20 years ago one still rode on borrowed horses!
This time it is only three years until the Para dressage will take place in front of the magnificent castle of Versailles near Paris and with several promising new horses and riders we have seen this year, it remains exciting who of those will keep their high level and who will even improve until the next Games.
- by Silke Rottermann for Eurodressage - Photos © FEI
Related Link
A Look at the Individual Medal Competition at the 2021 Paralympics