2021 Paralympic Games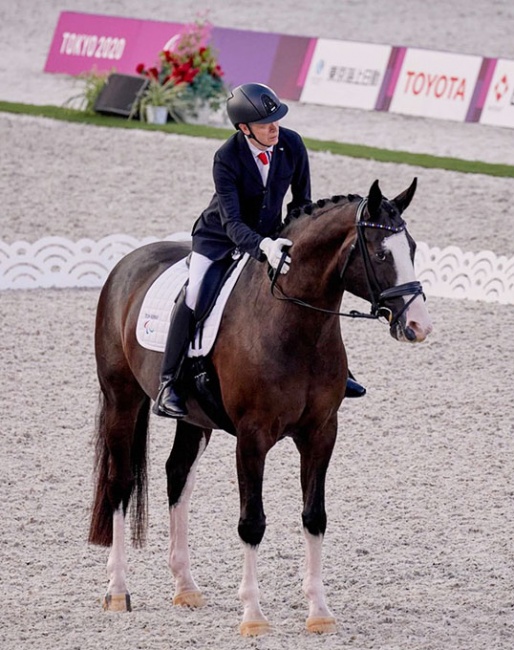 The 2021 Equestrian Paralympics kicked off on the second day of the Games in Tokyo, turning out to be hottest of both Olympics and Paralympics so far. More than 35 degree and a high degree of humidity were faced by the horses and riders of the Grades II, IV and V, but all possible precautions were taken to ensure the well being of the two and four legged athletes.
The next day the remaining Grades I and II followed with their individual competitions, which also served as qualifier for the freestyle held after the team competition on the weekend.
77 Horses in 5 Grades
A record number of 77 riders and horses in the five grade divisions not only tried to win individual medals or be among the best 8 to reach the freestyle final on 26 - 27 August 2021, but for some it simply meant the fulfilment of personal dreams way beyond that.
Para Dressage has come a long way since its Paralympic debut in Atlanta in 1996. The only one who has taken part in this development as a rider to its present day is Norwegian Grade I rider Jens Lasse Dokkan who holds the unique record to have competed in every single Paralympics since then.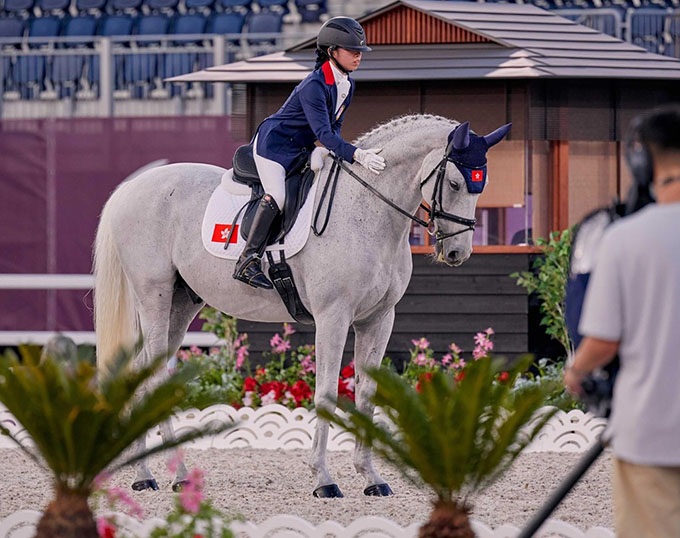 A fact which seems unbelievable today is that at the first two equestrian Paralympics, in Atlanta and Sydney, all competitors had to rely on borrowed horses which they only got to know briefly before their competition started and which were made available by private people. In light of the current discussion about a similar system still being used in the Modern Pentathlon and due to the undeniable fact that para riders all have very specific requirements regarding their equine partners it certainly did the discipline well to allow the riders to compete on own horses, ever since Athens in 2004.
With this drastic change less than 20 years ago the level of horses and the sport rose and there is no end in sight. The past two days in Tokyo have once again proven the high quality of riding and horses in all five grades. Riders gets submitted to a certain ground based on their physical disability.
Grade II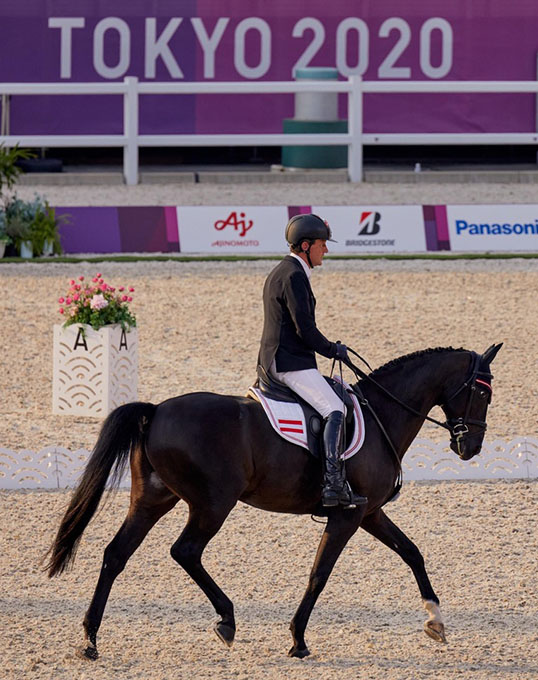 The dressage at the Paralympics kicked off with Grade II in which a battle of the giants was to be expected: 11 times Paralympic champion, Sir Lee Pearson from Great Britain and Austria's Pepo Puch, Paralympic champion in 2012 and 2016.
Whereas Pearson, who was born with arthrogryposis multiplex congenita which causes joint contractions, has also competed in able bodied dressage up to advanced level, Puch suffered incomplete paraplegia in a fall during an eventing competition - a sport which he had successfully taken part in to Olympic level in Athens in 2004. Both are consummate horsemen with an extraordinary feeling for horses and both regularly show beautifully trained horses.
Pepo Puch was the first to go on 26 August. After having been repeatedly successful with the chestnut Hanoverian Fürst Chili in the lead-up to Tokyo, the Switzerland based 55-year-old chose to compete his second top horse in Japan, Sailor's Blue, his double silver medalist from Tryon 2018. This elegant black (by Swarovski) started out in fine harmony with his rider when all of a sudden he spooked clearly at E and broke into canter. Puch masterfully managed the situation by gaining control again and continued his ride seemingly unperturbed, risking all in the movements to come. The trot extensions were shown with much overtrack, the horse swinging from back to front through his whole body and always with a refined contact and in a good frame. It was a ride on a high level, but it was also clear that the spook would lead to a loss of valuable points.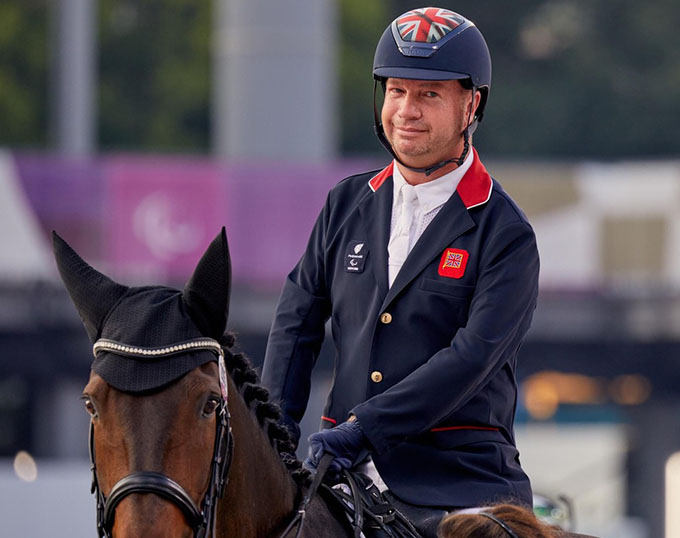 Something you usually cannot afford when competing against Lee Pearson. The 47-year-old Brit is called the "godfather of para dressage," not only for the popularity his enormous success over the past two decades has brought, but also for his engagement to promote the sport. His 10-year old gelding Breezer (by Bacardi x Metall) is a home bred by Lee's parents out of the same mare (Sedonja L) as his WEG ride Styletta with whom he successfully competes up to Inter I against able bodied riders. The gelding convinced with fluent movements and transitions, adding to Pearson's precise riding. A lot of overtrack in the rhythmic walk and very good trot circles earned the Brit deservedly high marks. Tacked up with a double-bridle, Breezer was very safe in the contact. A few tiny wobbles could not endanger Lee Pearson's 12th Paralympic gold medal almost 3% ahead of Pepo Puch.
The bronze medal was a close fight between Britain's Georgia Wilson and the oldest rider in the field, Germany's Heidemarie Dresing, both Paralympic first timers. Wilson sat on the youngest horse in the field of 12, the just 7-year-old Oldenburger mare Sakura (by Supertramp) —a late call-up on 12 August when multiple Paralympic champion Sophie Christiansen had to withdraw.
It enabled the student of Grade V rider Sophie Wells the travel to Japan. Having had Sakura less than a year under her saddle, Wilson especially showed a very good and rhythmic walk tour and her chestnut mare surprised with her routine in the programme, despite her young age. 72.765%  were just enough to beat Heidemarie Dresing into 4th place with 72.294%. Dresing's also only 8-year-old Hanoverian mare La Boum (by Londontime) had a consistent season before Tokyo and is a horse brimming with talent and quality.
Grade IV
In Grade IV Dutch triple gold medalist Sanne Voets strived for the hattrick on the Paralympic stage and convincingly took the first step in this individual competition.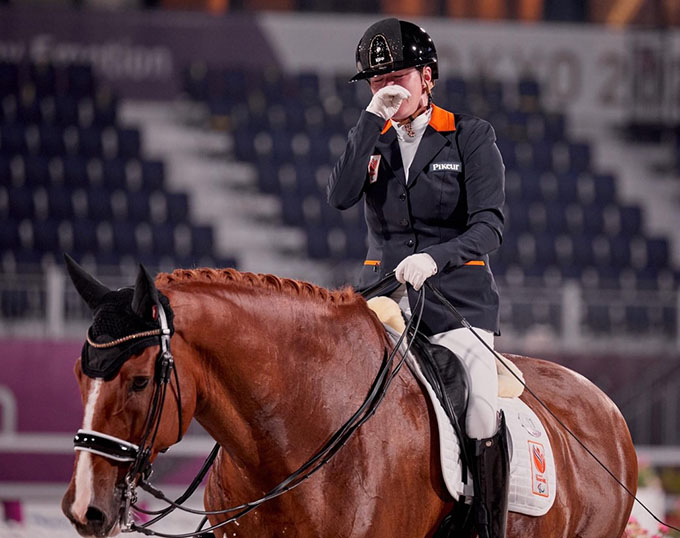 The Rio 2016 gold medalist rode her trusted partner Demantur, a big framed KWPN gelding by Vivaldi, and excelled with an extremely routined and practically faultless ride. The 36-year-old Voets not only practiced very precise riding, but presented her chestnut in good balance and safely on the aids. "Demmi's" extraordinarily uphill and rhythmic canter with effortless canter lead changes was the special highlight in her golden ride (76.585%).
On the Dutch's heels, not just since Tokyo, is para dressage's "sunny boy," Brazil's Rudolpho Riskalla who juggles a life between France and Germany. Aboard Gestut Schafhof's 18-year-old Hanoverian stallion Don Henrico, whom Rudolfo also has successfully competed at international small tour level, he showed a flamboyant ride. The shining chestnut was brimming with expression. 74.659% secured them individual silver.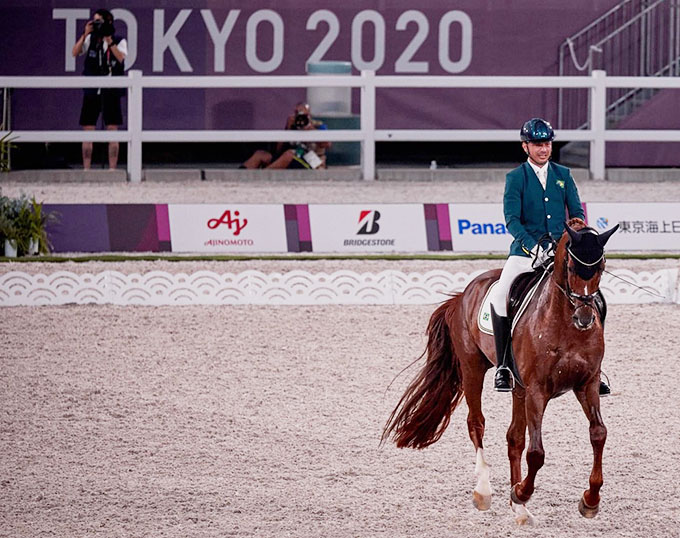 Belgium's Manon Claeys narrowly missed a medal at the last WEG 2018 in Tryon, but got a taste during the Europeans in Gothenburg 2017 and Rotterdam where she took silver and bronze medals. The tall blonde and her equally long legged elegant Stedinger son San Dior are an eye-catching pair and presented themselves in top form under the floodlights at Baji Koen equestrian centre, always having her Oldenburger in front of her.
However well earned her first Paralympic medal may have been deserved, it was a very close result. Sweden's Rio 2016 double bronze medal winner Louise Etzner Jakobsson had a remarkable ride on her new Paralympic partner Goldstrike B.J. for whom Tokyo was only their third international show. The black gelding, a KWPN bred by Dreamcatcher, was fully focused on his rider who could risked riding forward, showed a fluent ride and almost repeated his rider's success of 5 years earlier.
Grade V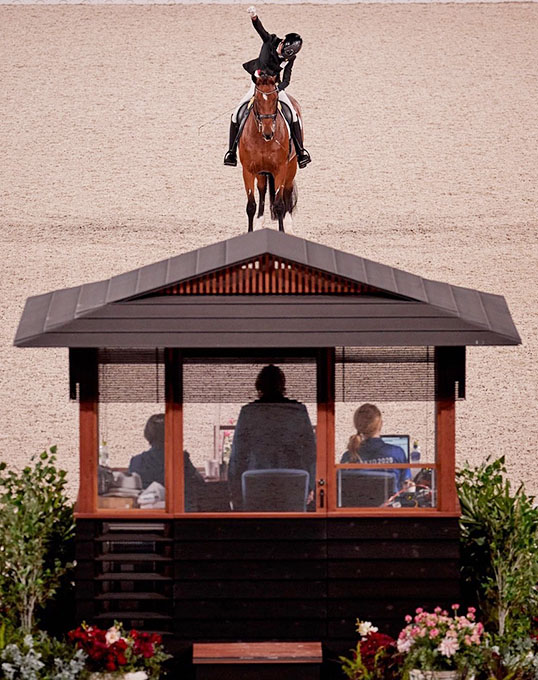 A look at the result list of Grade V seems to suggest there is nothing new under the sun.
Belgium's prominent flag carrier Michele George won her third consecutive gold medal after London 2012 and Rio 2016. But this time on a new horse, the 11-year-old Hanoverian Best of 8. The brown mare by Bonifatius is surely a dignified successor of George's legendary Württemberger gelding Rainman FBW and showed a polished program in the expert hands of the 47-year-old Belgian who's the mainstay of her team for many years.
Great Britain's Sophie Wells who has contested many times for gold with George, broke out in tears of joy after her ride on the energetic dark liver chestnut Don Cara M. Only very shortly before Tokyo the gelding was put on the team instead of Sophie's planned ride C Fatal Attraction and a silver medal on their first attempt visibly moved the petite blonde.
The bronze medal again was a very close decision between the extremely experienced Dutch Frank Hosmar and Germany's Regine Mispelkamp.
While Hosmar is one of the most experienced competitors at Tokyo, Mispelkamp only started her para career three years ago after making her multiple sclerosis diagnosis public. For Tokyo she chose her younger and less experienced horse, Highlander Delight's (by Florencio) while Hosmar relied on his 16-year-old Alphaville. In the end routine won by a hair's breadth and the wonderfully sitting German had to be content with 4th place at her Paralympic debut in the arena. However with her liver chestnut gelding only being 9 and being full of promise the future might hold more for her.
Grade I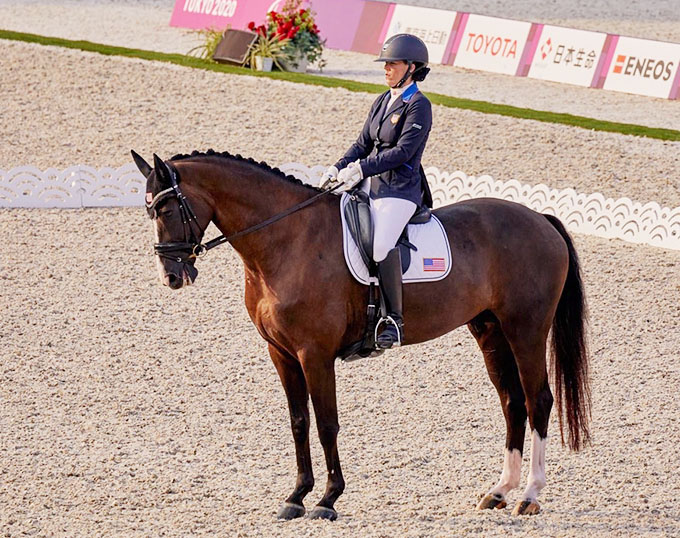 Whoever seriously doubted that horses are angels, has never watched a Grade I para dressage class. Here the most severely handicapped contest in a program ridden entirely in medium walk and it requires them to ride circles, loops and halts. Logically the horses not only need a rhythmical, safe walk, but at the same time the sensitivity to differentiate an intended aid from an unintended movement the rider makes as well as the relaxation and self-confidence to march purposefully from A to C.
Certainly there were big expectations for the USA's Roxanne Trunnell for her second Paralympic Games after Rio. The 1st of the world rankings in this grade and Tryon 2018 bronze medalist had achieved remarkable scores in the lead up. She and her tall Hanoverian gelding Dolton (by Danone I) fully lived up to them with a convincing ride in which the very good halts stood out. Dolton is a classy horse with a lot of presence and matches his rider perfectly. 81.464% was the one of two results breaking the magical 80% barrier within the five grades in this individual competition.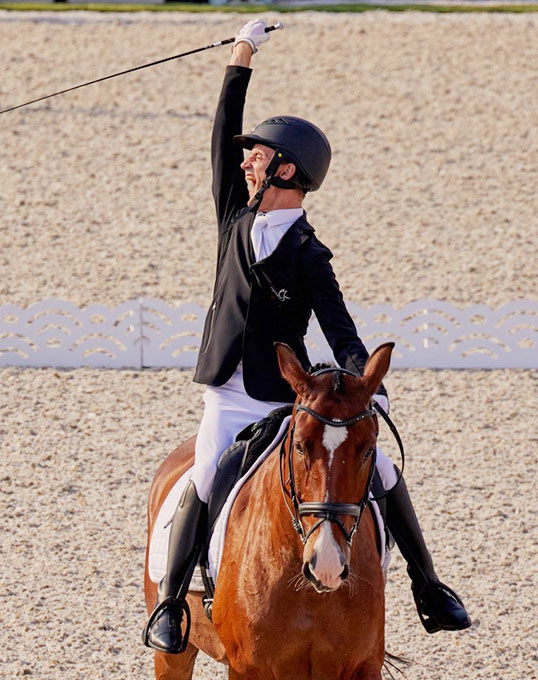 The second was achieved by Rihards Snikus from Latvia and his Latvian bred gelding King of the Dance who is a completely different type from the long legged Dolton. On his 3rd Paralympic Games the 33-year-old delivered when it was needed and scored a whopping 80.170% as first starter of the whole field. It took a while until Trunnell came to overtake him, but it didn't lessen the sheer joy Snikus showed after he had been 4th in London and 5th in Rio where he already competed with his cute brown gelding.
The level in Grade I was in particular high as all 8 riders who qualified for the freestyle at the beginning of the second week scored over 70%.
Italy's experienced Sara Morganti, double World Champion in 2018, was the one who with 76.964% took the bronze medal with her long-time partner, 16-year-old Royaldik son Royal Delight, while Norwegians record Paralympian Jens Lasse Dokkan placed 4th behind on his impressive Danish gelding Aladdin who fitted like a glove to his rider and like many horses showed relaxation and contentment I wish all sport horses could enjoy.
Grade III
Equally high was the level in Grade III in which 9 of the 18 riders in the field scored 70% and more.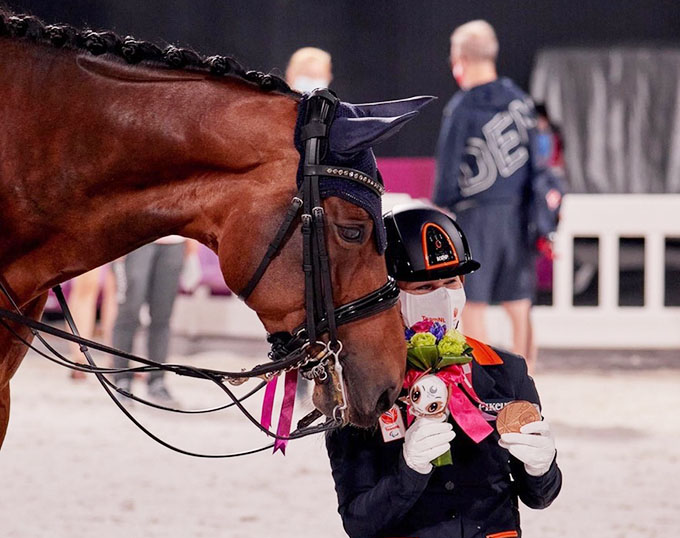 An early 75.765% by The Netherland's popular Rixt van der Horst on her trusted partner Findsley, both double gold medalist at Tryon 2018, set the standard for a while. Rixt's KWPN mare by Belissimo is a powerhouse of a horse and extends in trot like a Grand Prix horse while always being in an exemplary frame. Tacked in a double-bridle the contact was very light throughout the test.
Britain's multiple Paralympic winner Natasha Baker with all her experience and expertise rode the 10-year-old Hanoverian mare Keystone Dawn Chorus to 76.265%. A short spook before entering the arena didn't disturb the overall harmony of rider and horse who was always ridden back to front to earn Baker a first medal in Tokyo to add to her already impressive collection.
In the end young Danish Tobias Thorning Jörgensen, who at 17 had already won an individual bronze medal at the Europeans back in 2017, proved to be superior.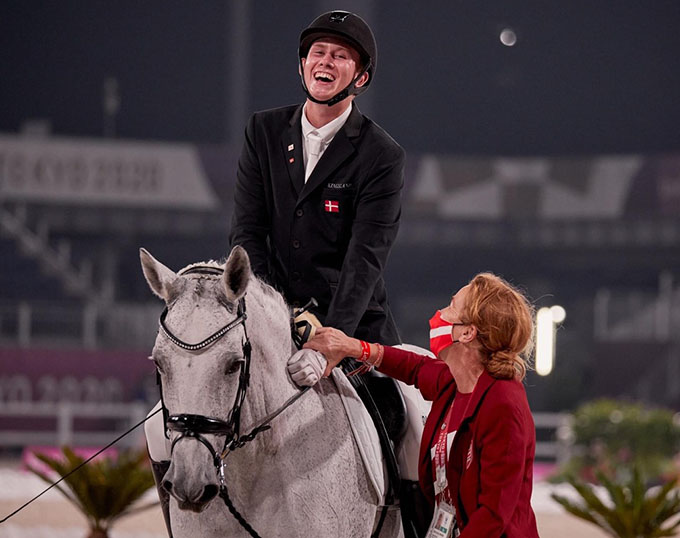 With his very special grey mare Jolene Hill the European champion of 2019 showed a ride which was outstanding for the high degree of harmony as well as the level of technical execution. Everything seemed to flow, the horse submissive, relaxed and just floating effortlessly through the program which required quite some demanding transitions and leg yielding in trot. 78.971% for the 13-year-old Danish warmblood mare by Blue Hors Schufro and the Paralympic title for her sympathetic rider.
Some Small Side Notes
Paralympics are far more than just winning medals. The first competition in Tokyo just proved this once again.
Finnish routinier Katja Karjalainen not only competed in her third Paralympics, but was the only rider in Grade I who is practically blind. She rode the program with the help of her caller, groom Nora Nyberg, and had one of her best rides in a long time on her long-time partner Dr. Doolittle. The tall, strong boned Hanoverian by Duntroon will close his Paralympic career at 18 on Monday in the freestyle for which Katja easily qualified with  a 6th place.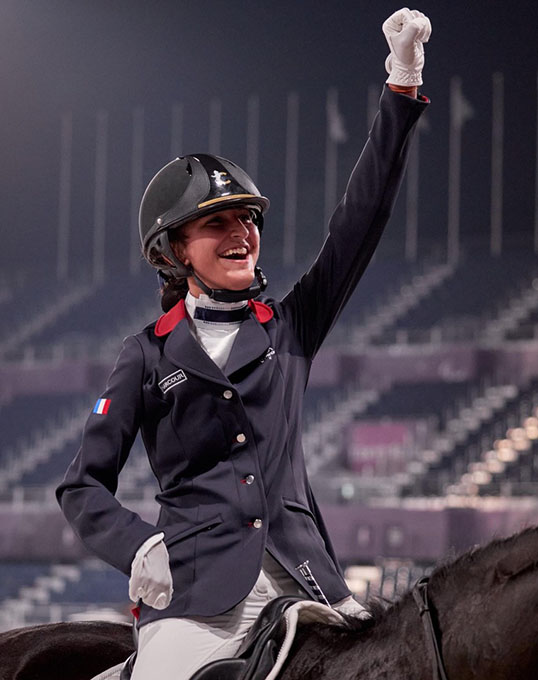 France's benjamin Chiara Zenati is the youngest rider of the whole field, having turned 18 in March. The always cheerful, smiling French girl had a fantastic championship debut placing 5th on a familiar face on the para scene: Swing Royal IFCE, the 15-year-old shiny black Hanoverian by Royal Blend x Matcho AA is a mainstay on the French para team for many years now, previously being successfully competed by Louise Studer and José Letartre. Trained by Cadre Noir rider Sebastien Goyheneix, Chiara and Swing were a picture of elegance in the individual competition.
Same could be said about Belgium's Barbara Minneci who placed just behind Chiara in Grade III and is the only rider in the whole field of almost 80 riders who icompetes in a side-saddle on her Oldenburger Stuart.
Whereas the quality of horses is certainly ever increasing, the variety of horse types at Paralympic Games remains and adds an interesting touch to every competition. Para dressage is also the sphere in which some former international sport horses find their second career. In Tokyo for example the former Grand Prix horse of British Bronte Watson, the magnificent black KWPN gelding Cleverboy (by Vivaldi x Ferro), partnered Irish Grade I rider Joseph Murphy who is trained by Grand Prix rider Elder Klatzko.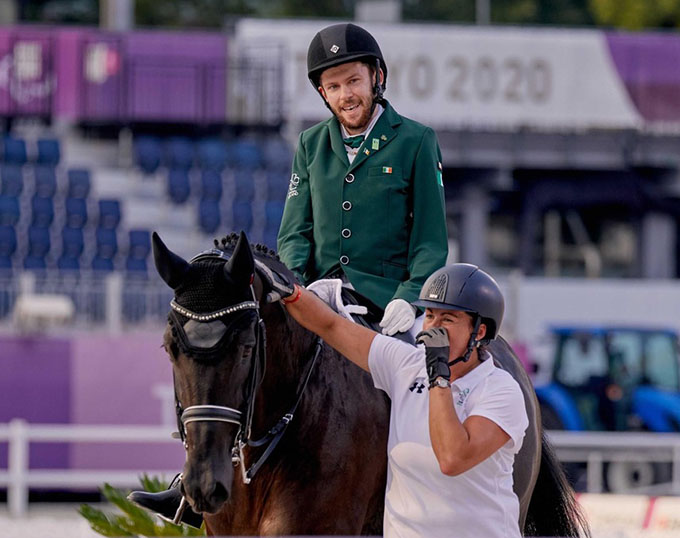 In Grade I - III it is possible to have a so-called "friendly horse" near the arena to keep the competing horse company. Probably the busiest horse with that job was Canadian Roberta Sheffield's mare Fairuza who narrowly missed out the freestyle final in Grade III. Nicknamed "Wonky" at home, the Gelderlander cross was bought as a 6-year-old from a field in England where her rider lives and had also been friendly horse to Lee Pearson's gold medalist Breezer.
Finally, and with a twinkle in my eye, I would like to invite those who usually rather follow the able bodied sport at top level to sneak in para dressage at the same level. The amount of quiet square halts and true trot extensions one can enjoy in para dressage seems one of a kind!
Text by Silke Rottermann for Eurodressage - Photos © FEI
Related Links
Scores: 2021 Paralympic Games
Pearson, Voets, George Take First Gold Medals at 2021 Paralympic Games
Trunnell and Thorning Jorgensen Take Individual Gold at 2021 Paralympics