2021 CDI Ludwigsburg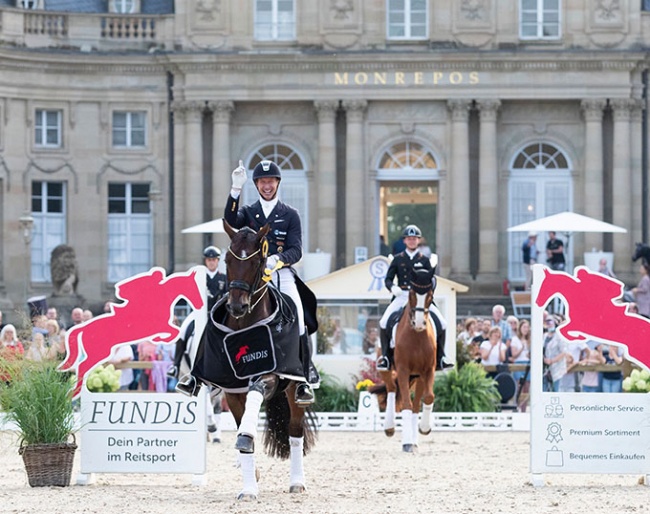 In American football, a touchdown is a six-point gain. Generally speaking, this is no easy feat. The breeder of the 9-year-old Swedish gelding Touchdown (by Quaterback), the Swedish Skeppstrand family, must have had excellent intuition when naming the horse, because Touchdown won the Grand Prix Freestyle, presented by FUNDIS Reitsport, at the 2021 CDI Ludwigsburg.
The International Ludwigsburg Dressage Festival was chosen as venue for Touchdown's international big tour debut. After topping the Grand Prix, the young gelding also won the Kur on Saturday evening with a score of 83.71 percent. The nonchalance with which the gelding completed the Freestyle in front of a huge crowd impressed even Kittel.
"He's such a great guy, you go into the test with him and he's on," said the 46-year-old Olympic rider, "and then you go out of the test and he's relaxed," said Kittel.
The quality of movement and mental strength, the inner qualities - these are Touchdown's big plus points, believes Patrik Kittel, who is also pleased that owner Anna Forslund secured the horse for him at the time. "I think you can go anywhere with him," says Kittel, "he was always like that." Touchdown and Kittel received top marks of 9.0 and more for rhythm, elasticity and interpretation of the music.
Double European Champion gets a taste of the big league
The double Dressage European Champion U25, Raphael Netz from Aubenhausen, who came second with the 13-year-old Hanoverian gelding Lacoste and a score of 77.36 percent, was equally proud.
"I wanted to get a taste of senior competition and I was very happy about the permission to start in the four-star event," Raphael Netz admitted frankly, "and then to come second in my first four-star Freestyle makes me very happy. Especially because the journey with this horse was a longer one. We did our first junior test together with a score of 57 percent. From which we can learn that with diligence and discipline 20 percent more can be achieved...
The third placed pair was Frederic Wandres on the 10-year old Hot Hit, one of the three very good horses squad rider Wandres gets to compete at big tour level alongside Duke of Britain and Bluetooth.
"He is just starting to grow with his tasks and has also qualified for the Louisdor Final," Wandres was pleased to say, "I think he is on a very good path there. This was only his first Grand Prix and his second freestyle." Wandres also had special support from "outside", as he is a brand ambassador for FUNDIS equestrian sport and Stefan Fundis openly admitted that he "already had his fingers crossed that Freddy would make it into the top three". Precisely because the dressage rider is in the FUNDIS team, they follow his successes much more closely and the partnership is close, with regular exchange and feedback.
Visitors Thrilled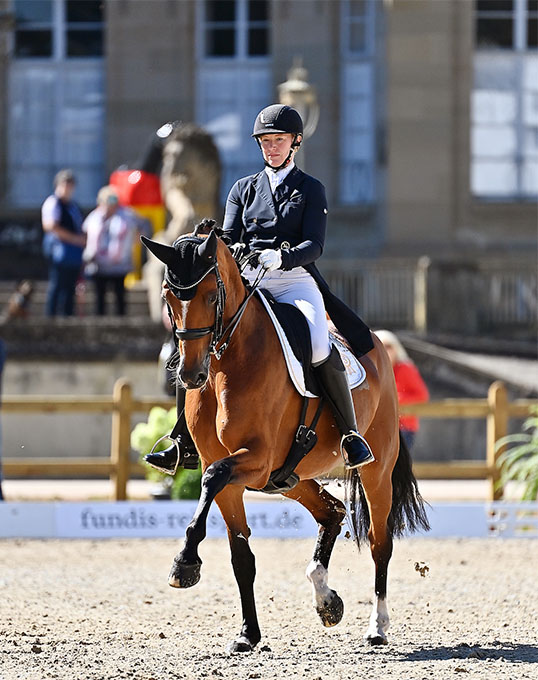 Show organiser Ullrich Kasselmann had hoped for, but not expected in such abundance, the response of the visitors to the International Ludwigsburg Dressage Festival, which is organised in partnership with the RV Ludwigsburg-Monrepos. The dressage arena in front of the castle was lined with rows of spectators, the applause was huge, the enthusiasm for the sport and the ambience was unmistakable. "I didn't expect this level of popularity," said Ullrich Kasselmann, "but as soon as I arrived I was in a very positive mood. People are enjoying it. I think the atmosphere we feel here can be quite a big success."
Young talents convince
Both the U25 generation and Baden-Württemberg's juniors were given a very big stage at the CDI4* in front of Monrepos Palace. Ann-Kathrin Lachemann from Eggenstein was delighted to win the U25 Grand Prix with her KWPN gelding Fransje.
"I always believed in him, even though it wasn't easy at the beginning," beamed the 21-year-old young rider. And: "He will be spoiled now - actually he always is anyway..." Raphael Netz also shone in this competition, coming second with Exclusive BB.
The final of the NÜRNBERGER Burg-Pokal for juniors was won by Nathalie Estelle Neumann (Klinkenheim) with her Belucci. The pair turned heads before and won with a wafer-thin score of 70.10 percent ahead of Teresa Hoffmeister from Balingen. Her mother, Dr. Nicole Hoffmeister-Kraut, Baden-Württemberg's Minister of Economic Affairs and mother of a dressage and a jumping daughter, had her fingers crossed.
Nicole Wego-Engelmeyer (Hagen a.T.W.) secured the final qualification in the NÜRNBERGER BURG-POKAL for seven to nine-year-old dressage horses with the elegant Danish mare Citation. The 34-year-old dressage rider and Citation conquered the final of the dressage series with 75.41 percent at their second attempt after a first start in spring.
Photos © Thomas Hellmann
Related Links
Scores: 2021 CDI Ludwigsburg
Schmidt and Abbelen Win on Day One of Brand New 2021 CDI Ludwigsburg
Swedish Power in 2021 CDI Ludwigsburg Grand Prix