Knabstrupper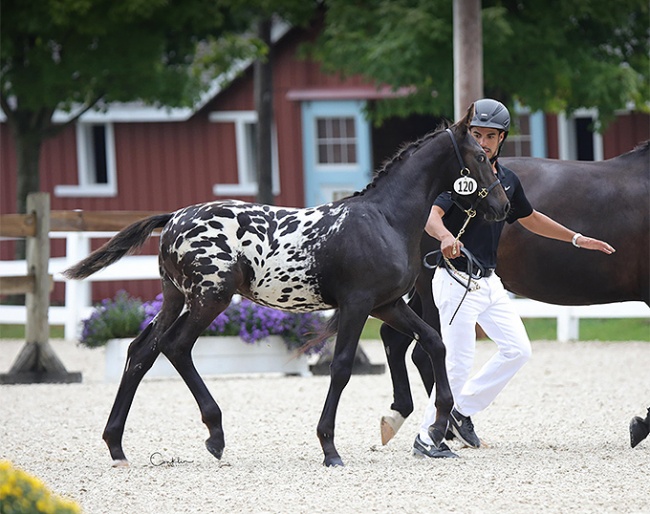 The offspring of the 5-year old U.S. bred Knabstrupper stallion Pax Asgard af Pegasus captured the attention of the crowds and judges and finished third in the "Get of Sire" class at the 2021 Devon Breed Show held at Dressage at Devon on 28 September - 3 October 2021. 
Presented by Renée and Allen Tucci of Murder Hollow Farm, the three leopard foals by the few-spot stallion Pax Asgard af Pegasus scored a collective mark of 77.15 points to finish in bronze position behind serial winner KWPN sire Sir Sinclair and the 7-year old Oldenburg stallion Davos CF. 
U.S. Bred with a Pop of Colour
Pax Asgard af Pegasus is by Pegasus Vom Niehaus-Hof and out of dam Firefly De Bec (by Ambrosius Af Asgard x Java Gold).
He was bred at Sanchez stables in Utah, where the Tucci couple discovered him in 2019.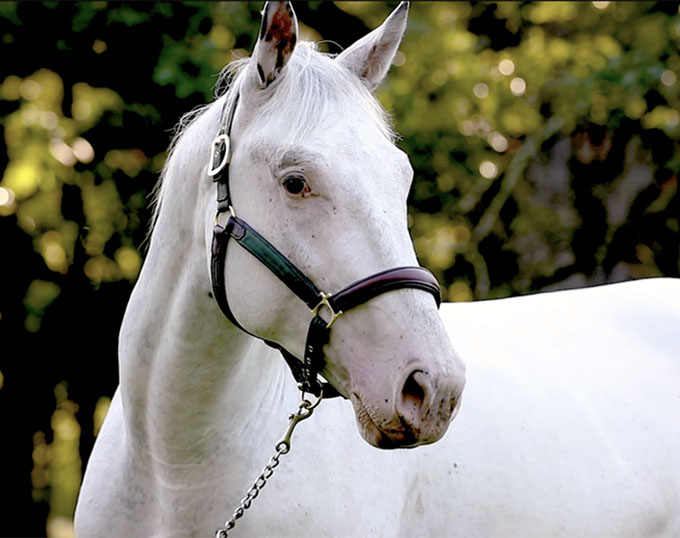 "Pax has been producing lovely warmblood type offspring with long legs and well balanced frames," Renée Tucci told Eurodressage. "The Knabstrupper breed is from Denmark and prized for its incredibly amateur friendly temperament and their colourful leopard coat patterns."
Pax is homozygous LP and PATN1, which means he will only produce leopard or near leopard foals when bred to a solid mare. He has been approved for the Knabstrupperforeningen For Danmark (KNN) as well as Westfalen, and brings something different for the sport horse lover.
"There are a variety of approved outcrosses for the breed including a numerous Warmblood books, Thoroughbreds and Arabians. At Murder Hollow, we use top quality mares who are proven in sport to cross onto our stallions," explained Renée who manages Murder Hollow farm in Chester Country, PA. 
Pax Babies In the Devon Spotlight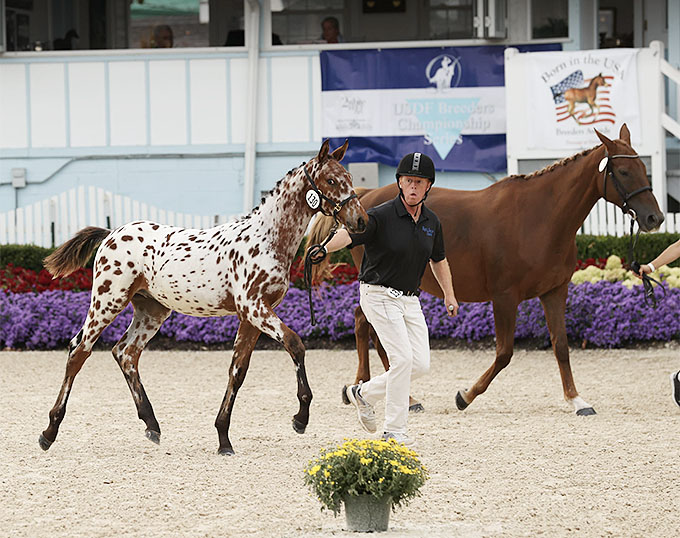 The Dressage at Devon breed show is the only prime sport horse breeding event in the U.S.A. where the traditional warmblood breeds compete next to and against coldbloods, Iberian horses, Arabians, Appaloosas, Morgan horses and ponies. 
The Tucci's travelled to Devon with four offspring of Pax Asgard: Oleander MHF, Juxtaposition MHF, Revelation MHF, and Atonement MHF. 
The leopard coloured babies certainly caught the spotlight in Devon, where the traditional dressage crowd is more used to the monotone coats of chestnut, bay and black. 
Murder Hollow Farm matches their Knabstrupper stallion to proven dressage bred mares in order to produce something different for the sport with outstanding rideability.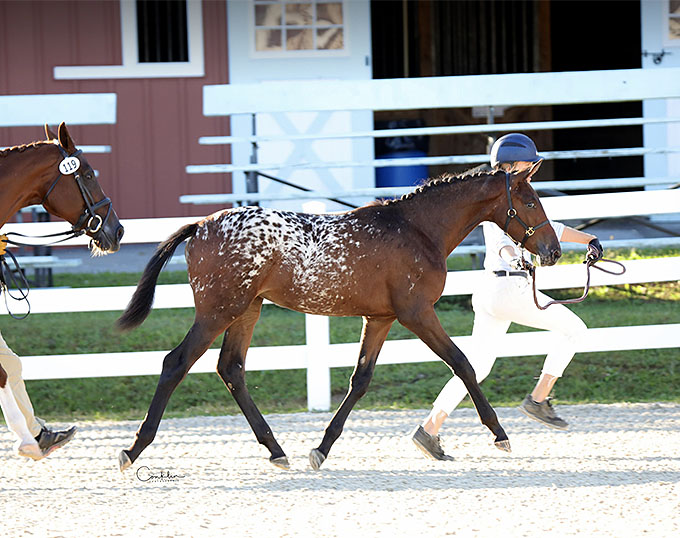 Oleander's dam Cinderella is a KWPN Elite and Sport predicate Grand Prix mare (by Florencio x Havel), while Revelation is out of Segnorita, is a Hanoverian dressage mare by Scuderia. Juxtaposition is out of Jakira (by Johnson), one of Murder Hollow Farm's actively competing mares in both four-in-hand driving as well as dressage. Jakira is a Premium mare who also competed in the Produce of Dam class in Devon, placing third with two foals from 2021 and second in the Mare class. 
Spot On
Renée's love for spots is not only apparent in the horses she breeds, she also has  four Dalmatians at home and the black and white cat to keep her pets colour co-ordinated. 
The entire white coated Pax is more the exception to the colour palette, although his leopard babies leave nothing to the imagination. 
Pax' versatility and stunning temperament is proven by the fact that the stallion easily switches between dressage, being driven in harness and or take up skijoring.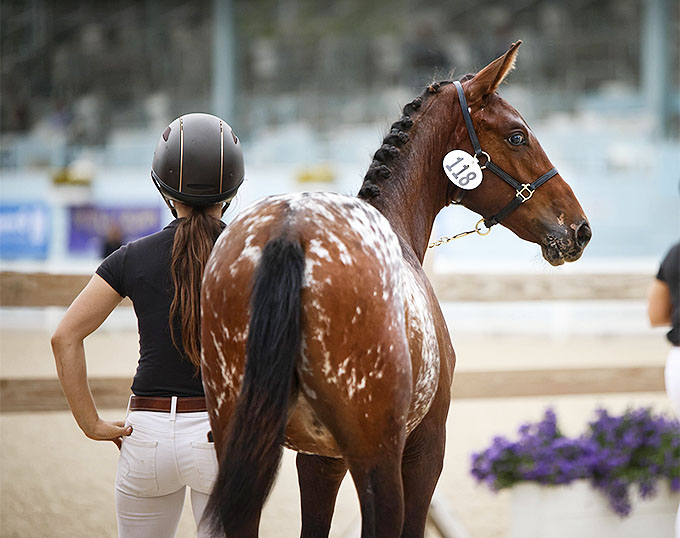 "Pax is driven in harness as well as ridden in classical dressage training," Renée explained. "He has produced a number of exceptional offspring and we are excited to have the breed represented at Devon. To place third against highly competitive warmblood stallions is an honor."
Pax will be spending the winter season with three-time American Pair horse Champion and four-time National four-in-hand champion, Jimmy Fairclough.
Discover Pax af Asgard at Murder Hollow Farm at www.murderhollow.com
Photos © Conklin Photographic - Alivia Cristina Photography - Q2 Photography
Related Links
Foo Fighter QC Named Foal Champion at 2021 Devon Breed Show
Fortunato H20 Named Grand Champion of the 2021 Devon Breed Show