2021-2022 KWPN Stallion Competition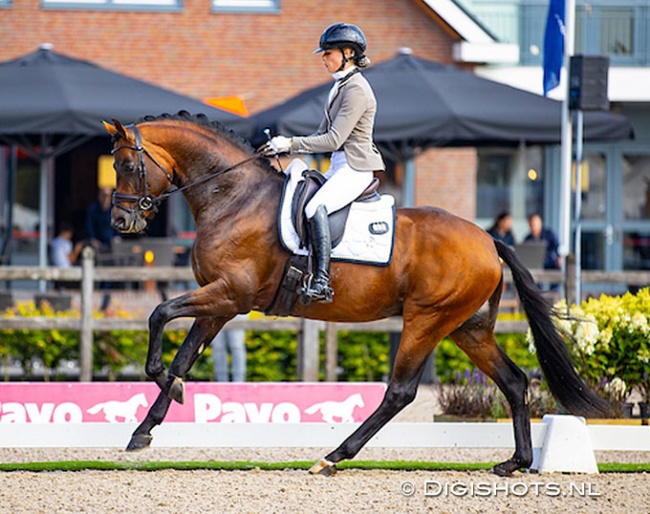 The 4-year old McLaren, the 5-year old Las Vegas and the 6-year old Taminiau became the winners of their respective divisions in the first leg of the 2021-2022 KWPN Stallion Competition circuit, which kicked off in Kronenberg on 25 October 2021. 
The KWPN stallion competition is no longer a mandatory sport test for licensed stallions, but according to the KWPN it is a "unique opportunity for breeders and interested persons to see the newly licensed, young KWPN stallions in action. These competitions have as goal to assess the capacity of the stallions."
The first leg in Kronenberg was judged by Toine Hoefs and Janine van Twist. 
L-Level: McLaren
In the L-level test for 4-year olds, Dinja van Liere rode the German bred McLaren (by Morricone x Sir Donnerhall) to the high score of the class. Owned by Eugene Reesink, the dark bay stallion received 95 points and was praised for his lightfooted trot with much power from behind. Judge Janine van Twist added that his canter was uphill and supple but his walk could have had more ground cover. He got 10 for trot and harmony. 
The runner-up was Franka Loos aboard the chestnut KWPN stallion Mowgli VOD (by Desperado x Jazz). Owned by breeder Van Ost and Sjaak van der Lei, Mowgli earned 92 points with a 9.5 for trot, harmony and general impression.  Dinja van Liere rode Mauro (by Zonik x Negro), owned by Turfhorst and Reesink, to a third place with 88 points. He got 9s for walk, canter, harmony and general impression. 
M-Level: Las Vegas
In the M-level test for 5-year olds Franka Loos and WCYH finalist Las Vegas (by Ferdeaux x Wynton) topped the board with 97 points. The huge bay gelding got a 10 for trot, canter and harmny, and a 9 for walk.
Saskia van Es and the KWPN bred Lord Romantic (by Don Romantic x Krack C) were the runners-up with 95 points. The stallion was praised for his rhythm and balance. He got 10 for trot and general impression. Dinja van Liere and Iron Spring Farms' KWPN bred Lowlands (by Millennium x Donnerball) finished third with 93 points. He got 9.4 for walk, trot and general impression. 
Z-level: Taminiau
The Z-level class for 6-year olds had only two combinations. Hans Peter Minderhoud rode Gaston Glock's Taminiau (by Toto Jr x Sandro Hit) to victory with 92 points. The black, who is named after Dutch high fashion designer Jan Taminiau, was praised for his ground covering walk, active trot and uphill canter. He got 9.5 for canter, harmony and general ompression. 
Kirsten Brouwer finished second aboard Jheronimus (by Dream Boy x Jazz). The horse impressed the judges with his powerful and scopey trot, good walk and canter with ability to collect. They rewarded him with 9s for canter, harmony and general impression and he finished on 89 points. 
Photo © Digishots
Results - 2021 KWPN Stallion Competition - Kronenberg
L-level
1. Dinja van Liere - McLaren (by Morricone x Sir Donnerhall) - 95
2. Franka Loos - Mowgli VOD (by Desperado x Jazz) - 92
3. Dinja van Liere - Mauro (by Zonik x Negro) - 88
4. Bart Veeze - Merlot (by Bordeaux x Florencio) - 86
5. Renate van Uytert - Blue Hors Santiano (by Sezuan  x Romanov) - 85
6. Kim Koolen - Mister Diamond (by Sir Donnerhall x First Final) - 84
7. Jessica Lynn Thomas - Maddox Mart (by Hennessy x Bordeaux) - 83
8. Febe van Zwambagt - Bloomberg (by Bon Coeur x Don Index) - 82
9. Annemijn Boogaard - Mr Magnum BTH (by Expression x Valdez) - 80
10. Bart Veeze - Maigret van de Watermolen (by Daily Diamond x Johnson) - 74
M-level
1. Franka Loos - Las Vegas (by Ferdeaux x Wynton) - 97
2. Saskia van Es - Lord Romantic (by Don Romantic x Krack C) - 95
3. Dinja van Liere - Lowlands (by Millennium x Donnerball) - 93
4. Renate van Uytert - Ladignac (by Zonik x Apache) - 86
5. Bart Veeze - First Date (by Furstenball x Dancier) - 86
6. Charlotte Fry - Lantanas (by Sir Donnerhall x Hemmingway) - 85
7. Krista Kolijn - Lord diamond (by Daily Diamond x Scandic) - 83
8. Jill Bogers - Lennox US (by Grand Galaxy Win x Rousseau) - 83
9. Danielle Heijkoop - Livius (by Bordeayx x Vivaldi) - 81
10. Adelinde Cornelissen - Lloyd (by Governor x Charmeur) - 80
11. Alvaro Donesa de Oliveira - Lewis (by Grand Galaxy Win x Uphill) - 76
12. Saskia Poel - Le Formidable (by Bordeaux x Ferro) - 74
Z-level
1. Hans Peter Minderhoud - Taminiau (by Toto Jr x Sandro Hit) - 92
2. Kristen Brouwer - Jheronimus (by Dream Boy x Jazz) - 89
Related Links
Las Vegas and Kjento, High Scorers in 2021 KWPN Stallion Competition Finals Alternative
2021 KWPN Stallion Competition Finals Replaced with Suitability Test at Licensing