KWPN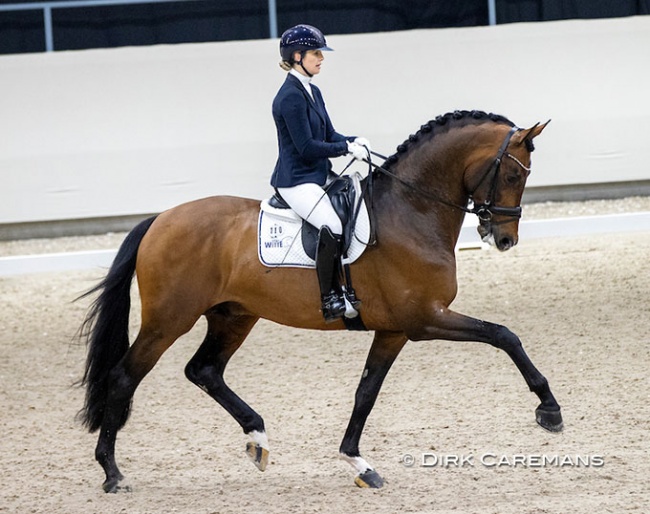 The 5-year old Las Vegas and the 6-year old Kjento became the high scoring stallions in the "suitability test" which was organized at the 2021 KWPN Stallion Licensing in Ermelo on Sunday 6 February 2021. 
Suitability Test instead of KWPN Stallion Competition Finals
The Suitability Test was the alternative for a 2020-2021 KWPN Stallion Competition circuit and finals which could not take place due to corona measures in The Netherlands restricting competition and movement. 
The suitability test was held in just two categories, instead of the normal three (L-level for rising 5-year olds, M-level for rising 6-year olds and Z-level for rising 7-year olds). 
The format followed the pavo cup concept with the horses being assessed on their gaits, rideability and potential. The classes were judged by Joyce Heuitink, Toine Hoefs and Johan Rockx.
5-year old: Las Vegas
Nine 5-year old stallions from the L-crop (born in 2016) were originally entered for the test. Biggest absentee was Le Formidable, the 2016 KWPN Foal Champion and 2019 KWPN Stallion Licensing Champion. The black was a highly popular with the breeders, although he was unable to win the performance test, achieving only the 6th best score in the group.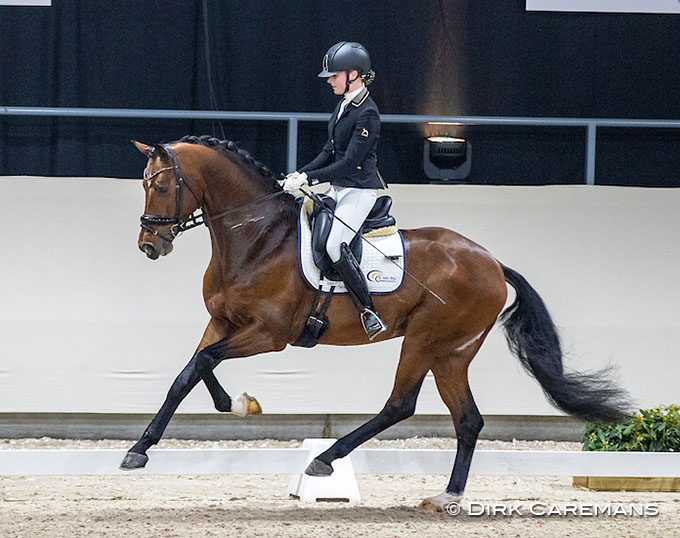 At the performance test he was presented by Emmelie Scholtens, but for the suitability test he would be ridden by co-owner Saskia Poel. A day before the suitability test he was withdrawn "due to the COVID-19 rules." Poel told Eurodressage that "someone very close in our circle tested positive to corona. We didn't want to take any risks."
Las Vegas, the winner of the 2019 KWPN Stallion Performance Test cruised to victory in the suitability test. Las Vegas (by Ferdeaux x Wynton) is bred by John Deenen and owned by Nico Witte and De Dalhoeve. Under Franka Loos the bay stallion scored 8 for walk, 10 for trot, 8 for canter, 8.5 for harmony and 9 for general impression. He won with 89 points. 
The runner-up was Saskia van Es aboard Lord Romantic (by Don Romantic x Krack C). He scored 8.5 for walk, 9 for trot, 8.5 for canter, 9 for harmony and 8.5 for general impression to finish on 87 points. Jill Bogers and Lennox U.S. (by Grand Galaxy Win x Rousseau) finished third with 83 points after earning 7.5 for walk and 8.5 for trot, canter, harmony and general impression. 
6-year olds: Kjento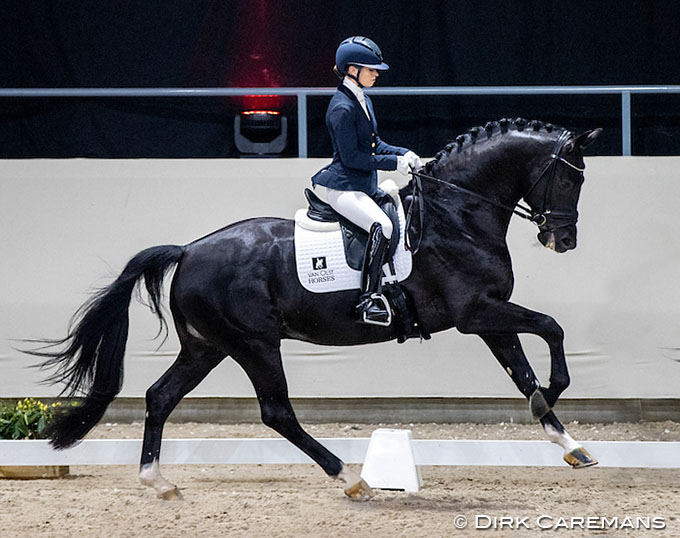 In the division for rising 6-year olds Charlotte Fry and Gert-Jan van Olst's Kjento VOD (by Negro x Jazz) were the winners with 90 points. The black stallion got 7.5 for walk, 10 for trot, 9.5 for canter, 8.5 for harmony and 9.5 for general impression.  Kjento was the high Scorer of the 2018 KWPN Autumn Stallion Performance Testing.
Right on their heels were Bart Veeze and Kyton (by Ferguson x Ferro). They finished on 89 points with 9 for walk, 8.5 for trot, 9.5 for canter, 9 for harmony and 8.5 for general impression.  Hans Peter Minderhoud and the Austrian owned Taminiau (by Toto Jr x Sandro Hit) were third with 84 points. The stallion got 9 for walk, 8.5 for trot, 8 for canter and harmony and 8.5 for general impression.
Ten stallions were entered for the M-level division but only 7 showed up. Missing in action were Blue Hors Kingston (by Toto Jr x Turbo Magic), King de Niro (by De Niro x Ampere), and King Karim (by Toto Jr x Painted Black).
Photos © Dirk Caremans
Results - 2021 KWPN Suitability Test - Ermelo
L-level
1. Franka Loos - Las Vehas (by Ferdeaux x Wyton) - 8,0 10,0 9,0 8,5 9,0 --- 89.0 points
2. Saskia van Es - Lord Romantic (by Don Romantic x Krack C) - 8,5 9,0 8,5 9,0 8,5 --- 87.0
3. Jill Bogers - Lennox U.S. (by Grand Galaxy Win x Rousseau) - 7,5 8,5 8,5 8,5 8,5 --- 83.0
4. Adelinde Cornelissen - Lloyd (by Governor x Charmeur) - 9,0 8,0 8,0 8,0 8,0 --- 82.0
4. Gerdine Maree - First Date (by Furstenball x Dancier) - 8,5 8,5 8,0 8,0 8,0 --- 82.0
6. Gerrel Vink - Livius (by Bordeaux x Vivaldi) - 8,0 8,0 7,5 7,5 7,5 --- 77.0
7. Krista Kolijn - Lord Diamond (by Daily Diamond x Scandic) - 8,0 7,5 6,5 7,0 7,0 --- 72.0
8. Nordin Boukhzar - Lantanas (by Sir Donnerhall x Hemmingway) - 6,0 7,0 7,5 7,0 7,0 --- 69.0
M-level
1. Charlotte Fry - Kjento (by Negro x Jazz) - 7,5 10,0 9,5 8,5 9,5 --- 90 points
2. Bart Veeze - Kyton (by Ferguson x Ferro) - 9,0 8,5 9,5 9,0 8,5 --- 89 pts
3. Hans Peter Minderhoud - Taminiau (by Toto Jr x Sandro hit) - 9,0 8,5 8,0 8,0 8,5 --- 84
4. Adelinde Cornelissen - Kayne (by Governor x Rousseau) - 8,5 7,5 8,0 8,5 8,0 --- 81.0
5. Jesslin Galiart - King van het Haarbosch (by Spielberg x Florencio) - 7,5 8,5 7,5 7,5 8,0 --- 78.0
6. Emmelie Scholtens - Koning (by Governor x Bretton Woods) - 6,5 8,0 8,0 8,5 7,5 --- 77 
7. Thamar Zweistra - Kaygo (by Capri Sonne Jr x Westpoint) - 7,0 8,5 7,5 7,5 7,5 --- 76.0
Related Links
2021 KWPN Stallion Competition Finals Replaced with Suitability Test at Licensing
Le Formidable, Champion of the 2019 KWPN Stallion Licensing
Las Vegas, High Scorer of the 2019 KWPN Autumn Stallion Performance Testing
Previous Winners
King Karim, Jameson, Imposantos Win 2020 KWPN Stallion Competition Finals
Jameson, Imposantos, Hermes Win 2019 KWPN Stallion Competition Finals
Imposantos, Total U.S., Gunner KS Win 2018 KWPN Stallion Competition
Trafalgar, Toto Jr, Four Legends Win 2017 KWPN Stallion Competition Finals
Toto Jr, Ferdeaux, and Electron Win 2015-2016 KWPN Stallion Competition Finals
El Capone, Desperado, Cupido Win 2013-2014 KWPN Stallion Competition
Desperado, Charmeur, Bordeaux Win 2012-2013 KWPN Stallion Competition Finals
Chippendale, Bon Bravour, and Apache Win 2011-2012 KWPN Stallion Competition
Bon Bravour, Amazing Star and Zhivago Win 2011 KWPN Stallion Competition Finals
Andretti, Zhivago and Wynton Win 2010 KWPN Stallion Competition
Zizi Top, Wynton and Vivaldi Win 2009 KWPN Stallion Competition
Wynton, Johnson, Dreamcatcher Win 2008 KWPN Stallion Competition Finals
Uptown, Tolando and Florencio Win 2006 KWPN/KNHS Stallion Competition Finals
Sandreo, Scandic and Rhodium Win 2005 KWPN/KNHS Stallion Competition Finals
Scandic, Ro-Lex and Prestige VDL 2004 KWPN Stallion Competition Winners
Rousseau, Paddox and Rubels Win 2003 KNHS/KWPN Stallion Competition