2021 Danish Young Horse Championships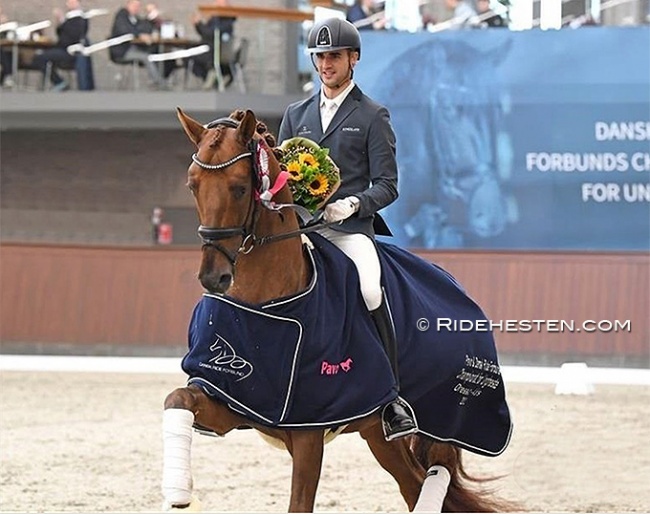 The 4-year old My Vitality, the 5-year old Hesselhoj Down Town, the 6-year old Sweetnes, and the 7-year old Elverhojs Raccolto became the winners of the 2021 Danish Young Horse Championships which were held at Blue Hors stud in Randboel, Denmark, on 15 - 17 October 2021. 
4-YO: My Vitality
No less than 22 horses competed in the final round for 4-year olds and Spaniard Eric Guardia Martinez pulled an impressive stunt by claiming the gold as well as the silver medal on his two rides. With the KWPN bred stallion My Vitality (by Vivaldi x D-Day) he won the title with 94 points. The liver chestnut, who is the full brother to Vitalis and owned by Cathrine Rasmussen in partnership with Andreas Helgstrand, scored 9 for walk, 9.4 for trot and canter, 9.7 for rideability and 9.5 for potential. 
Martinez and Helgstrand's German bred stallion Freddie Mercury (by Furstenball x Samarant) were the runners-up with 93.20 points. This bay stallion scored 9.8 for walk, 9.5 for trot, 8.6 for canter, 9.5 for rideability and 9.2 for potential. 
Playing a home game at Blue Hors, Nanna Skodborg Merrald and the KWPN stallion Blue Hors Monte Carlo TC (by Dream Boy x United) were third with 89.60 points. This powerful bay stallion got 8.5 for walk, 8.8 for trot, 9 for canter, 9.5 for rideability and 9 for potential. 
5-YO: Hesselhoj Down Town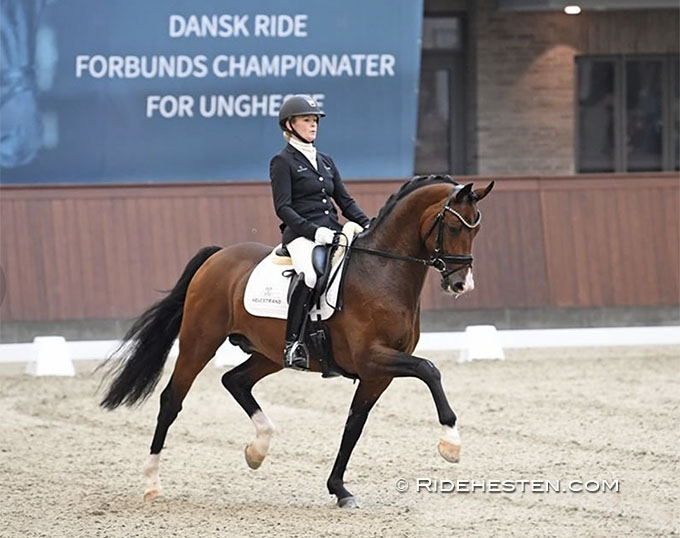 Swedish Jeanna Hogberg finished her young horse season on another high note. After collecting the World Champion's title in Verden in August, she added the Danish Champion's title to her tally with Hesselhoj Down Town (by Hesselhoj Donkey Boy x Zack). She posted the highest score of the entire show, 98.400 points with a 9.6 for walk, 10 for trot, 9.8 for canter and rideability and 10 for potential.
Andreas Helgstrand saddled the Oldenburg saddle licensing champion Fynch Hatton (by Formel Eins x Sir Donnerhall) and placed second with 92.400 points. The bay stallion earned 8.5 for walk, 9.5 for trot and canter, 9.3 for rideability and 9.4 for potential. 
Michael Grønne Christensen and the Danish mare Svalegårds Hot Zalina (by Blue Hors Zalabaster X Blue Hors Hotline) got the bronze on 87.700 points. The mare got 8.3 for walk, 9.2 for trot, 8.8 for canter, rideability, and potential.
6-YO: Sweetnes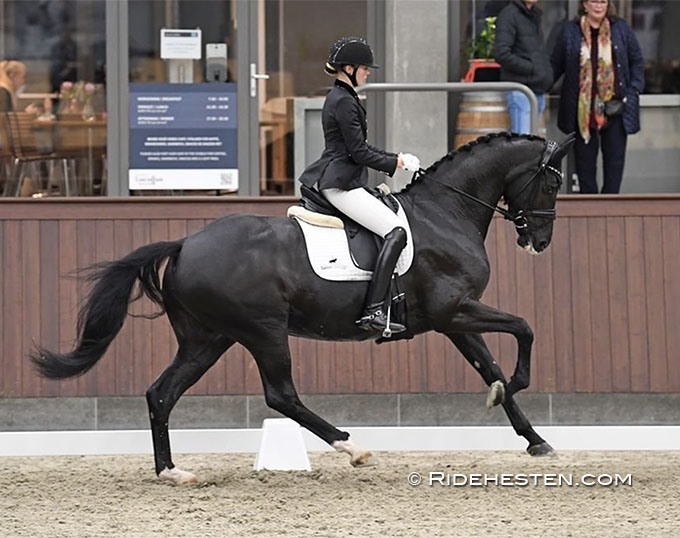 Norwegian Silje Bakken pushed for power in the 6-year old division aboard Christine and Lars Paulsen's Danish mare Sweetnes (by Blue Hors St. Schufro x Tailormade Lancelot). They bested the field of 15 finalists with a 91.800 total score. The black mare received 9.2 for walk, 8.9 for trot, 9.5 for canter, 9 for rideability and 9.3 for potential.
Danish Under 25 team rider Josefine Hoffmann rode Hanni Toosbuy Kasprzak's Danish mare RGS Finest Alegra (by Finest x Ampere) to the silver medal with 91.200 points. The black got 9.2 for walk, 9.4 for trot , 8.9 for canter, 9 for rideability and 9.1 for potential. 
Betina Jaeger Jensen and Allan Hansen's Dantes Delight (by Dante Weltino x Hohenstein) slotted in third with 85.600 points. The black stallion received 7.8 for walk, 8.6 for trot, 9 for canter, 8.6 for rideability and 8.8 for potential. 
7-YO: Elverhojs Raccolto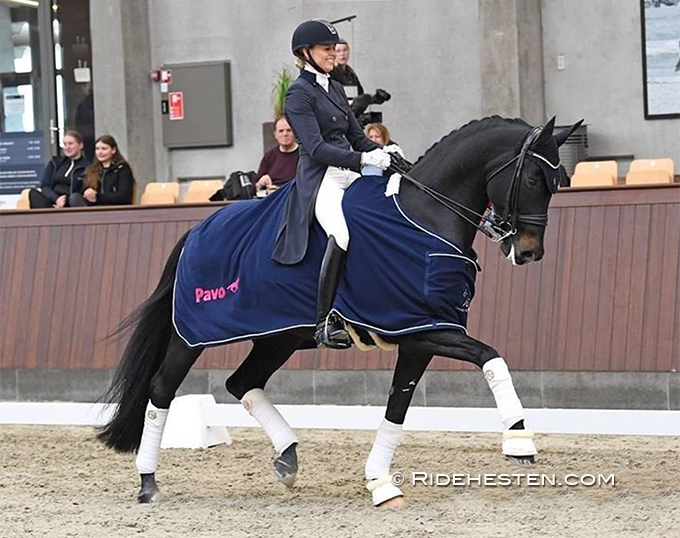 Just a day before the 2021 Danish Young Horse Championship started, Andreas Helgstrand announced his withdrawal with the 7-year old World champion Jovian. Although entered to compete, he decided last minute that the KWPN licensed stallion had done enough this summer.
This left plenty of room for Andreas' wife Marianne Helgstrand to move into the number one spot aboard Elverhojs Raccolto (by Sezuan x Sandro Hit). The pair, who placed fifth at the World Championships, now aced the national championship. The horse got 8.3 for walk, 9.6 for trot, 10 for canter, 9.5 for rideability and 9.6 for potential. This totalled 94 points. For the technical level of riding, Helgstrand got 80.385 to finish first on a total of 87.193 points. 
The silver went to the World Championship silver medal winning combination, Nanna Skodborg Merrald on Blue Hors Touch of Olympic (by Don Olymbrio x Fidermark). The liver chestnut received 9.5 for walk, 8.9 for trot, 8.9 for canter, 9.5 for rideability and 9.3 for potential (92.200 points). With a technical score of 76.282% this made 84.241 points for second place. 
Andreas Helgstrand rode Bolette Wandt's Queenparks Wendy (by Sezuan x Blue Hors Soprano) to bronze with 81.734 points. The black mare was sixth at the World Championships in August and now placed third. She got 8.3 for walk, 9 for trot, 9.2 for canter, 8.7 for rideability and 9.2 for potential (88.800 points). Their technical score was 74.667%
Photos © Ridehesten
Results - 2021 Danish Young Horse Championships
4-year olds
1. Eric Guardia Martinez - My Vitality (by Vivaldi X D-day) - 9.4    9    9.4    9.7    9.5    --- 94.00
2. Eric Guardia Martinez - Freddie Murcury (by Fürstenball X Samarant) - 9.5    9.8    8.6    9.5    9.2 --- 93.20
3 Nanna Skodborg Merrald - Blue Hors Monte Carlo Tc (by Dream Boy X United) - 8.8    8.5    9    9.5    9  --- 89.60
4. Moisés Jover Azuar - Sir Floresco (by Sir Heinrich X Floresco) - 8.8    8.7    9.5    8.6    9 --- 89.20
5. Jeanna Högberg - Freetown (by Fürst Wilhelm X Sir Donnerhall) - 9.4    8.7    8.5    9    8.8  --- 88.80
6. Anne-mette Strandby Hansen - Rockabye S (by Revolution X Belstaff) - 9    8.3    8.8    8.6    8.8 --- 87.00
7. Michael Grønne Christensen - Triumph Villa (by Vitalis X Blue Hors Zack) -  8.8    8    9    9    8.7 --- 87.00
8. Søren Wind - Roxette (by Revolution X Quite Easy) - 8.4    8.4    8.6    9    8.6  --- 86.00
9. Mette Sejbjerg Jensen - Iron (by Ibiza X Hohenstein) - 8.7    9.5    8.4    7.5    8.7 --- 85.60
10. Cristian Tudela Ruiz - Blue Hors Valenzo (by Blue Hors Veneziano X Dimaggio) - 8.5    8.8    8.4    8.5    8.5 --- 85.40
11. Victoria E. Vallentin - Lyngbjergs St. Paris (by Blue Hors St. Schufro X Blue Hors Rockefeller) - 8.3    8.3    8.8    8.6    8.5 --- 85.00
12. Allan Grøn - Søbakkehus Maude (by Hesselhøj Donkey Boy X Wilkens) - 8.5    9.2    8.3    8    8.5  --- 85.00
13. Moisés Jover Azuar - Qamar (by Quantensprung X Ampère) - 8.3    8.2    8.5    8.3    8.4 --- 83.40
14. Ditte Mikkelsen - Gørklintgårds Glasgow (by Grey Flanell X Quaterback) - 7.8    8.3    8.5    8.2    8.3 --- 82.20
15. Michael Søgaard - Søbakkehus Duffy (by Sezuan X Uno Don Diego) - 7.5    9    8.2    8.2    8.2 --- 82.20
16. Josefine Dahl Hoffmann - Unna (by Vitalis X Rock Forever) - 8.5    7.4    8.2    8.5    8.2 --- 81.60
17. Mette Sejbjerg Jensen - Faretti (by Franklin X Don Frederico) - 8.7    7.8    8    8    8.2 --- 81.40
18. Simone Blomme Rasmussen - Rally Von Rosing (by Revolution X Tailormade Temptation) - 8    8.4    8    8    8.1  --- 81.00
19. Selina Solberg Vittinghus - Atterupgaards Bonamassa (by Atterupgaards Botticelli X Lord Sinclair) - 7.8    8    8.2    7.8    8  --- 79.60
20. Lovisa Wessblad - Francisca-d (by Franklin X Blue Hors Romanov) - 7.9    8.2    7.5    7.3    7.8 --- 77.40
21. Anders Uve Sjøbeck Hoeck - Hesselhoej Double Up (by Hesselhøj Donkey Boy X Tailormade Lancelot) - 7.3    7    8.2    7    7.5 --- 74.00
22. Camilla Ahlers Pedersen - Skovmosegårds Amarone (by Bon Coeur X Era Dancing Hit) - 8.4    6    8.5    6.5    7.5  --- 73.80
5-year olds
1. Jeanna Högberg - Hesselhoej Down Town (by Hesselhøj Donkey Boy X Blue Hors Zack) - 10    9.6    9.8    9.8    10  --- 98.400
2. Andreas Helgstrand - Fynch Hatton (by Formel Eins X Sir Donnerhall) -  9.5    8.5    9.5    9.3    9.4  --- 92.400
3. Michael Grønne Christensen - Svalegårds Hot Zalina (by Blue Hors Zalabaster X Blue Hors Hotline) - 9.2    8.3    8.8    8.8    8.8  --- 87.700
4. Severo Jurado López - Movie Star (by Morricone I X Blue Hors Bentley) -    9.2    8.8    8.3    8.4    8.7 --- 86.800
5. Cristian Tudela Ruiz - Blue Hors Zackorado (by Blue Hors Zack X Florencio) -  8.7    9.5    8.4    8    8.6  --- 86.400
6. Anne-mette Strandby Hansen - Vendóme (by Veneno X Fidertanz) - 8.5    9    8.5    8.2    8.4 --- 85.200
7. Dennis Kjær - Polka Fascination M (by Fürstenball X Sandro Hit ) - 9    9    8    7.2    8.4  --- 83.200
8. Eric Guardia Martinez - Tophøjs Diadora (by Hesselhøj Donkey Boy X Blue Hors Don Romantic) - 9.6    7.5    8    7.9    8.5 --- 82.900
9. Nadja Aaboe Sloth - Satchmo (by Hesselhøj Donkey Boy X Blue Hors Future Cup) -  8.2    8.8    8    8    8.3 --- 82.600
10. Ditte Stærk Just - White Spot Nobel (by Don Juan De Hus X Lauries Crusador Xx) -  8.6    8.5    7.9    7.6    8.3  --- 81.800
11. Sissel Bille Jakobsen - Dúné Nec (by Hesselhøj Donkey Boy X De Noir) - 8    8.5    8.2    8    8.2 --- 81.800
12. Jan Møller Christensen - Hesselhøj Dream (by Hesselhøj Donkey Boy X Tailormade Lancelot) - 8.5    8    8    7.8    8.2      --- 81.000
13. Maja Johansen Spøhr - Gunfire V. (by Governor X Sir Donnerhall) - 8.2    7.8    8    7.8    8.1 --- 79.800
14. Betina Jæger Jensen - Hussmanns Topgun (by Totilas X Belissimo M) - 8.1    8    7.8    7.4    7.9 --- 78.400
15. Cecilie Hedegaard - Ellely's Pinell (by Hesselhøj Donkey Boy X Jazz) - 7.8    8.4    7.7    7.2    7.8 --- 77.800
6-year olds
1. Silje Bakken - Sweetnes (by Blue Hors St. Schufro X Tailormade Lancelot) - 8.9    9.2    9.5    9    9.3 --- 91.800
2. Josefine Dahl Hoffmann - Rgs Finest Alegra (by Finest X Ampère) - 9.4    9.2    8.9    9    9.1 --- 91.200
3. Betina Jæger Jensen - Dantes Delight (by Dante Weltino X Hohenstein) -  8.6    7.8    9    8.6    8.8 --- 85.600
4. Rikke Dupont - Nova (by Grand Galaxy Win X Blue Hors Romanov) - 9.4    6.8    9    8.8    8.7 --- 85.400
5. Allan Grøn - Suarez (by Sezuan) - 8.5    8.7    8.5    8.2    8.6  --- 85.000
6. Merita Hagren - De Angelo (by Blue Hors Don Schufro X Stedinger) - 9    7.2    8.5    8.5    8.5 --- 83.400
7. Morten Kappel - Kamar's Express Noir Hit (by Escolar X De Noir) -  8.2    8.3    8.7    7.5    8.4  --- 82.200
8. Cristian Tudela Ruiz - Blue Hors Londoner (by Londontime) - 8.4    8.5    8.2    7.8    8.2 --- 82.200
9. Rikke Dupont - Grand Galiano (by Grand Galaxy Win X  Don Schufro) - 8.6    7.8    8    8    8.3 --- 81.400
10. Anne-mette Strandby Hansen - Kadanz (by Bordeaux X Vivaldi ) - 8.5    8.6    7.8    7.8    8  --- 81.400
11. Stine Juul Lyngsø - King Arthur Sollenburg (by Ferguson X 00 Seven) - 8.2    7.8    8.3    8    8.3 --- 81.200
12. Astrid Therkelsen Grøn - Holkjærs Spot on (by  St. Schufro X Diamond) - 7.8    8.8    8    8    8 --- 81.200
13. Michael Søgaard - Dandy Style (by Dante Weltino X  Don Schufro ) - 8    7.5    7.8    8.2    8  --- 79.000
14. Maria Anita Andersen - Atterupgaards Spiderman (by Atterupgaards Seebach X Stedinger) - 9.5    6.5    7.8    7.8    7.9  --- 79.000
15. Lotte Wiuff Straarup - Peggy Sue Nexen (by Blue Hors Don Olymbrio X Andiamo) - 7.9    8    7.8    7.8    7.8 --- 78.600
7-year olds
1. Marianne Helgstrand - Elverhøjs Raccolto (by Sezuan X Sandro Hit) - 9.6    8.3    10    9.5    9.6  --- 94.000 / 80.385 --- 87.193
2. Nanna Skodborg Merrald - Blue Hors Touch of Olympic L (by Don Olymbrio X Fidermark) - 8.9    9.5    8.9    9.5    9.3  --- 92.200 / 76.282 --- 84.241
3. Andreas Helgstrand - Queenparks Wendy (by Sezuan X Blue Hors Soprano) - 9    8.3    9.2    8.7    9.2  --- 88.800 / 74.667 --- 81.734
4. Tania M. Joensen - Elliott Julianelyst (by Erlando X Blue Hors Romanov) - 9    8.4    8.6    8.6    8.7  --- 86.600 / 74.744 --- 80.672
5. Severo Jurado López - Dahoud (by Desiderio X Weltmeyer) - 8.5    7.5    8.4    8.5    8.4  --- 82.600 / 73.846 --- 78.223
6. Kenneth Damgaard - Uno Sunshine Reggae (by San Amour X Donnerhall) - 8.5    8.8    8.2    7.2    8.5  --- 82.400 / 72.692 --- 77.546
7. Michael Grønne Christensen - Atterupgaards Miley (by Atterupgaards Seebach X Lord Sinclair) - 8.7    7.8    8    7.7    8.4  --- 81.200 / 72.051 --- 76.626
8. Andreas Larsen - Lillesø's Sezoo (by Sezuan X Sandro Hit) - 8.5    7.3    8.4    8.5    8.1   --- 81.600 / 70.641 --- 76.121
9. Nadja Therkildsen  - Sheik Eg (by Sezuan X Métall) - 7.5    7    8    8.2    7.8  --- 77.000 / 68.718 --- 72.859
10. Nadja Aaboe Sloth - Miss Holsteins Marikka (by Johnson X Florencio) - 7.7    8    7.7    7.2    7.8            
  --- 76.800 / 65.897 --- 71.349
Related Links
2020 Danish Young Horse Championships Cancelled due to Corona
Kardieno, Queenparks Wendy, Revolution, Hesselhoj's Donkey Boy Win 2019 Danish Young Horse Championships
Springbank II, Revolution, Hesselhoj's Donkey Boy, Heiline's Danciera Win 2018 Danish Young Horse Championships
Revolution, Hesselhojs Donkey Boy, Heiline's Danciera, Fiontini Win 2017 Danish Young Horse Championships
Hesselhoj Donkey Boy, Victoria's Secret, Fiontini Win 2016 Danish Young Horse Championships
Rockson, Fiontina, Esperance Win 2015 Danish Young Horse Championships
Fiontina, Litvinenko Sjaelstofte, Rossetti Win 2014 Danish Young Horse Championships
Sezuan, Svalegards Hottie, South West Rocazino Win 2013 Danish Young Horse Championships
Zonik, Holballes Deeba, Samba King Win 2012 Danish Young Horse Championships
Sobakkehus Mia Bella, Dafne, Torveslettens Stamina Win 2011 Danish Young Horse Championships
Scores: 2009 Danish Young Dressage Horse Championships
Atterupgårds Cassidy, Polka Hit Nexen and Horsebo Smarties Win 2007 Danish Young Horse Championships
Tardi, Schianto and Clearwater, 2004 Danish Young Horse Champions