Hanoverian
Hanoverian Elite Mare Rheporter, the winner of the 2011 Devon Grand Champion's title, has passed away unexpectedly on 4 November 2021. She was 16 years old.
Rheporter was by Royal Prince out of elite mare Whispre (by Weltmeyer x Brentano II). She was bred by Maurine "Mo" Swanson in the U.S.A.
Mo Swanson
Rheporter was a third generation home bred mare and a key mare in Mo Swanson's breeding programme at her Rolling Stone Farm in Slatington, PA.
"This is the best foal I have ever produced in 25 years of breeding," Swanson wrote about Rheporter in 2005.  "She has it all- confidence, typiness, conformation and unbelievable movement in all of her gaits. Now I just need to bubble wrap her until she grows up."
In 2007 Swanson first presented Rheporter at the Devon Breed show and then then 2-year old filly won the reserve champion filly title.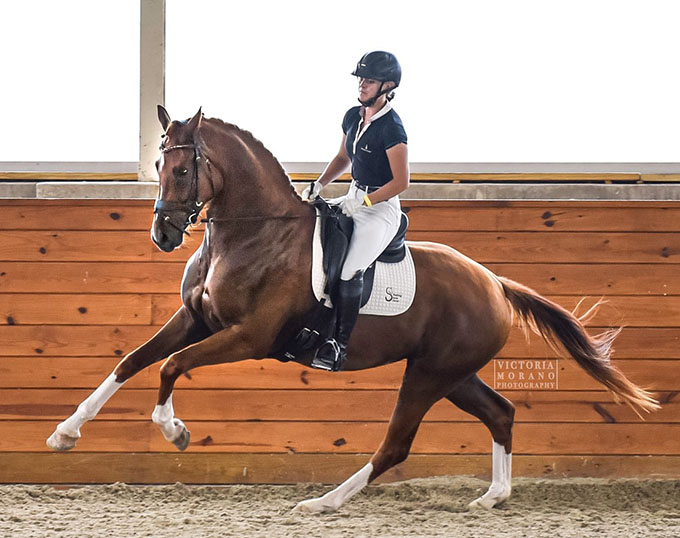 In 2011 Swanson took a spur of the moment decision to also take Rheporter to the Devon Breed Show, where she exceeded all expectations and won the Mare Championship, the Mature Horse Championship, and the Grand Championship, beating the 2010 Devon Grand Champion Rabiola. The classes were judged by Ludwig Christmann, Jeanne McDonald, Lorraine Stubbs and Kristi Wysocki.
In 2009 the Hanoverian Breed society proclaimed her elite mare with the birth of her first foal, colt Rhustler (by Rousseau). She went on to produce eight more for Mo Swanson at Rolling Stone Farm.
Her produce included Shtrangelove (by Shakespeare RSF - 2010), Shavane (by Shakespeare RSF - 2011), Shcooter (by Shakespeare RSF - 2012), Shurreal (by Sezuan - 2014). There was also Dhubonnet (by Dante Weltino - 2016), Dhistinctive (by Don Deluxe - 2017), Fherrari (by Foundation) and Bhracelet (by Bordeaux). 
Under Swanson's head rider Jocelyn Kraenzle, the liver chestnut Fherrari became 2020 Region 8 Champion. This year Fherrari became the 2021 Devon Breed show reserve grand champion.
Maplewood Warmbloods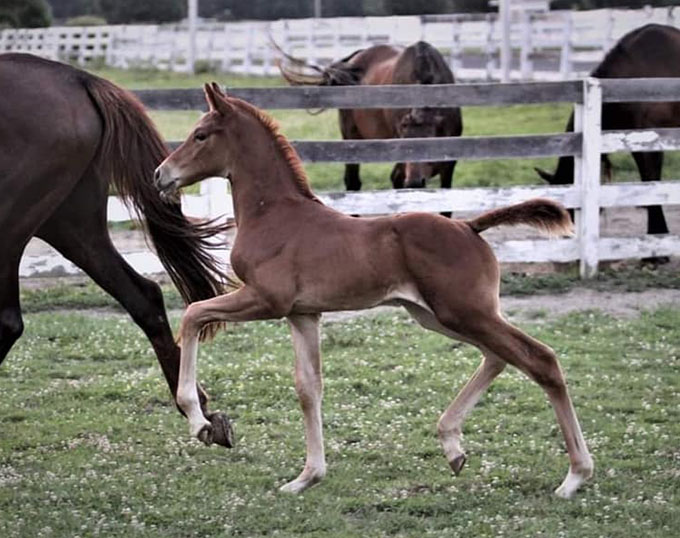 In 2019 Rheporter sold to Jen Vanover and moved to Maplewood Warmbloods in New York, where she produced two more foals, MW Virtuous (by Valverde) and MW Royalty (by Viva Gold).
"She was a wonderful mare and an incredible producer," Vanover told Eurodressage. "I had wanted her or an offspring for years and bought her from Mo in early 2019."
Rheporter died suddenly on the night of 3-4 November 2021, 4.5 months in foal to MW Marcario. 
"We assume she had aneurysm or something quick and painless as there was no signs of struggle or distress," Vanover explained.  "We were blessed to have her in our lives for the last few years. She graced us with two outstanding foals. The last one, MW Royalty, is an amazing filly she gave as a gift to carry her legacy on. Blessed are the broodmares, but this one was extra special. A phenomenal producer and mother. She will for sure be missed."
Photos © private - Victoria Merano - private
Related Links
Rheporter Claims 2011 Devon Breed Show Grand Champion's Title
Fortunato H20 Named Grand Champion of the 2021 Devon Breed Show