FEI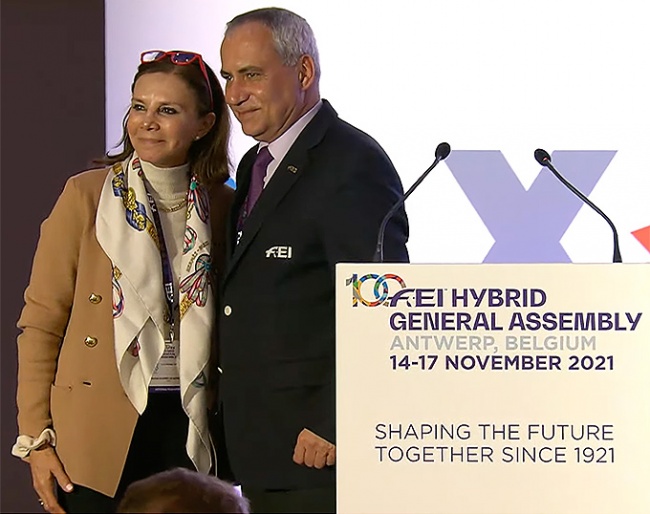 Mexican dressage judge Maribel Alonso has been elected chair of the FEI Dressage Committee at the 2021 FEI General Assembly in Antwerp, Belgium, on 17 November 2021. 
Alonso was running against two other candidates, former AGCO-FENDT ceo and former judge Martin Richenhagen (GER), and Vice President of the European Equestrian Federation (EEF) and president of the Danish Equestrian Federation Ulf Helgstrand (DEN).
"This shows it's not a stalinistic election, but a democratic process," said FEI president Ingmar de Vos after the vote.
Majority Vote
The Chair of the FEI Dressage Committee is elected by a simple majority vote (50% + 1) by the individual representatives of all National Equestrian Federations.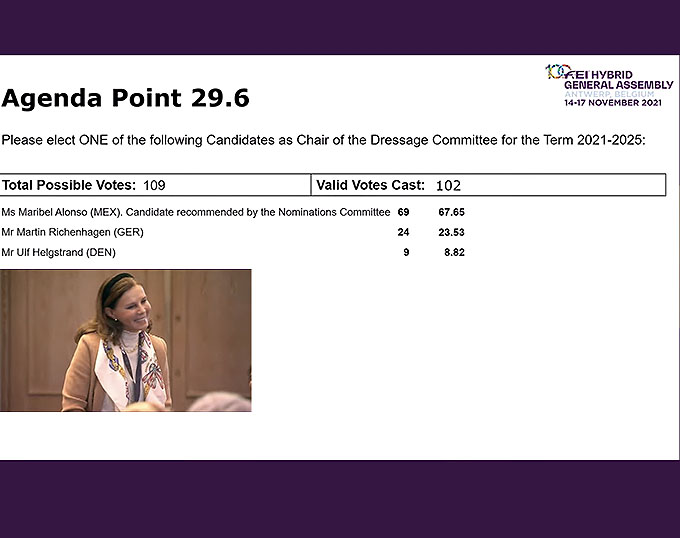 At the 2021 FEI General Assembly in Antwerp there were 109 NFs with the possibility to vote. 102 federations cast their vote.
Alonso won the election with 69 votes, followed by Richenhagen with 24 votes, and Helgstrand with 9 votes. 
Succeeding Kemperman
Alonso will replace Frank Kemperman (NED), who was chair of the FEI Dressage Committee from 2009-2021. He will move on as Chair of the FEI Grooms' Consultative Group. 
"It were exciting years," Kemperman said at the FEI General Assembly today. "I was asked. I promised to do it only for one year, it became 13. The passion for the sport is there."
Right after the elections, Alonso received the FEI official golden pin as new Dressage Committee chair. 
Her terms runs from 2021 - 2025.
Storr Joins FEI Dressage Committee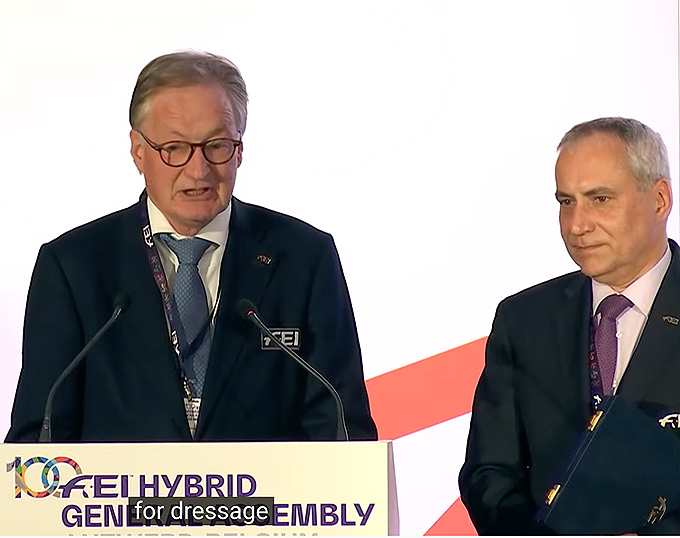 British dressage judge and former Grand Prix rider Peter Storr was elected by the FEI Executive Board to succeed Andrew Gardner (GBR) for a 4-year term on the FEI Dressage Committee.
This position of the FEI Dressage Committee was being pursued by four dressage judges: Maribel Alonso, Gary Rockwell, and Maarten van der Heijden, alongside Storr. 
Related Links
Race for FEI Dressage Committee Chairman's Seat at Full Speed: Alonso, Richenhagen, Helgstrand in the Running
Three Candidates in the Running for Chair of the FEI Dressage Committee
Maribel Alonso Appointed on FEI Dressage Committee
Maribel Alonso Making Waves As Judge, Official and FEI Dressage Committee Member