2021 CDI-W Thermal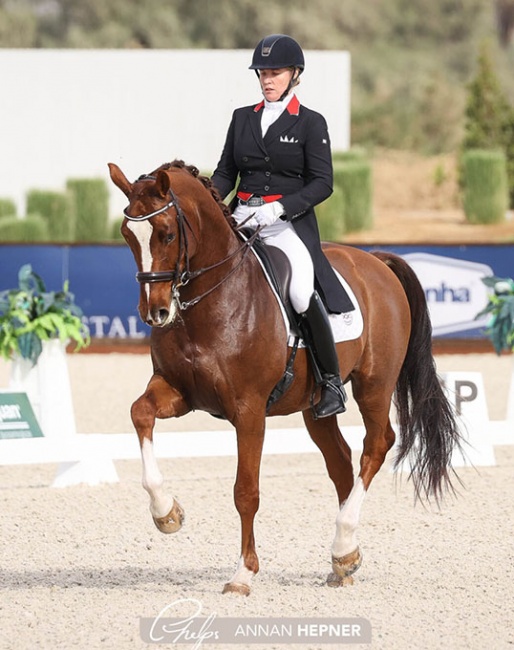 After a few weeks break, Amerian west coast-based dressage athletes returned to the Desert International Horse Park (DIHP) for the second installment of the Desert Dressage series.
With the sun shining brightly down on both the national and international show riders, the opening day of competition at the Desert Dressage II CDI-W featured four CDI classes.
In the Hof Kasselmann CDI3* Grand Prix, Croatia's Karen Pavicic took the win aboard Totem, while the United States' Carly Taylor-Smith and Rosalut NHF rode to victory in the Four Winds Farm CDI-W Short Grand Prix.
Pavicic Makes GP Come Back on Totem
The Hof Kasselmann CDI3* Grand Prix took center stage in the International Arena of DIHP and welcomed a strong roster of top athletes and their mounts. First to go down centerline in the competitive field, Canadian born Croatian Karen Pavicic and her very own 9-year-old Hanoverian gelding, Totem (by Totilas x Donnerhall) laid down a solid performance to receive a 69.391%.
The occasion marked Totem's Grand Prix debut and Pavicic's first time in five years riding a Grand Prix test, and they ultimately held on to the lead to take home the win.The Croatian athlete was thrilled with the result, which was only made more special when she learned it was Croatia's first ever CDI Grand Prix win in the history of the sport.
"I had so much fun out there. It was a blast, which is a victory for me," said Pavicic. "I was just going out there to have a confident ride for his first experience, and I think we achieved that for the most part. We had two expensive mistakes and they were my fault, so no fault of his. He was super! The future is so bright for him and I am thrilled. The piaffe-passage work is always a highlight for him, but really he has a talent for all of the Grand Prix. He really has no weakness, he just needs a little more time."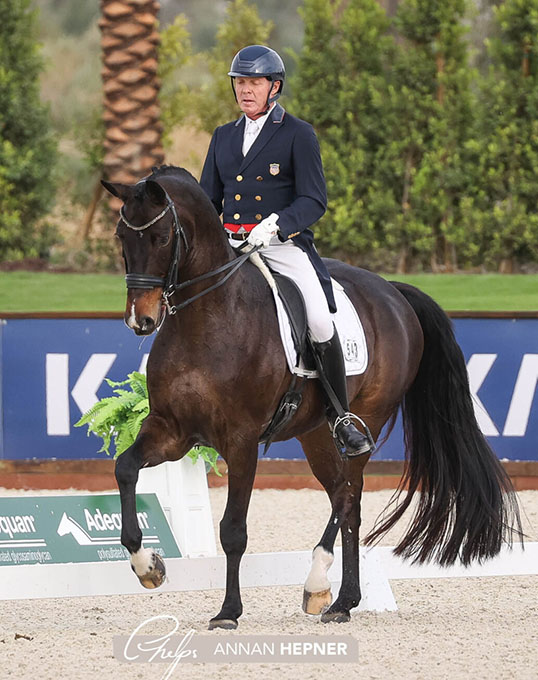 On her plans for the future with Totem, Karen said, 
"I would really like to qualify for the World Championships in Denmark next year. I believe it would be the first time for a Croatian to go, and I think today was also a big milestone for Croatia. I am thrilled to be here and every day is a gift with Totem."
Second place honours in the Hof Kasselmann CDI3* Grand Prix was awarded to Jan Ebeling (USA) and the 11-year-old Oldenburg gelding owned by Ann Romney, Status Royal OLD (by Stedinger x Rubin Royal), for their score of 67.304%. Aaron Janicki (USA) rounded out the top three with a score of 67.087% aboard Heron, his 9-year-old Dutch Warmblood gelding by Johnson x Bazuin.
Taylor-Smith Wins CDI-W Short Grand Prix
Competition reached a pinnacle Friday afternoon with the CDI-W Short Grand Prix in the International Arena. A small  lineup of just two horse-and-rider combinations made up the start list after a third one withdrew.  Qualification for Saturday's CDI-W Grand Prix Freestyle on the agenda.
Taylor-Smith and Nikki Taylor-Smith's Rosalut NHF (by Rosenthal x Salut) rode to a score of 69.053% from the judges, which would place them at the top of the leaderboard. Taylor-Smith and the 11-year-old Oldenburg gelding had never ridden the short format Grand Prix test prior to Friday's competition, which led to some nerves from Rosalut NHF while on course. Having had the gelding since he was a foal, Taylor-Smith has developed him through the ranks and hopes to continue to give him experience at Grand Prix while improving upon his scores.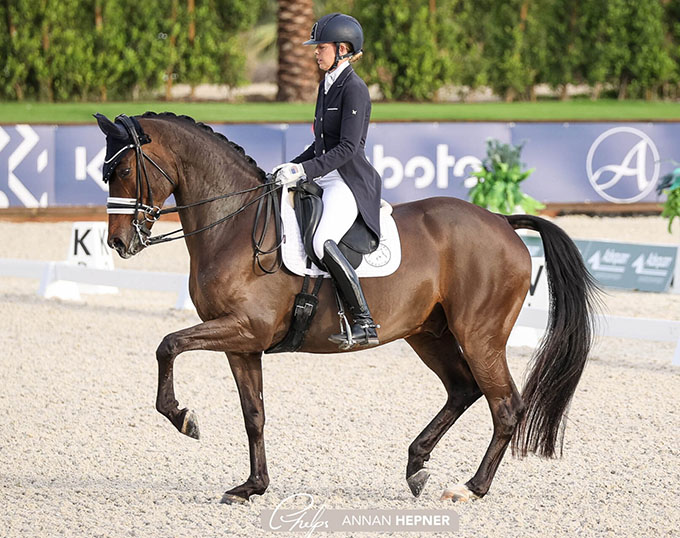 "He is eleven and I have had him his whole life since he was a foal," said Carly after her winning ride. "He is quite a cheeky horse, full of himself! He is a little inexperienced because this is his second year in Grand Prix, and we are getting a little bit better each time in our test. Today, I had never done the Short Grand Prix before and we were so relaxed in the warm-up, but the minute I hit those different lines, he was pumped. Those lines came up really fast, so he got a little tense. I made a few rider errors, so it was definitely different and quite a hectic test. We have never ridden it before though, so I'm sure if we practiced it more it would have been different."
Guenter Seidel and Equirelle, a 12-year-old Dutch Warmblood mare by Florett As x Donnerhall, received second place in the  CDI-W Short Grand Prix. The Leatherdale Farms and Louise Leatherdale owned entry scored a 68.395% with Seidel in the irons, and will go on to compete in the Buffini & Company CDI-W Grand Prix Freestyle Saturday afternoon.
Earlier in the day, Miki Yang and Donavan (by Vivaldi x San Remo) took home the win in the Young Rider Team Test with a 67.157%, while Tiggy Gates and Shadow's Dream (by Sandro Hit x Rotspon) topped the Antares CDI-J Junior Team Test with a 64.495%.
Text and Photos ©  Annan Hepner, edited by Eurodressage
Related Link
Scores: 2021 CDI-W Thermal