2021 CDI-W Thermal - 22 - 24 October 2021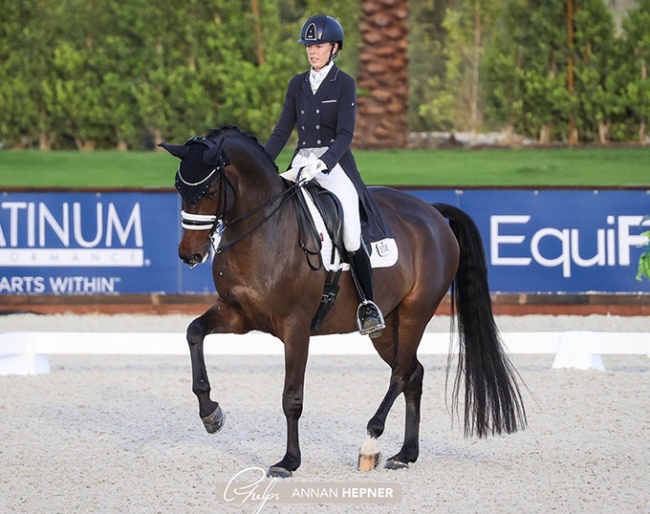 Carly Taylor-Smith and Aaron Janicki were victorious on day two of the 2021 CDI-W Thermal held at Desert International Horse Park which is set amongst the picturesque mountains in sunny Thermal, California.
Carly Taylor-Smith and Rosalut NHF donned the blue ribbon at the conclusion of the World Cup qualifier Grand Prix Kur to Music, while Aaron Janicki (USA) and Heron led the lap of honour for the Grand Prix Special.
Taylor-Smith Wins World Cup Qualifier
the CDI-W Grand Prix Freestyle wrapped up the exciting day of competition on 20 November 2021. Although the class had just two riders, the achievement is still great. With a personal best score of 76.920% Taylor-Smith and Nikki Taylor-Smith's Rosalut NHF (by Rosenthal x Salut) were the victors as an attentive crowd cheered on. She and the 11-year-old Oldenburg gelding rode an impressive test through their Game of Thrones-inspired Freestyle, designed by Tom Hunt. The entertaining test played to Rosalut NHS's natural way of building throughout the test, and included a full piaffe-pirouette. The 31-year-old athlete was thrilled with Rosalut NHF's relaxation and confidence in the ring compared to Friday's performance.
"It is hard when you are riding because obviously the judges see something completely different," Carly commented after her freestyle. "I didn't even count my one-tempis, I just kept going until I got to the end, so I have no idea how many I even did! I thought that was quite funny. My passage was better because he was more in front of my leg today and softer over his back. The piaffe-pirouette was a highlight. I kept thinking 'Oh my god, this is happening! We are turning and the legs are going!' So I was really happy with that."
She continued, "It feels really good to get a personal best! It's always nice to get a personal best. Again, we are bumping those scores up every time we do a test, so it's really getting good! Hopefully next time it is even better."
Guenter Seidel and Equirelle (by Florett As x Donnerhall) were hot on her heels, riding into second place with less than .3% between the two scores. Seidel and the 12-year-old KWPN mare owned by Louise Leatherdale and Leatherdale Farms danced their way to a score of 76.615%, completing movements such as a piaffe-fan for the enthusiastic crowd. The pair's soundtrack featured melodies from the musical Evita and the freestyle designed by Terry Ciotti Gallo made for an entertaining performance that warranted a large cheer from the stands at the conclusion.
First Ever CDI for Janicki, GP Special Victory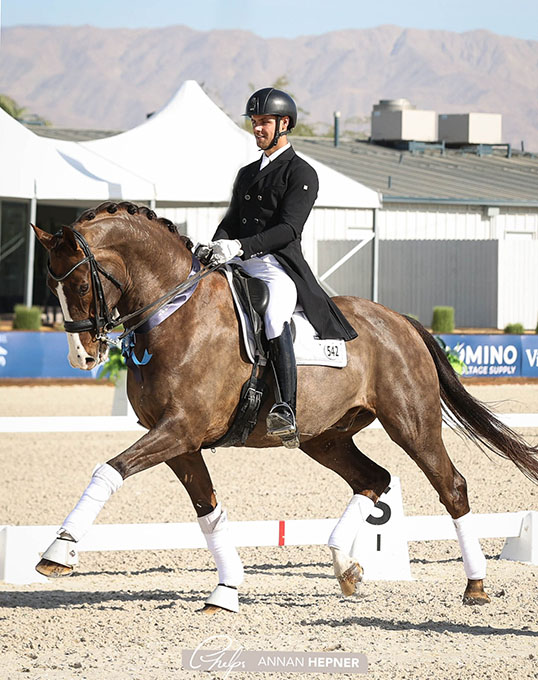 Earlier in the day, the Grand Prix Special took to the International Arena, where a lineup of four horse-and-ride combinations presented their best for judges.
Competing in their first ever CDI competition, Janicki and Heron (by Johnson x Bazuin) rode a consistent test that showcased Heron's power and presence in the ring. Judges awarded Janicki and his 9-year-old KWPN gelding with a 67.511%, which would ultimately place them atop the leaderboard for the remainder of the class. The 28-year-old athlete based in Mount Vernon, Washington came into the week with hopes of feeling comfortable during his and Heron's first CDI show, making their win an unexpected but welcome surprise. Janicki has developed the gelding since he was a 5-year-old, and looks forward to continuing to improve upon his scores with the rising talent.
"This is our first year doing Grand Prix and this is my first international competition and also his first international competition, so we are super excited to have finished off winning this class," said Janicki, who gets help from Claire Darnell at the shows. "It is such an honour to be among these other top riders. It was my goal to just feel like I belonged in the group at this show, so to end up winning is super exciting."
About his test, Aaron said, "I was happy that he really maintained a good balance throughout. He felt really rideable and consistent throughout the test, and relaxed where he needed to be relaxed, but he also gave me a lot of energy when we needed it. We had a few unfortunate mistakes and there is a lot of potential for higher scores if we clean things up a little. As he gets stronger, I think there is a lot in store for his future."
Second place was awarded to Missy Gilliland and Toledano XXXI (by Ambicioso XV x  Osado XIV), a 14-year-old PRE gelding owned by Gilliland. The pair earned a score of 65.979% for the red ribbon. Jan Ebeling rode Status Royal OLD (by Statesman x Rubin Royal OLD) to round out the top three with a score of 65.106% aboard the 11-year-old Oldenburg gelding.
Darnell Wins Intermediaire A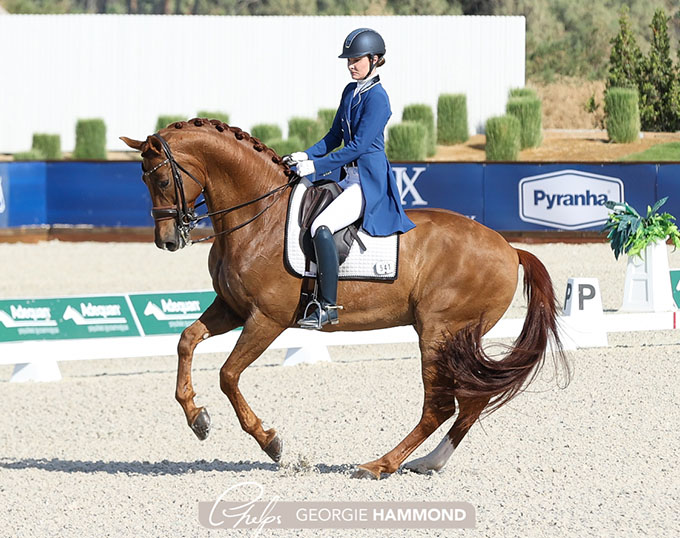 Claire Darnell and Harrold S (by Vivaldi x Fidermark), her 9-year-old Dutch Warmblood gelding, topped the  Intermediate A with a 70.49%.
In the  Junior Rider Individual Test, Tiggy Gates and Shadow's Dream (by Sandro Hit x Rotspon) won with a 67.402%, while Miki Yang and Donavan (by Vivaldi x San Remo) won the Young Rider Individual Test with a 70.588%.
Text and Photos ©  Annan Hepner, edited by Eurodressage
Related Links
Scores: 2021 CDI-W Thermal
Pavicic Makes Winning GP Come Back After Five-Year Hiatus, Taylor-Smith Wins 2021 CDI-W Thermal Short Grand Prix