KWPN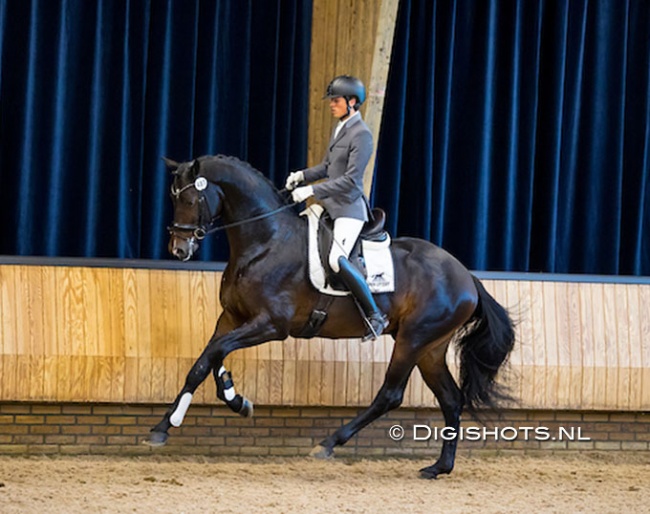 Five colts out of the 14 colts, that are participating in the 2021-2022 KWPN Winter Stallion Performance testing, have dropped out. 
The testing started at the KWPN headquarters in Ermelo on 28 December 2021 and concludes on 18 January 2022. 
Three Out Half Way Through
The first colt to drop out of the testing was Nikkei Royal (by Trafalgar x Royal Dance), owned by T. van Dijk. He was assessed twice under his own riders as well as by the KWPN test riders and the licensing committee sent the stallion home at the beginning of January for veterinary reasons. He can return again for the spring testing.
Four days later Nadal TC (by Dream Boy x Lord Leatherdale), owned by R. de Veen, and Nicky L (by Just Wimphof x Ferro), bought by Van Bockxgrave horses at the KWPN Select Sale for 56,000 euro, were sent home. 
Five Drop Out
Almost at the end of the winter testing, two further colts saw their performance test being ended. 
The testing for Nachtwacht in 't Veld (by Incognito x Everdale), owned by Joop van Uytert and breeder Van de Bighelaar, came to an end and he has not been re-invited to the spring testing. 
The premium colt Next Level (by Jarville x Prestige VDL), owned by breeder Willy van der Aa and Stal van de Sande, ended his winter testing for veterinary reasons and can have a second chance at the spring testing. 
"We had a good final assessment. The dressage stallions show good development. In agreement with the owners we ended the testing for one colt (Nachtwacht) and one has been referred to the spring testing for veterinary reasons (Next level). We are confident in the final exam of the nine colts that will participate," said inspector Floor Dröge. 
Photo © Digishots
Related Links
Fourteen Colts Begin 2021 KWPN Winter Stallion Performance Testing