KWPN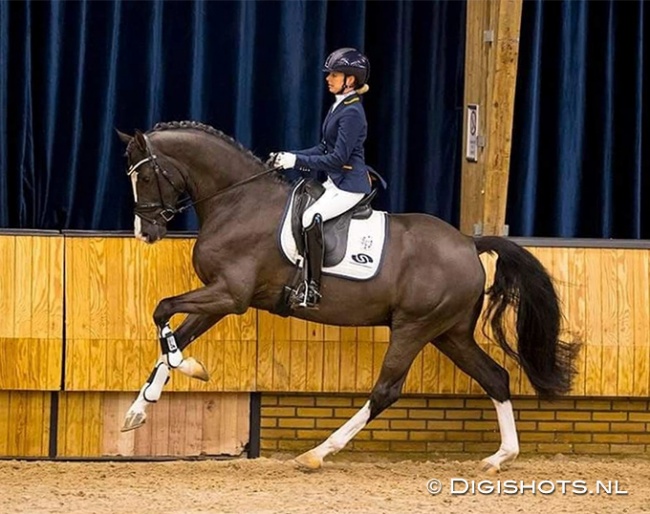 Fourteen dressage bred colts have begun the 2021 KWPN Winter Stallion Performance Testing, which kicked off at the KWPN headquarters in Ermelo on 28 December 2021. 
The performance testing is a mandatory phase for KWPN licensed stallions in order to get a full breeding permit for the studbook. 
Six Out
Twenty dressage colts were registered for this winter testing, but only 14 of them were given permission to begin the 21-day testing.
The 3-year olds Navarone D (by Finest Selection x Sir Donnerhall), Navajo Indiana Jones BK (by For Ferrero x De Niro), Nyandro JZ (by Geniaal x Jazz) and 4-year olds Monsieur-Utopia (by Expression x Uphilll), Masterpiece (by Vitalis x Ampere) and  Serfaus (by Schwarzgold x Don Frederico) were sent back home by the inspection committee based on veterinary reason or because the committee deemed them not ready.
Three 4-year olds were presented and none passed.
14 Begin
"In general the colts were rideable and trainable," said Bert Rutten, who chairs the stallion licensing committee. "The horses moves nicely uphill and showed movements that we are looking for. The next 21 days will teach us more. The first assessement is next Monday."
The final exam will be on 18 January 2021. 
Particpating in the testing are:
Nashville LMD (by Desperados x Westpoint) - Owner: Reesink Horses
Noble Savage (by Dettori x Rousseau) - Owner: Reesink, G. Jansema
Nadal TC (by Dream Boy x Lord Leatherdale) - Owner: R. de Veen
Nirvano (by For Ferrero x Charmeur) - Owner: Van de Sande, F. van der Vegt
Norbert (by Toto Jr x Jazz) - Owner: Stal Leeuwenhof
Nachtwacht in 't veld (by Incognito x Everdale) - Owner: Joop van Uytert
Next Level (by Jarville x Prestige VDL) - Owner: Van de Sande
Newton TC (by Jerveaux x Dream Boy) - Owner: Daliquart, Koch Beheer
Network (by Just Wimphof x Ferro) - Owner: Van Bocxkgrave Horses
Nicky L (by Just Wimphof x Ferro) - Owner: Van Bockxgrave horses
Nolegro (by Painted Black x Negro) - Owner: Van Olst
Nota Bene Prins (by Painted Black x Uphill) - Owner: G. van Norel
Nixon (by Totilas x Jazz) - Owner: Joop van Uytert, Blue Hors
Nikkei Royal (by Trafalger x Royal Dance) - Owner: T. van Dijk
Complete list of entered horses.
Related Links
Forty-Four Colts Licensed, Five Premium at the 2021 KWPN Stallion Licensing
Las Vegas and Kjento, High Scorers in 2021 KWPN Stallion Competition Finals Alternative