Prinsjesdag Foal Auction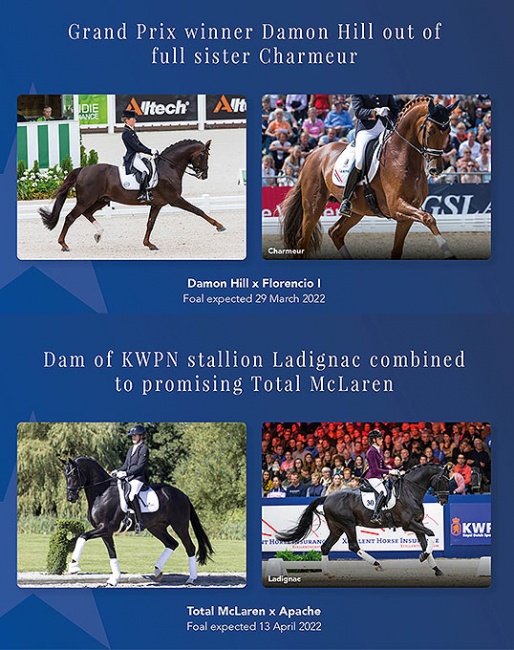 We proudly present you 6 dressage embryos that will be auctioned online on 25 January 2022. There will also be 8 showjumping embryo's for sale. Selected from Europe's best dam lines combined with proven and some promising stallions.
With this, the selectors once again live up to our slogan "The Power of Performance".
Dressage embryos
Cas van der Oord and Lauw van Vliet, responsible for the dressage embryos, have put together a nice collection for you. Cas: "We managed to select something exclusive. It's great that we managed to get hold of two Indian Rocks. This stallion broke through with Emmelie Witte-Scholtens and his offsprings look very promising. That the embryos come from the mares O. Bertje and Endy O. is the icing on the cake!"
The latter Endy O. is a daughter of Lord Leatherdale and performed at ZZ-Licht level. Endy O. is a daughter of Zendy who was successful at PSG / Inter I level and thus one of the many top dressage horses from this line. The other Indian Rock embryo is out of the famous mare O. Bertje (Contango x Amor). Offspring from this mare are highly sought after, as everything from the mare seems to be capable of sport. Besides several PSG / Inter I and ZZ-Licht horses, she is the mother of two GP horses, Tango (approved KWPN stallion) and Bonzanjo.
Stallion mothers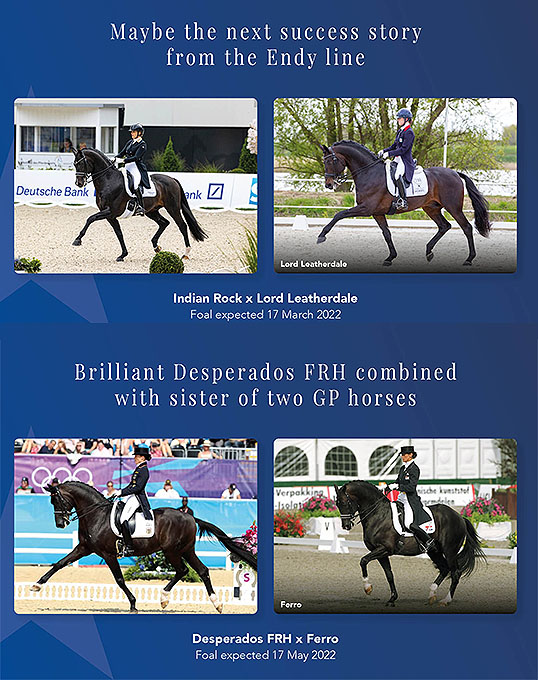 Upcoming talent Total McLaren has an embryo in the auction in combination with Helianthe (Apache x Democrat). "Helianthe is the dam of KWPN stallion Ladignac who is doing very well in the sport. Last year Total McLaren was voted as stallion with the most promising offspring in Denmark. We think that in combination with this mare it can become something very special!" said Van der Oord.
Another stallion mother is Sabine (Havidoff x Wolfgang). In combination with Vivaldi she produced the PSG / Inter I stallion Ferdinand. In addition, she gave three other horses that act at the same level. "The embryo of her descends on the father's side from Glamourdale, who with Charlotte Fry is running very successful at Grand Prix level and seems to be doing very well in terms of inheritance. A very interesting embryo!"
Desperados FRH and Damon Hill
Donnerhall's dressage prowess comes via his grandson Desperados FRH and son Damon Hill. Cas: "Grand Prix stallion Damon Hill is already an older stallion that, unfortunately, we don't see very often anymore. Here he is used on the half-sister of another Grand Prix stallion, Charmeur out of the previously mentioned Endy line. A godsend to get hold of something special!"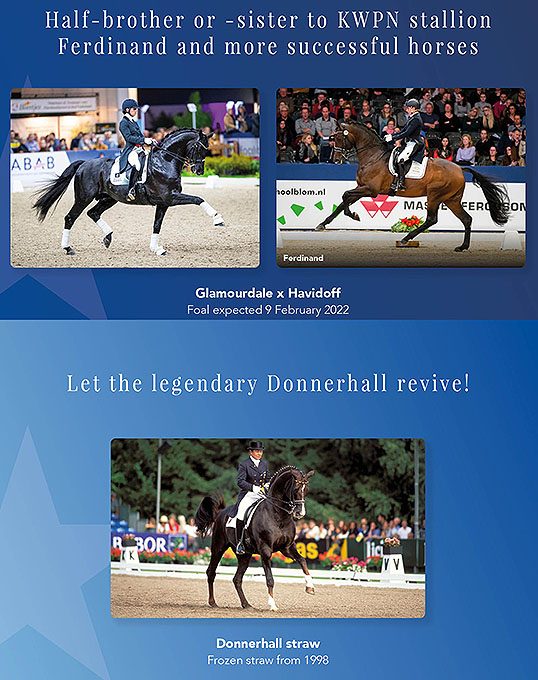 By Desperados FRH, for years a fixture on the German team, an embryo will be in the auction in combination with the Z2 dressage mare Wildfire Ferra (Ferro x Rubinstein I). Van der Oord: "This mare has no less than two sisters who perform at GP-level. The combination Donnerhall, Ferro and Rubinstein makes every dressage lover's mouth water. A very attractive embryo!"
For the lover who really can't get enough of Donnerhall there is a unique opportunity. Namely, a straw of frozen semen will be auctioned from this old master! Also on offer will be a straw of Florestan I. Like Donnerhall, a stallion that never goes out of fashion. Both straws are free to use for ICSI.
Register for online auction
To bid online on the fantastic collection of embryos, you can register on our website https://www.prinsjesdag.eu/veulen-collectie/embryos-25-januari-2022-en/?lang=en
For questions about the registration or for more information about the embryos, please contact Annemijn Gaalman (06-40396344 or annemijn@prinsjesdag.eu).