2022 CDI-W Wellington - Global Dressage Festival / Week 5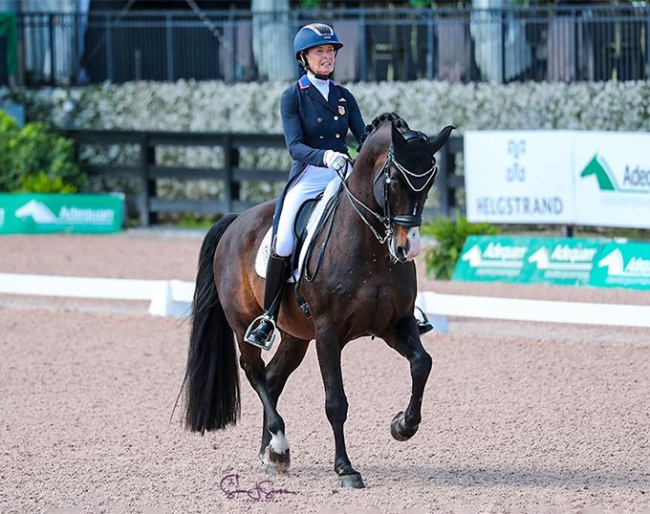 Two high quality Grand Prix classes set the tone on the opening day of week five of the 2022 Global Dressage Festival in Wellington, FL. on 10 February 2022. Charlotte Jorst (USA) rode her own Nintendo to 72.579% and the top spot in the World Cup short Grand Prix, while Frederic Wandres and Bluetooth won the 4* Grand Prix for Special.
Jorst and 19-YO Nintendo Keep Going
Jorst's rising 19-year old stallion by Negro was the oldest in the field of 11 starters and emerged the unanimous winner across the five judges in the CDI-W Short Grand Prix. Their previous competitive outing was at Aachen, Germany, in September 2021. They scratched for the CDI-W Thermal in November 2021 for which they were entered. 
"Nintendo feels better and better all the time," enthused the 55-year old Danish-born American rider. "He's more and more in front of my leg, he's more and more up, and he loves the job. He's so excited to be here; he's happier than a clam.
"I think the two pirouettes with the one-times in between [were the highlight of the test], because he's so straight in those ones and those pirouettes — you can come up that centerline and things just happen right after the other in this test. It was just wonderful," added Jorst, who was riding the modified short version of the grand prix test in competition for the first time with Nintendo.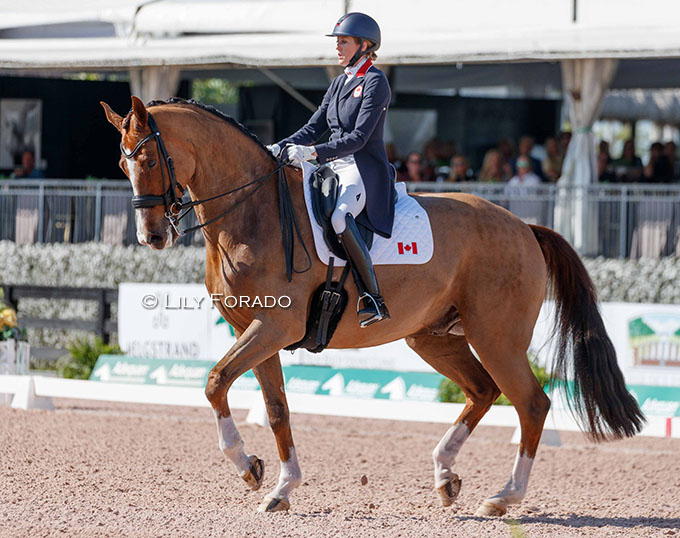 "I think it's fun to do another test," she said. "It's fun that you do the canter depart and then up the centerline and you have to do the zigzag. The test is kind of nifty, so I'm good with it."
Jorst's secrets to success with Nintendo are trail riding, turnout, and ensuring he's the first horse she rides each day.
"He loves getting out and trail riding, so every single day he turns out half an hour before I ride, and then I just do 15 or 20 minutes schooling four times a week," she added. "I always have to ride him first, because otherwise he gets so disappointed. He's the first thing I do in the morning. We trail ride a lot, and that's how I've always done it with him."
Jorst is hopeful of a starting place at the World Cup™ Dressage Final in Leipzig, Germany, in April, and the chance to compete at the World Championships in Herning, Denmark, in August, but her more immediate plans include the CDI 5* in week seven and Palm Beach Derby week at AGDF 8.
"I'm hoping for a wild card for the World Cup, and if I could do Herning that would be obviously incredible because I'm from Denmark," she expressed. "But I'm taking it one day at a time and just enjoying every minute of him and of the partnership that we have because it is so incredibly special, and you never know if you will ever get that again."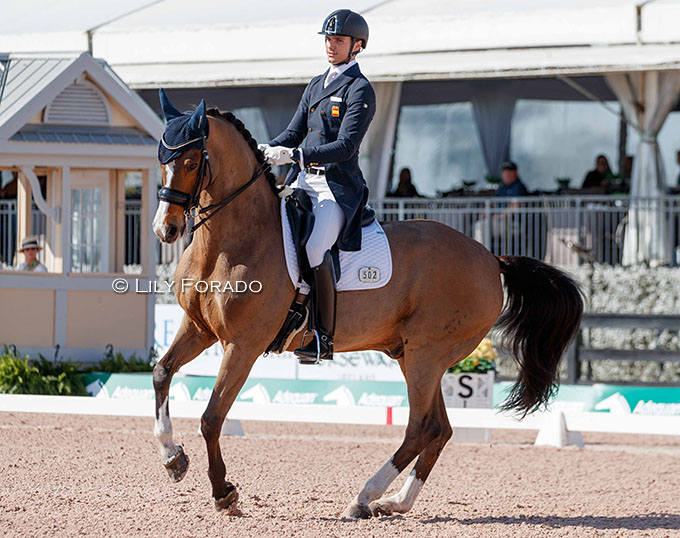 Duos with firm partnerships were the order of the day in this class. Second-placed Brittany Fraser-Beaulieu returned to the arena since the 2021 CDIO Aachen  last September and scored 71.895% on her long-time partner All In for second. The 17-year old Dutch warmblood gelding is by Tango x Damiro B.
 Spain's Juan Matute Guimón shipped his 16-year old Hanoverian gelding Quantico (by Fighting Fit x Constant) from Europe a week ago and finished third with 70.447% in his first Wellington start since 2020. The pair competed in the World Cup qualifiers in Lyon and Madrid in October and November 2021 and continues his world cup campaign in Florida.
Wandres and Bluetooth Connect for 4* Grand Prix Win
Frederic Wandres (GER) and Bluetooth OLD won the Grand Prix 4*. They emerged triumphant from the 10 starters to put an unassailable 73.565% on the scoreboard, with a high mark of 75.435%. The pair remains unbeaten in all three of their starts at AGDF 2022 so far.
"In week one he was a little bit tired," said the 33-year-old, who works for Hof Kasselmann in Germany. "Today it was a little bit the opposite. I felt like he was more fresh, and I really liked that. Last time I competed in the World Cup Grand Prix and that's a completely different test, completely different lines. I thought maybe I should go back once to the normal grand prix version, because all the last shows I did the short grand prix.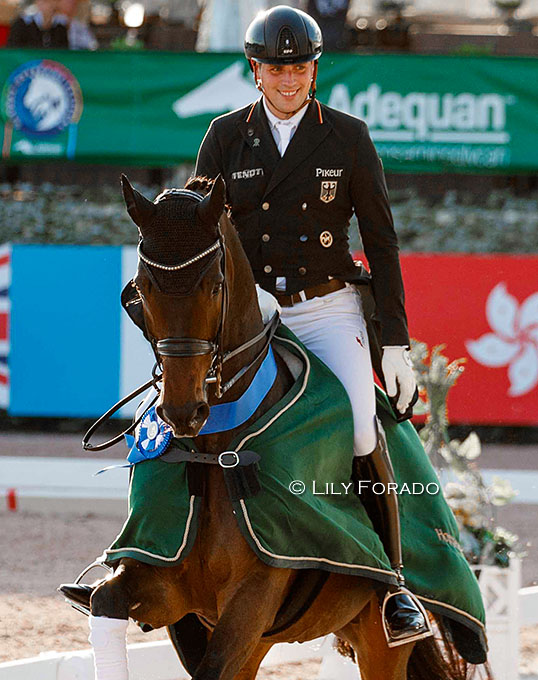 Bluetooth is a 12-year old Oldenburg gelding by Bordeaux x Riccione owned by Russian Elena Knyaginicheva. He competed at the 2016 World Young Horse Championships under Steffen Frahm, was produced to Grand Prix level by Insa Hansen and Ingrid Klimke, then briefly given to Anna Pyrkina as a Tokyo hopeful before being sent into the stables of Andreas Helgstrand to be sold. In the end, he returned to Hof Kasselmann to be matched with Wandres. 
"Bluetooth is still a young grand prix horse, so it's not always so easy to switch between these tests. And the normal grand prix version, which we rode today, is a very difficult test; we know that all. I think he's overall a very elegant and shining horse with no real weak points. For sure the extensions and the piaffe/passage are something he developed very well," added Wandres, who had a mistake in the one-time changes in an otherwise harmonious performance.
Bluetooth is being aimed at five-star week before likely heading back over the Atlantic to compete at Hagen, Germany, for Horses and Dreams in April and beginning the German selection process for the World Championships.
Benjamin Ebeling (USA) finished second on the Belgian warmblood lluster Van De Kampert (by Spielberg) by a whisker, scoring 73.13%. Belgian rider Laurence Vanommeslaghe rode Edison (by Johnson) to third place and 70.609%.
Hof Kasselmann Horses Dominate Small Tour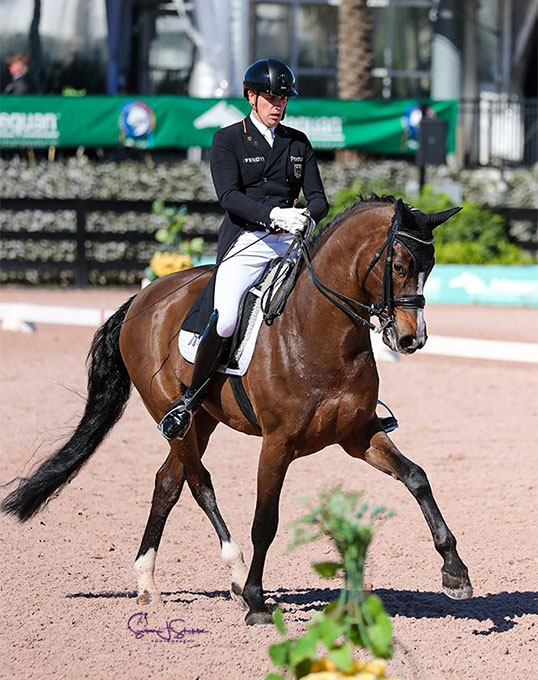 Wandres added another winner's sash to his Thursday haul when he won the Prix St. Georges 1* riding Dolciario, Hof Kasselmann's eight-year-old gelding by Danciano de Malleret. Fourteen starters contested the class, but Dolciario pulled off a flawless performance for 74.235%. Two American riders with plus-71% scores filled the next two spots, with Christian Simonson on Zeaball Diawind (by Furstenball) clinching second and Kristina Harrison-Antell with I Felix (by Fidertanz x UB40) finishing third.
Susan Pape (GBR) debuted the PSI Auction price highlight V-Plus in the CDI ring and continued her fabulous winning streak from GDF Week 3, topping the Prix St. Georges 2*. The eight-year-old — the equal youngest horse in the class — posted 71.912% at his first international appearance since contesting young horse classes. V-Plus, who is co-owned by Pape and Harmony Sporthorses, is a breeding stallion by Vivaldi. All three combinations on the podium logged plus-70% scores, with Bianca Berktold (USA) finishing second on Imperial (by Charmeur x Vivaldi) and Luuk Mourits (NED) filling third on another Harmony horse, Sarotti OLD (by Sarkozy x De Niro).
-- GDF Press release, edited by Eurodressage - Photos © Sue Stickle - Lily Forado
Related Link