Bits 'n Pieces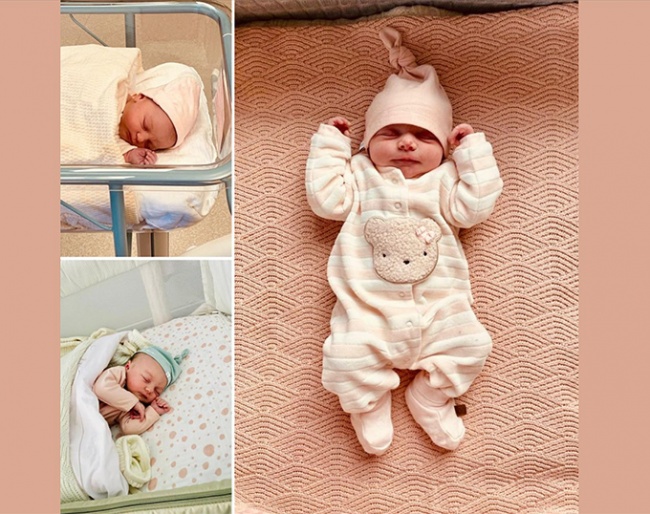 Dutch team rider Emmelie Scholtens and her long-time partner Jeroen Witte became the proud parents of their first child on 7 February 2022. The baby girl was born early Monday morning and is named Micky Mae Witte. "We are so incredibly happy and proud," Emmelie posted. 
Dutch FEI rider Romy Bemelmans (27) and her partner Rob Weijers became the proud parents of their first child, a daughter named Jackie. The baby was born on 21 January 2022. Bemelmans made her international show debut on ponies little over a decade ago, competing Vinkenhove Lester, Isarco, and Westerhuis Bruno. She moved to junior level with Unity, but only returned to the international arena in July 2021 at the CDI Grote Brogel on Hip Hop (by Jazz x Sandro Hit) at small tour level.
 Dutch dressage rider Ingrid Gerritsen sold her first Grand Prix horse, Diamonds are Forever G, to German junior rider Olivia Hank. The 10-year old Westfalian mare (Diamond Hit x Florestan) made her Inter II debut in 2020. The Frankfurt based Hank competed Dark Dancer (by De Niro x Sandro Hit) last year at L-level and in 2019 she campaigned pony Friedrichshof Dr. No (by D'Acord x Top Nonstop).
Polish equestrian photographer Lukasz Kowalski, who established his name in the dressage world by first being featured on Eurodressage, has become the proud father of a second child. Lukasz and his wife Dominika welcomed baby girl Iga Hanna Kowalska to their family. Congratulations!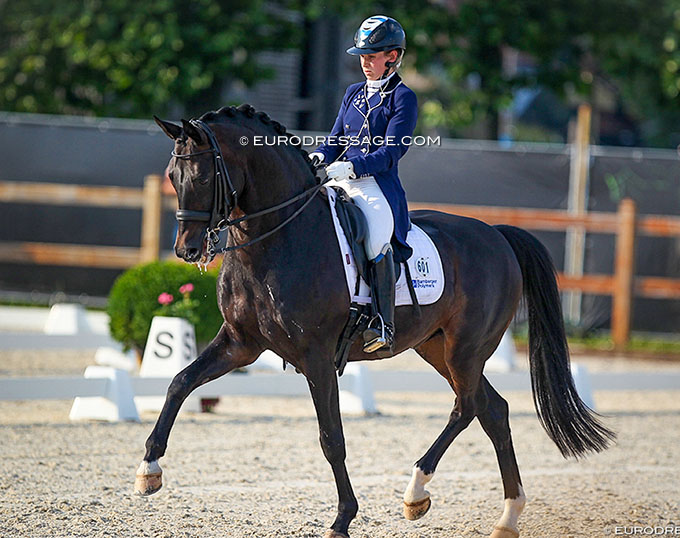 Former Dutch Under 25 team rider Maxime van der Vlist has ended her collaboration with eventing rider Levi Driessen and relocated her horses and business to Stal van de Sande, where she is filling in for a pregnant Kim Koolen.
Dutch based Israeli dressage rider Sarah Bamberger sustained a nasty fall off a horse five weeks ago and fractured her back. Bamberger, who is based at Bartels Academy in Hooge Mierde, has made a very quick recovery and is already back in the saddle. "I am feeling much better," Sarah told Eurodressage. "I am still not fully recovered but able to almost fully ride again so I'm really grateful for that!" Sarah is competing the Grand Prix horse and former licensed stallion Quadroneur (by Quaterback x Sandro Hit) in the Under 25 division.
Horses.nl reported that the Dutch announcer and dressage show organizer Eric Hart passed away unexpectedly. He was the announcer at shows such as the Dutch Dressage Championships.
Jürgen Harnack, the first president of the Mecklenburg-Vorpommern breeding society since 1990 and former manager of the Redefin stallion station, has passed away at age 80. He leaves behind his wife Carla.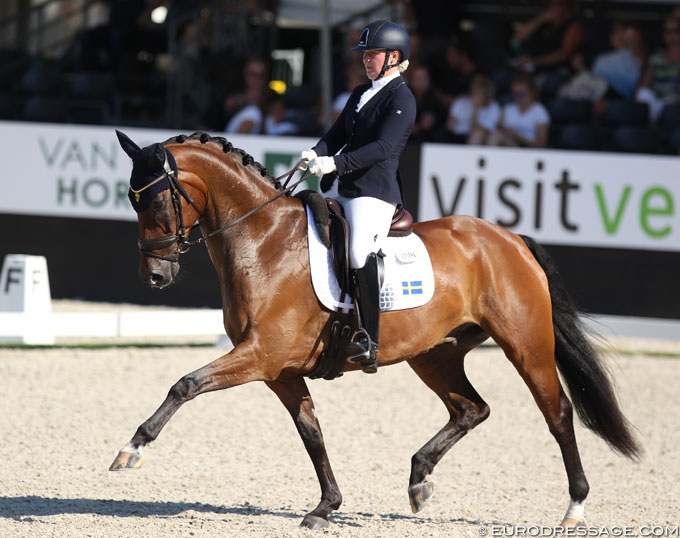 Annabella Pidgley's first junior riders horse Hilus MHB has been put in training with Charlotte Dujardin. Pidgley, who started her junior career on Hilus and Belafonte, then focused on Sultan des Paluds and Dibert L, and recently brought Espe home from Cathrine Dufour's as well as bought Olympic medal winner Gio, has sent the Swedish warmblood Hilus MHB to Dujardin to produced further up the levels. Hilus (by Johnson x Don Primero) was first competed by Mikaela Alderin-Danielsson, before being bought by Pidgley. They put him in training with Cathrine Dufour before bringing him to the U.K.. After last competing him in August 2021, Annabella sent Hilus to Dujardin, who made her show debut at Hartpury on 29 January 2022, winning the Prix St Georges.
British junior team rider Mette Dahl has picked up her Danish passport at the Danish embassy in London, carrying dual citizenship. Daughter of British Olympian Fiona Bigwood and Danish Olympian Anders Dahl, Mette lives in Great Britain and represented Team GB at the 2021 European Junior Riders Championships in Oliva Nova on Florina. She will continue to ride with the Union Jack on her coat, but a EU-passport will help her with travel, daddy Dahl confirmed to Eurodressage.
The NRPS licensing committee paid a home visit to Stable van den Sande and approved no less than 6 stallions for NRPS breeding. They are For Ferrero, the 5-year old Mister Diamond (by Sir Donnerhall x First Final), the 4-year olds Night Shadow (by Guardian S x Florencio x Havidoff), Next Level (by Jarville x Prestige,), Nirvano (by For Ferrero x Charmeur) and Nescio (by For Ferraro x Osmium).