2022 CDI-W Wellington - Global Dressage Festival / Week 5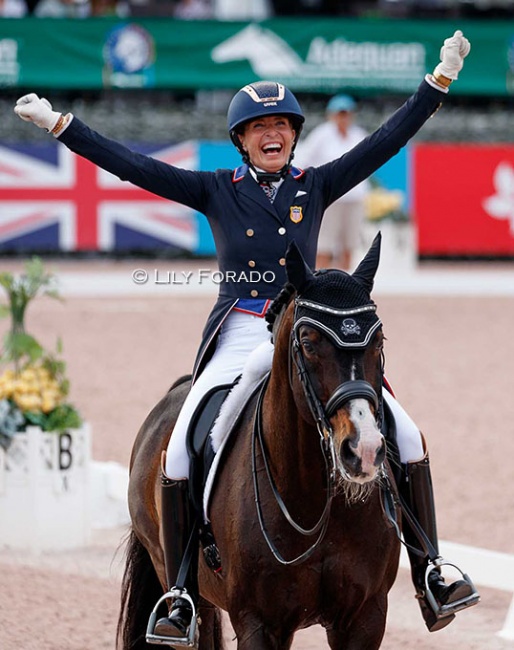 Charlotte Jorst (USA) chalked up her second win in as many days on the 19-year-old Nintendo in the World Cup qualifier Grand Prix Freestyle at the 2022 CDI-W Wellington on Friday 11 February 2022.
Dancing to a soundtrack from "Pirates of the Caribbean" — complete with pirate motif on both her stock and the horse's ear bonnet — Jorst laid down 79.075% to edge out Spain's Juan Matute Guimón, who was second with 78.050% on Quantico. Anna Buffini (USA) finished third with 77.605% on FRH Davinia La Douce.
Two judges awarded Jorst over 80%, and she was delighted with Nintendo's improvements from the last time they rode this test, in Aachen, Germany, last September.
"I came back from Aachen and there I almost had an 80% too," she explained. "This music really suits him. Coming up that centerline in the end, you can feel him just lifting up and being so happy about it. For the first time I've actually nailed the music and choreography — after many tries and many failures."
At 19, Nintendo was the oldest horse in the class, but thanks to his routine of ample trail riding and daily turnout, he is still fit and fresh in the ring.
"He just wants to give and give," enthused the 55-year-old Danish-born American. "I trust him 100%, and I think he trusts me 100%. We don't have to warm up a lot anymore. Now it's like 20 minutes and then 'boom' in the ring, so he's out of here in 25 minutes, and that really works for him."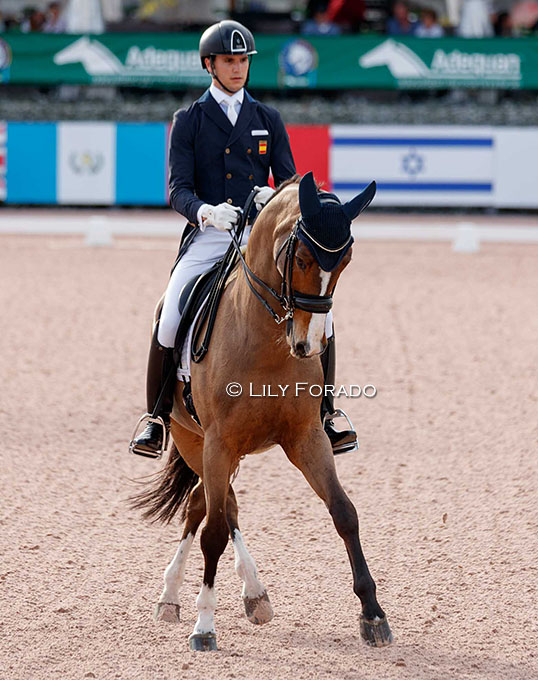 Next steps for the evergreen son of Negro include the five-star show in two weeks. Jorst has an eye on a wild card for the FEI World Cup™ Dressage Final in Leipzig, Germany, in April, but is taking nothing for granted given Nintendo's age.
Duerhammer Bests 4* Grand Prix for Special
In the day's third grand prix class, Katie Duerrhammer (USA) echoed her GDF Week 3 success with victory on Quartett in the Grand Prix 4*, presented by Janne Rumbough's MTICA Farm.
Last to go of 12 starters, Duerrhammer rode the 14-year-old gelding by Quaterback to a personal best of 71.000%. She led an all-American top four, with Alice Tarjan taking second on Donatella M (70.739%) and Benjamin Ebeling edging into third with 70.087% on Indeed.
"Today was the first time we broke 70% in the regular Grand Prix, and that's kind of been my goal all season," said the 33-year-old Duerrhammer, who works with Adrienne Lyle. "Quartett tries so hard and if you ride it right, he is going to be there for you and that's a very special feeling.
"He can be quite sound sensitive, so this is a hotter environment for him here. I'm really proud of how much he's starting to use that excitement for good things, and not just getting tight and tense."
Quartett was actually purchased for his owner Kylee Lourie to ride herself, and Duerrhammer is showing him the ropes at top level before Lourie takes him over full-time.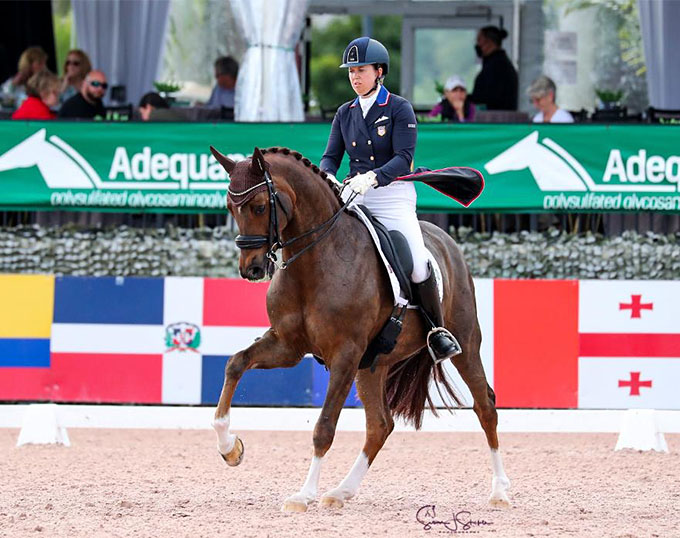 "Every show we do is just one more gift," said Duerrhammer, whose recipe for success with the horse is minimal arena time — she schooled him just twice since they showed at GDF 3. "He might not be the most talented of everything that I ride in the entire barn, but the amount of heart he has is four times bigger than anything else I have. This summer his owner could get on, when he was still a green grand prix horse, and clock off almost everything in the grand prix. He's just such a giver."
Berktold Wins Inter I 2*
It was a clean sweep of the podium by American riders in the Intermediate I CDI2* class, with Bianca Berktold leading the pack. She rode Imperial, her own nine-year-old mare by Charmeur, to a personal best of 73.039% and their first international win. Ali Potasky pulled off another personal best, finishing second with 70.441% on Inxs, with Kevin Kohmann third on Edward (69.559%).
-- GDF Press release, edited by Eurodressage
Photos © Sue Stickle - Lily Forado 
Related Links
Scores: 2022 CDI-W Wellington
Jorst Returns with Nintendo and Wins, Wandres and Bluetooth on Top at 2022 CDI-W Wellington
Belgian Laurence Vanommeslaghe Takes Wellington By Storm, CDI 4* Kur Victory with Personal Best
Eurodressage Coverage of 2022 World Cup Finals