2022 CDI-W Neumunster
-- FEI Press release by Louise Parkes
The star German partnership of Jessica von Bredow-Werndl and her fabulous mare TSF Dalera BB reigned supreme at the fifth leg of the FEI Dressage World Cup™ 2021/2022 Western European League on home soil at Neumünster on Saturday 20 February 2022.
The pair who dominated the Tokyo 2020 Olympic Games last July before going on to sweep another three gold medals at the FEI Dressage European Championships 2021 in Hagen (GER) two months later showed exactly why they stand top of the world rankings when posting today's winning score of 90.615.
Reduced to 13
The starting field was reduced to 13 following the withdrawal of two top German contenders, Helen Langehanenberg (Annabelle) and Benjamin Werndl (Famoso OLD), but the competition was keen from the outset and Danish riders really rose to the challenge when finishing second, third and fourth.
Sixth to go, Australia's Kirsty Oatley left the arena in tears for all the right reasons after posting an emotional personal-best 79.840 with her chestnut gelding Du Soleil whose fancy footwork belied his 18 years, and this pair were out in front going into the second half of the competition.
After the break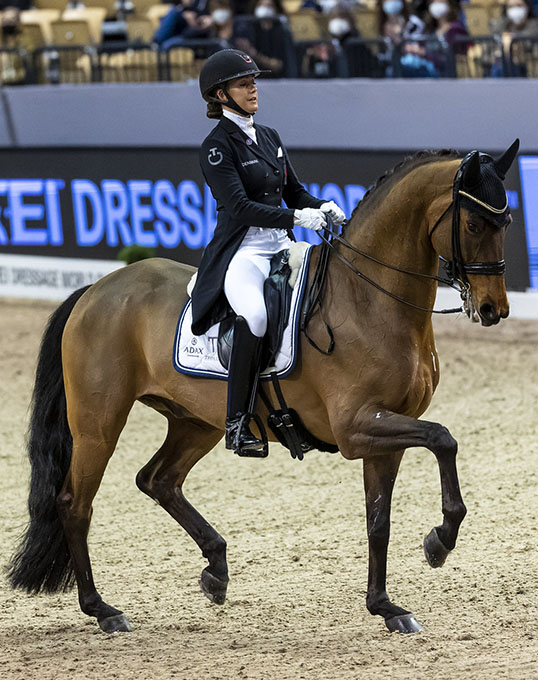 Swedish showman and Oatley's brother-in-law, Patrik Kittel, took over the lead when first into the arena after the break when scoring 81.325 with his relatively new ride Blue Hors Zepter before Germany's Isabell Werth - chasing her fourth consecutive series title this season - bettered that when DSP Quantaz put 82.640 on the board. However it was the final four who really shook things up.
Carina Cassøe Krüth produced an exciting Freestyle with Helline's Danciera who broke in extended trot but who was clapped up the final centreline of one-handed passage by the enthusiastic spectators. Their score of 83.670 gave them a short-lived advantage because compatriot Cathrine Dufour was next into the ring with Vamos Amigos who really raised the bar with a mark of 86.725. The youngest horse in the class at 10 years of age, this looks to be one with a really exciting future.
"He's a very hot little man but very kind. He's quite new to the game and I love him," Cathrine Dufour (DEN) said about Vamos Amigos
The last of the Danes, Nanna Skodborg Merrald, then produced a personal-best with Atterupgaards Orthilia who posted 84.480 to slot in behind compatriot Dufour, but once von Bredow-Werndl and Dalera set off it always looked like a German win.
Plan
It didn't all go quite to plan for the superstar partnership however, the normally very lady-like mare getting a little naughty in extended canter while there was also a break in the one-tempi canter changes. Such was the quality of the rest of the work however that the result never seemed in any real doubt, the pair earning multiple scores of 10 including across the board from all judges for their transitions to, and from, passage.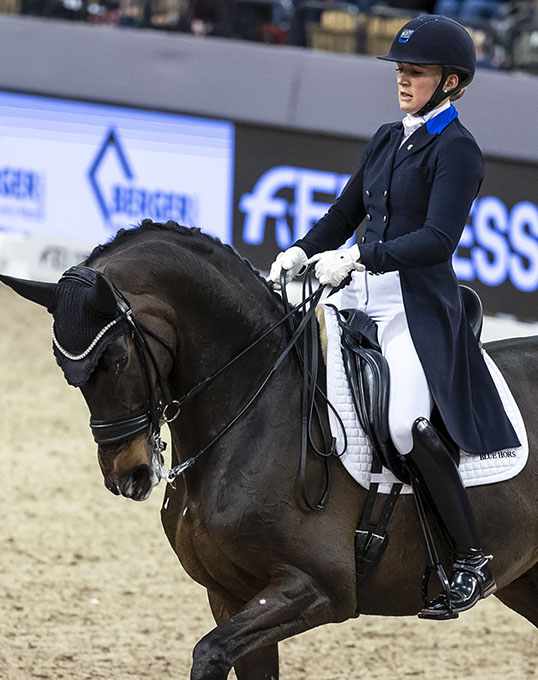 Von Bredow-Werndl admitted afterwards that she thought her mare was about to explode when she rocketed off in the extended canter.
"She knew she shouldn't do it, but she was just feeling too good! She's so full of power and energy, but she trusts me and she came back to me very quickly," Jessica von Bredow-Werndl (GER) said with a laugh.
At the post-competition press conference Dufour reflected on a really promising performance from her rising star. The Danish rider was making her debut at the Holstenhallen in Neumünster and said she really liked the venue and was delighted with her result with Vamos Amigos. "I couldn't be happier", she said, "adding that she was "super-pleased to be sitting next to Jessica and also Nanna because we have been competitors, colleagues and friends since we were children!"
Final, Rule Change!
For today's winner, attention now turns to the last Western European League qualifier ahead of the FEI Dressage World Cup™ Final 2022 which will take place in Leipzig, Germany from 6 to 10 April. In three weeks' time there will be one more opportunity to collect qualifying points at 's-Hertogenbosch in The Netherlands.
"You need to compete in three qualifiers to go to the Final and I've only done two so I'll definitely have to go to Den Bosch. We haven't had a Final for two years so we really want to get there this year!", von Bredow-Werndl said.
Normally Western European League riders had to compete in four qualifiers, but the FEI made an unannounced rule change and reduced it to three qualifiers as so many qualifiers got cancelled.
After today's fifth leg of the series she now lies joint-sixth on the Western European League leaderboard while Dufour has moved up to second behind Germany's Frederic Wandres at the head of affairs.
Looking Head
Event Director Francois Kasselmann drew a positive balance, also because the joint commitment of the organisers, sponsors and the city made the realisation of the VR CLASSICS meets FEI Dressage World Cup possible.
He is already looking ahead to April, because then Horses & Dreams meets Canada ( 20 - 24 April) will take place in Hagen a.T.W.. There, both the final of the BEMER Riders Tour and the first leg of the new Tour season will take place:
"And we are already looking forward to seeing everyone here again in February 2023". Good news has already leaked out from the FEI headquarters in Lausanne - the VR CLASSICS from 16 - 19 February 2023 will once again be a leg of the FEI Dressage World Cup.
Related Links
Scores: 2022 CDI-W Neumunster
Europe's Top Dressage Stars Head to Neumünster for 2022 World Cup Qualifier
2022 CDI-W Neumunster Behind Closed Doors
Eurodressage Coverage of the 2022 World Cup Finals