Canada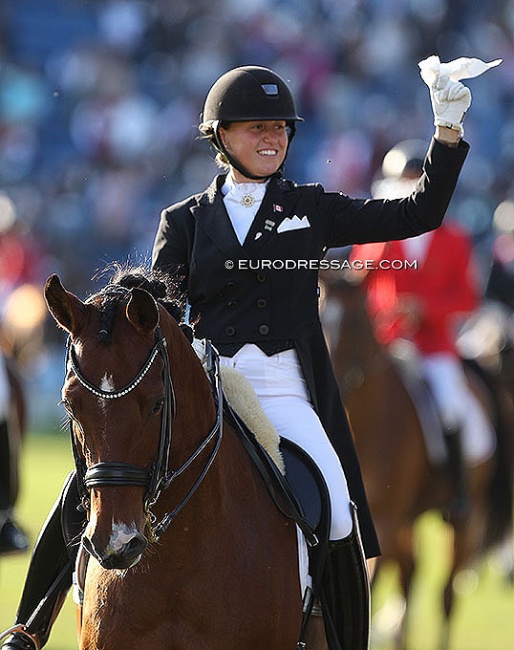 Camille Carier Bergeron of Laval, QC, has been awarded the 2022 Brosda Olympic Bursary. 
On behalf of the Brosda family, Equestrian Canada (EC) is honoured to facilitate support for the Élisabeth Brosda Memorial Fund through the Horsepower Foundation – a fundraising program created by EC, in partnership with the Canadian Olympic Foundation, to inspire and support Canadians to embrace lifelong participation in equestrian activities. 
The Brosda Olympic Bursary was founded in 2018 and has seen been awarded three times to Brittany Fraser-Beaulieu and once to Tanya Strasser. 
Camille Carier Bergeron
The Canadian U25 rider Carier Bergeron is awarded the Brosda Bursary for the first time, speaks to her dedication and ability to make a future mark for Canada on the FEI stage riding Acoeur (by Acordelli x Ricardo), a 14-year-old Baden Württemberg gelding and Sound of Silence 4 (by San Amour I x Limes), a 14-year-old Westphalian gelding, both owned by her father Gilles Bergeron.
The 21-year-old is currently ranked first on the FEI U25 rankings and has been moving up from Talent ID to Development on the EC's National Team Program (NTP) Dressage squad. Carier Bergeron and Acoeur, who is coached by Olympian Brittany Fraser-Beaulieu, started the 2022 season with two victories in the Under 25 Intermediate II and Grand Prix tests, striking over 70% in both victories, in the opening week at the Global Dressage Festival in Wellington, FL.
In addition to Carier Bergeron's ranking and success on the FEI U25 level, the Bursary High Performance Advisory Group selected her because of her World U25 Rankings, scores over 70% and overall, her potential for the 2024 Olympic Games.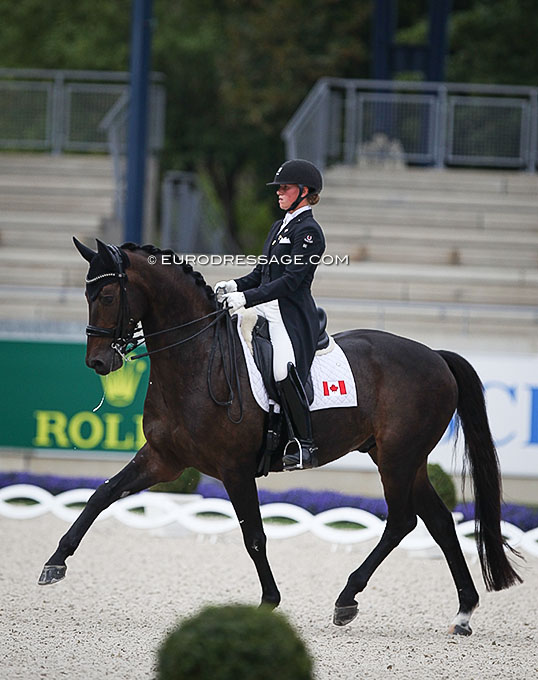 "The Élisabeth Brosda Memorial Fund means a lot to us as it was created to honour our exceptional daughter, who tragically passed away before she could realize the Olympic dream that meant so much to her," said Élisabeth's mother, Marie-France Maisonneuve, and step-father, Sébastien Normand.
"Camille has proven excellence in her young equestrian career – both inside and outside of the ring," Marie-France added. "Her growth with the Canadian Dressage team is exceptional and with the support from EC and the Horsepower Foundation, we are pleased to award Camille with this bursary in her pursuit of reaching her goals towards the 2024 Olympics and beyond."
Bursary Towards Training
"I feel extremely grateful and honoured to be awarded the bursary in memory of Élisabeth Brosda, I will put the bursary towards my training and competition costs towards qualifying for the 2022 World Championships," said Carier Bergeron. "It's extremely helpful in achieving my goals to compete for Canada at major games, I cannot thank EC and the Brosda family enough. I intend to represent the bursary with hopes to inspire other young Canadian riders to pursue their dreams and goals like Élisabeth once had."
As the successful candidate for 2022, Carier Bergeron will be an ambassador for the Brosda Olympic Bursary, promoting the Olympics values of excellence, teamwork, leadership and fair play, and sharing her stories and experiences through public speaking engagements and on social media. 
Related Links
2021 Brosda Olympic Bursary Awarded to Brittany Fraser-Beaulieu
Brittany Fraser-Beaulieu, Recipient of $10,000 Brosda Olympic Bursary for 2020
2019 Brosda Olympic Bursary Awarded to Tanya Strasser-Shostak
Brittany Fraser Inaugural Recipient of the Brosda Olympic Bursary for 2018