2022 CPEDI Deauville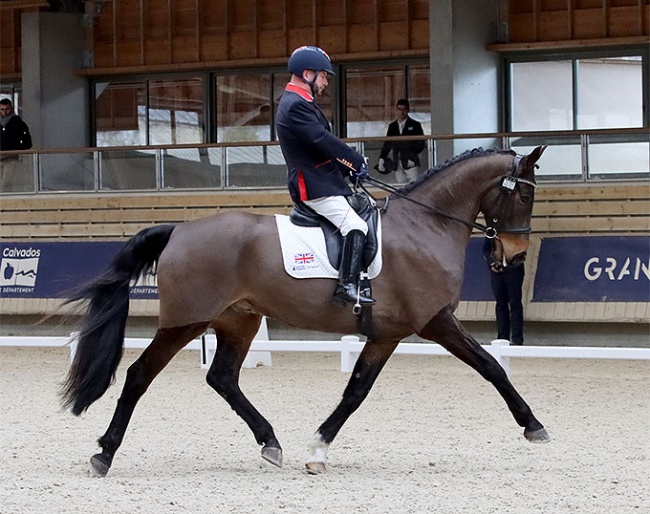 -- Deauville press release
Organised  at the Pôle International du Cheval, the CPEDI*** in Deauville, the only international para-equestrian dressage show in France, has once again seen Great Britain triumph in the Nations Cup. However, the Freestyle on Sunday should give the other nations the opportunity to steal the show. In particular France, which already Saturday distinguished itself with Vladimir Vinchon's win and Céline Gerny's second place.  
Great Britain Wins Nations' Cup
And at the end... Great Britain won. Unbeaten in the Nations Cup (*) at Deauville since 2012, the British once again won with a total of 431.647 points (71.941% average).
By bringing two Tokyo Paralympic champions, Lee Pearson and Sophie Wells, both winners on Saturday in their respective Grade, Great Britain once again dominated the first two days of competition. "It's always important to win a Nations Cup," rejoiced Team Manager Georgina Sharples. "These first competitions of the year allow us to start new couples or new horses. Paris 2024 is obviously the next big goal but until then, the World Championships in Herning (Denmark) this summer will be an important step."
Less than two points behind in Friday's Team Tests, the Netherlands (428.627 pts; 71.438%) could not close the gap in Saturday's Individual Tests.
On the third step of the podium, France, with a total of 417.828 points (69.638% average), had several reasons to be satisfied.
"This third place behind nations such as Great Britain and the Netherlands, two benchmark nations in the para-equestrian dressage world, is satisfying," analysed Fanny Delaval, Deputy National Technical Director in charge of para-equestrian dressage. "Vladimir (Vinchon) and Céline (Gerny) did a good job. The four riders we selected are those who have been following the programme established by the Federation over several months, or even several years, with the Master-classes in particular. We're on the right track. We'll continue to work." Belgium, with only three couples, was fourth with 395.751 points (65.958%) in this Nations Cup appreciated by all. "We really have to thank the organisers who've were able to adapt to the weather situation," emphasized the British team leader.
Grade I - Rihards Snikus (LET) gives a demonstration
With 77.964%, Latvian Rihards Snikus achieved the best score of the day of the day at Grade I. Riding King of the Dance, the World number 2 (n°1 in Grade I) rode a magnificent test not giving his rivals a chance. Ireland's Michael Murphy on Cleverboy was scored at 72.964% which gave him second place ahead of France's Marie Vonderheyden on Bombastic d'Arion (67.143 %). Eliminated on Friday in the Team Test before being able to start her test, Anne-Frédérique Royon was able to get back on track with Quaterboy LH and finished fifth (65.929 %).
Grade II - Sir Lee Pearson takes his revenge
In the lead for a long while at Grade II, Céline Gerny from the Ardennes region of France, partnering her very experienced 17 year old mare, Rhapsodie, was hoping to win until Great Britain's Lee Pearson came into the arena. "Only" fourth on Friday with Breezer, his Paralympic team champion horse, the rider with 14 Paralympic medals (!) returned the top step of the podium scoring 71.324%.
"At my age, winning is not the most important thing, although I obviously prefer to be at the top of the placings," commented Sir Pearson. "Having fun and being pleased with your horse is so much more important. Yesterday Breezer was a bit confused because we were originally going to ride outside. But today he was more in tune with what I was asking of him, even though it wasn't quite perfect". Riding a lovely test rewarded with 70.794 %, France's Céline Gerny nevertheless took an excellent second place passing in front of the previous day's winner, Great Britain's Georgia Wilson on Sakura (70.676 %). " I'm not very far from Lee who's here with his Olympic horse," remarked the Frenchwoman. "It allows us to see where we stand. I was ahead of him on Friday, but I knew he would bounce back today!"
Grade III - Lotte Krijnsen (HOL) does it again
Already victorious on Friday and in the CPEDI *** in Doha in February, the Dutch rider Lotte Krijnsen confirmed her supremacy on Saturday at Grade III. Riding her experienced 16 year old mare Rosentolz, the 33 year old rider left the arena on a score of 72.095%, keeping the Netherlands in the running in the Nations Cup. She finished well ahead of Canada's Roberta Sheffield on Fairuza (70.294 %) and Great Britain's Erin Orford on LJT Diamond Crusador (68.882%).
Grade IV : The Marseillaise for Vladimir Vinchon
The French national anthem is not necessarily the one the most heard in para-equestrian dressage, and during the prize-giving ceremony following Vladimir Vinchon's magnificent win on Saturday it was sung with enthusiasm by the CPEDI*** public. With Fidertanz For Rosi, a 9 year old gelding, he won over the judges at Grade IV, taking the class with a score of 71.146%. It was good enough to beat two riders from the Netherlands, Melissa Janssen with Dreamy-Boy (70.878 %) and Tessa Baaijiens-van de Brie with Happy Grace (70.756 %).
"This is the first Marseillaise for this horse with whom I'm working towards Paris 2024 is a really special moment," he confided. "I had goose pimples on my arms! I'm really delighted. We found that little extra that I didn't have on Friday. This time the horse was much more attentive and had a very good attitude. We're on the right track. The horse is confirming his potential. I'm sure that this win was only the first of many. This is only the beginning!"
Photos © Astrid Ringot
Related Links
Snikus, Wilson, Krijnsen, Claeys, Wells Win First Tests at 2022 CPEDI Deauville