2022 World Cup Finals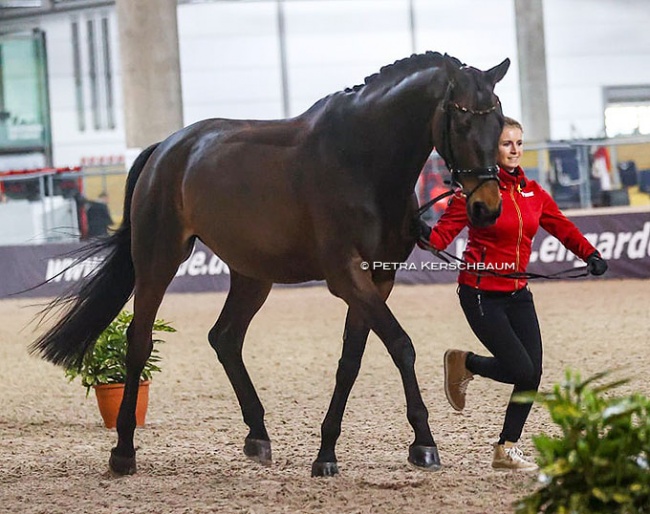 The 2022 World Cup Finals are about to kick off in Leipzig, Germany, as the competition finale of the winter of 2021-2022.
Leipzig's "Partner Pferd" competition is the return host to the Finals, who first staged the event in 2011. They have been an international show jumping competition ever since.
Seventeen to Go
For the 2022 World Cup Finals in dressage, seventeen horses were being presented at the inspection today, Wednesday 6 April 2022, at 14h00.
Today's drop out of Katarzyna Milczarek (POL) and her Lusitano Guapo (by Almansor x Nordeste) due to a dental issue saw the starters' field being reduced from a traditional 18 combinations to 17.
The last minute withdrawal did not leave enough time for a substitute to be called up. This meant that next-in-line, Hungarian Csaba Szokola, saw a potential ride at the 2022 World Cup Finals pass by him. 
All Horses Pass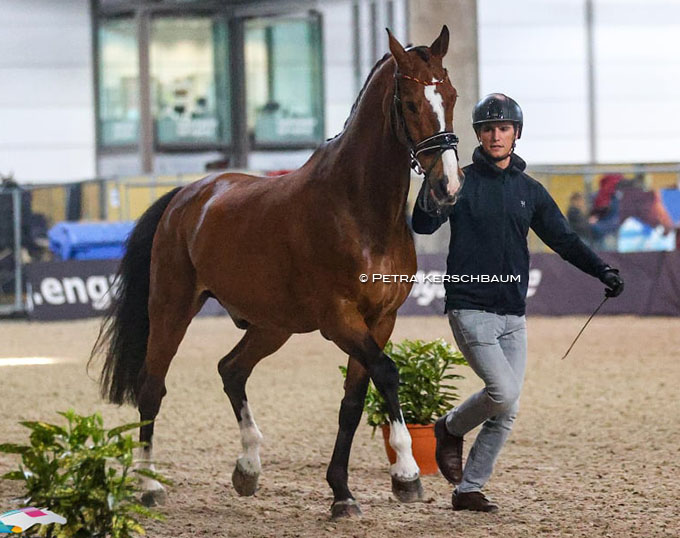 Seventeen horses were presented to the ground jury and FEI veterinarian for the mandatory horse inspection and all seventeen were deemed "fit to compete" by these luminaries.
Two horses appeared quite tender on the legs at the jog. One of them, Juan Matute Guimon's 16-year old Hanoverian gelding Quantico (by Fighting Fit x Constant), was sent to the holding box. At the end of the job he passed upon re-inspection.
The Spanish duo had just flown back to Europe from Wellington, Florida, where they had competed in three CDI's and six classes in one month time between 10 February and 4 March 2022, winning the Grand Prix freestyle in their last ride at the 2022 Palm Beach Dressage Derby.
Starters List
The 2022 World Cup Finals will kick off with the Short Grand Prix on Thursday 7 April 2022, a warm-up class which will help to decide a reserve order of go for the decisive Grand Prix Kur to Music. 
The judges in Leipzig are Kurt Christensen (DEN), Clive Halsall (GBR), Michael Osinski (USA), Isabelle Judet (FRA), Eduard de Wolff (NED), Henning Lehrmann (GER) and Annette Fransen Iacobaeus (SWE). The judging supervisory panel includes David Hunt (GBR), Linda Zang (USA), and Hans-Christian Matthiesen (DEN). 
The order of go for the Short Grand Prix is:
1. 18h30: Anna Buffini (USA) - Davinia la Douce
2. 18h38: Morgan Barbançon (FRA) - Sir Donnerhall II OLD
3. 18h46: Yvonne Losos de Muniz (DOM) - Aquamarijn
4. 18h54: Yessin Rahmouni (MOR) - All at Once
5. 19h02: Nanna Skodborg Merrald (DEN) - Atterupgaards Orthilia
6. 19h10: Thamar Zweistra (NED) - Hexagons Ich Weiss
7. 19h18: Charlotte Fry (GBR) - Dark Legend
8. 19h26: Juan Matute Guimon (ESP) - Quantico
BREAK
9. 19h47: Rodrigo Torres (POR) - Fogoso Horsecampline
10. 19h55: Carina Cassoe Kruth (DEN) - Heiline's Danciera
11. 20h03: Patrik Kittel (SWE) - Blue Hors Zepter
12. 20h11: Isabell Werth (GER) - Weihegold OLD
13. 20h19: Ashley Holzer (USA) - Havanna
14. 20h27: Helen Langehanenberg (GER) - Annabelle
15. 20h35: Cathrine Dufour (DEN) - Vamos Amigos
16. 20h43: Alisa Glinka (MDA) - Aachen
17. 20h51: Jessica von Bredow-Werndl (GER) - TSF Dalera BB
Photos © Petra Kerschbaum
Related Link
Eurodressage Coverage of the 2022 World Cup Finals