The Netherlands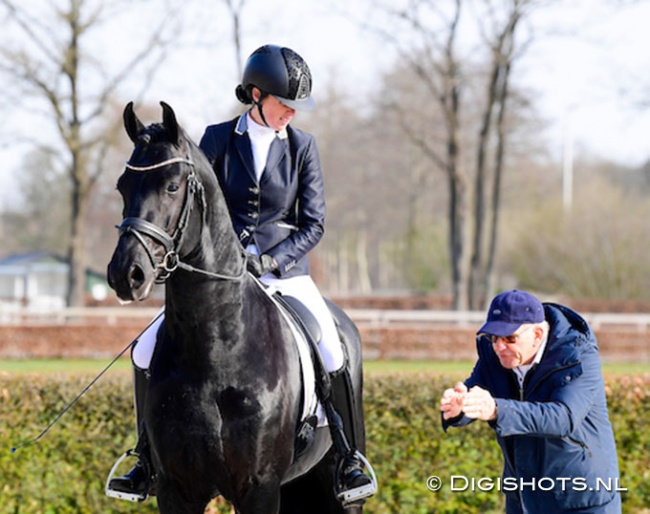 The Dutch Equestrian Federation and KWPN society have announced the names of the horses which have been selected to move on to the second team training and selection trial for the 2022 World Championships for Young Dressage Horses. 
The Dutch WCYH selection process for 2022 started with a wild card day in Nunspeet in March, followed by a first training and selection trial in Ermelo on 11 - 12 April 2022.  The selection committee consists of Floor Dröge, Johan Hamminga, and Veronique Roerink. 
"The circumstances were ideal. The arena at the National Equestrian Center was in fantastic shape and the weather played along. We saw many good horses, real good combinations with a lot of potential," said Hamminga. "These two days the riders rode a test and got tips for their training. This selection moment we mainly focused on the quality of the horse concerning its gaits and how it is ridden. A mistake in the test is not a problem this early in April. We still have plenty of time to work in all peace on it."
Hamminga continued, "the advantage of this selection process is that we now already have an idea and still 4.5 months to go, so that the riders and horses can catch their breath. Next time we'll see what the riders have done with our tips, even though we were pleasantly surprised how easily already the horses did the test. Especially for the 7-year olds the test is quite a challenge, but for many horses it didn't seem a problem."
The second trial will be on 4 May 2022. Some horses, who were absent on the first trial due to injury, can be invited to the second trial. 
Invited to the second trial are:
5-year olds
Mister Maserati (by Toto JR) - Diederik van Silfhout
Edon van Groot Altena (by Julius 486) - Corina van den Bunt
Mystery VDH (by Ferguson) - Kim Leduc
Magnum (by Furst Romancier) - Kirsten Brouwer
Mi Morena (by Toto JR.) - Melanie Woutersen
My 7th Sunday (by In Style) - Renate van Uytert- van Vliet
Montrachet (by Toto JR.) - Saskia van Es
Guiness (by Glamourdale) - Franka Loos
Mauro (by Zonik) - Dinja van Liere
Mr Magnum BTH (by Expression) - Annemijn Boogaard
Maxson (by Johnson) - Charlotte Fry (GBR)
Mission (by Eye Catcher) - Femke de Laat
Maximus-H (by Zonik) - Femke de Laat
Hexagon's Gorgeous Black Art (by Toto JR.) - Benedek Pachl (HUN)
Mister Maluby R (by Fürstenball) - Quinty Vossers
Maddox Mart (by Hennessy) - Jessica Lynn Thomas (SWE)
Mercurius ACM (by Dream Boy) - Amber Hage
6-year olds
Coco WE (by Hessel 480) - Esther Postmus
Linskymorijke (by Negro) - Mariëlle Spierings
La Luce (by Glamourdale) - Kirsten Beckers
First Lewis (by Ferguson) - Aitor Escamilla Bravo (ESP)
Labarron (by For Romance) - Dinja van Liere
Lightning Star (by Ferguson) - Kirsten Brouwer
Lennoxwaard (by El Capone) - Kirsten Brouwer
Le Grand Ayden HB (by Grand Galaxy Win) - Curro Benitez Sanchez (ESP)
Lord Platinum (by Ferguson) - Curro Benitez Sanchez (ESP)
Leco VDV (by Negro) - Astrid Langeberg
L'Unique STH (by Boston) - Nicky Snijder
Las Vegas (by Ferdeaux) - Emmelie Scholtens
Leonidas (by Trafalgar) - Dinja van Liere
Luqiedo (by Aqiedo) - Adelinde Cornelissen
Hexagon's Luxuriouzz (by Johnson) - Benedek Pachl (HUN)
Lennox U.S. (by Grand Galaxy Win) - Jill Bogers
7-year olds
Kyando (by Arlando K) - Diana van de Bovenkamp
Kind Pleasure (by Governor) - Femke de Laat
Kardinale-Utopia (by Toto JR.) - Robin van Lierop
Killer (by George Clooney) - Marten Luiten
Kings-Dream (by Everdale) - Brecht D'Hoore (BEL)
Kyton (by Ferguson) - Bert Veeze
Kunz (by Ferguson) - Najami Voogd
Kashmir (by Glamourdale) - Jessica Leijser
Kylian Riche D'Apardi (by Firestone) - Jamy Ummels
Hexagon's Kaygo (by Capri Sonne Jr.) - Thamar Zweistra
Koko JR de la Fazenda (by Toto JR.) - Thalia Rockx
Keano (by Governor) - Marieke van der Putten
Kuvasz (by Glamourdale) - Marieke van der Putten
Kjento (by Negro) - Charlotte Fry (GBR)
Photo © Digishots
Related Links
Dutch Selection Trials for 2022 World Young Horse Championships Begin in Ermelo
Eurodressage Coverage of the