2022 Bundeschampionate Qualifier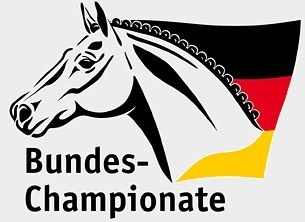 The 5-year old First Date and the 6-year old Boa Vista became the winners of the first Bundeschampionate qualifier of the 2022 show season. It took place in Elmlohe, Germany, on 9 April 2022. 
5-YO: First Date OLD
Veronika Steinhof and Martin Lagershausen's Oldenburg mare First Date OLD (by For Dance x Weltmeyer) were a league of their own winning the 5-year old division with a comfortable lead on a total of 8.5 points. Judges Ute von Platen, Wolfgang Schierloss, and Ralph Schmidt rewarded the dark bay mare with 9 for walk, 8.5 for trot and canter, 8 for submission and 8.5 for general impression. 
The runner-up was Spaniard Fernando Estaban Ruiz with Norbert van Laak's Hanoverian gelding Maranello (by Morricone x Florestan). He scored 8.0 in total after receiving 7.5 for walk, 8.5 for trot, and 8 for canter, submission and general impression. 
6-yo: Boa Vista FRH
Last year's Bundeschampion Boa Vista FRH (by Bon Coeur x Scolari) showed that she also masters the M-level test for 6-year olds under Greta Heemsoth. Ingo Pape's Hanoverian mare scored 8 for walk, 10 for trot, 7.5 for canter, and 8.5 for submission and general impression to finish on a winning total of 8.5 points. 
Annika Korte and Jürgen Helm's Oldenburg mare Falete (by Furstenball x Brentano II) were the runners-up with 8.3 points. Judges Schmidt, von Platen, and Marret Maucher rewarded the black mare with 8.5 for walk and canter, 8 for trot and submission and 8.5 for general impression. 
Results - 2022 Bundeschampionate Qualifier - Elmlohe
5-year olds
1 Veronika Steinhof - First Date OLD (by For Dance / Weltmeyer) - 8.5 9 8.5 8 8.5 --- 8.5
2 Fernando Esteban Ruiz  - Maranello (by Morricone I / Florestan) -  8.5 7.5 8 8 8 --- 8
3 Maren Bentes - Blue (by Buckingham / Locksley II) - 8.5 7.5 8 7 7.5 --- 7.7
4 Niklas Brokamp - Shynedo (by Sir Heinrich / Don Bedo) -  8 7 8 7.5 7.5 --- 7.6
5 Jessica Lynn Thomas  - Thomson Beyonce (by Benicio / Sir Donnerhall ) - 8 6.5 8 7.5 7.5 --- 7.5
5 Tatjana Piontek  - Deichperle (by Diamond Hit / Ampere) -8 7.5 7.5 7 7.5 --- 7.5
5 Henriette Hachmeister - Ferdades (by Frascino / Escola ) - 8.5 8 8 5.5 7.5 --- 7.5
8 Marco Bührig - Royal Lady G (by Revolution / Rubin-Royal) - 7.5 7.5 7 7.5 7.5 --- 7.4
8 Cosima von Fircks - Nymphenburgs Famous Boy (by For Romance II / Hohenstein) - 8 7.5 7.5 6.5 7.5 --- 7.4
10 Malte Kalus - Montepulciano (by Morricone I / Damsey). - 7 8 7.5 6 7 --- 7.1
10 Mathis Goerens -  Feuerfunke (by Franziskus / Foundation) 8 6 7.5 6.5 7.5 7.1
12 Kaddur Kelkha - Black Jack JG (by Bon Coeur / Hofrat) - 8 7 7 6 7 7
12 Maik Schemmann -  Fifty Shades of Grey (by For Romance I / Don Frederico) -  8 6 7.5 6.5 7 --- 7
6-year olds 
1. Greta Heemsoth  -  Boa Vista (by Bon Coeur / Scolari) - 10 8 7.5 8.5 8.5 --- 8.5
2 Annika Korte  -  Falete (by Fürstenball / Brentano II) - 8.0 8.5 8.5 8 8.5 --- 8.3
3 Malte Kalus  - So Easy (by  San Amour I / Don Bosco) - 8.0 7.5 7.5 7.5 7.5 --- 7.6
4 Silvia Busch-Kuffner -  Diamante Negro (by DeLorean / Fürst Romancier) - 8 8 7.5 6.5 7.5  --- 7.5
5 Annika Korte -  Venicia (by Vivaldi / Don Frederico) - 7.5 7.5 7 7.5 7.5 --- 7.4
6 Ken-Christian Horst - Belantino ND (by Belantis I / Dancier) - 8 7 7.5 6.5 7.5 --- 7.3
7 Malte Kalus -  Morricona (by Morricone I / Sandro Hit) - 8 6.5 7.5 6.5 7.5 --- 7.2
8 Ida Reich - Dancing Dietmar (by Dancier / Dr.Doolittle) - 7.5 7 7 6.5 7 --- 7
9 Alvaro Osborne Diez -  La Bonita (by  Livaldon / Hotline) - 8 6 7 6.5 7 --- 6.9
David Taylor - Fürstenerbe  (by Fürsten-Look / De Niro) - RET
Mareike Hahlbom -  Destinada H (by  Don Romanov / Benetton Dream) - RET
Related Link
Eurodressage Coverage of the 2022 Bundeschampionate