2022 Belgian Dressage Championships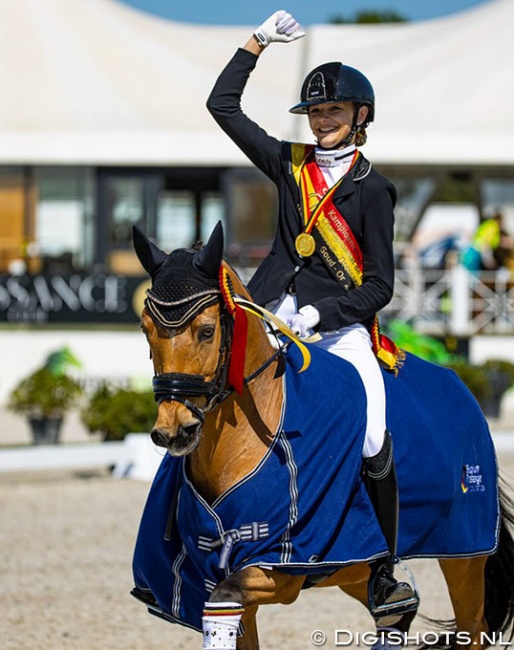 Pony rider Liezel Everars, children rider Amber Hennes, junior Jette de Jong, young rider Amber van den Steen, Under 25 rider Laura Luyten, small tour rider Isabel Cool, and senior Grand Prix rider Larissa Pauluis became the winners in their respective divisions at the 2022 Belgian Dressage Championships. 
The 2022 Belgian Championships were scheduled early in the year, on 5 - 8 May 2022, and took place in the outdoor arenas at Equestrian Azelhof in Lier. The event was blessed with gorgeous weather and the organization pulled out all the stops to present a Championship with flair. Staged in a beautifully landscaped arenas with plenty of plans and greenery to liven things up, the Nationals were a true dressage fest with champagne showers for ever podium ceremony. 
Pony Riders: Liezel Everars
After scoring a triple victory at the CDI Opglabbeek at the start of the 2022 outdoor show season, Liezel Everars and her 11-year old Rhinelander gelding FS Capelli de Niro firmly cemented her position as the number one pony rider in Belgium. At the Nationals she won all three rounds with her buckskin gelding, scoring 73.628% in the team test,  75.243% in the individual, and 78.370% in the Kur to total 227.241 points. She earned the gold medal and renewed her title from 2021. Everars trains with Nicolet van Leeuwen and Suraya Hendrickx. 
Following in the distance was a brand new combination, Belgian team rider Emilie Herweyers on her newest acquisition, the 8-year old German riding pony mare LeSch La Perla (by Morgensterns Dalai x FS Chambertin). The brand new duo, who is coached by Delphine Meiresonne, needed little time to gel and the pair placed second three times with 72.657%,  71.406%, and 76.485% to finish on a silver medal earning total of 220.548 points. 
Anna Peeters and the 12-year old Hanoverian stallion Balotelli (by Benetton S x Sweet Dream SF) have found their groove this year and the scores have steadily increased show after show. At the National Championships they were third in the team test with 70.314%, fifth in the individual with 71.216%, and third in the Kur with 76.485% to score the bronze medal with 218.015 points. They train with Wim Verwimp. 
"It's always a super special feeling to become Belgian champion," said Everars, who still has one year to go on ponies. "The freestyle is always a fun part to ride.
Children: Amber Hennes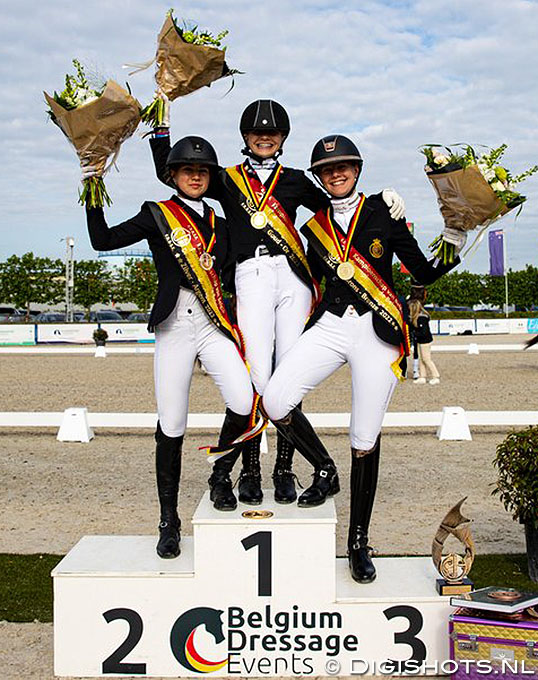 Amber Hennes and the 10-year old NRPS registered Allegro van het Trichelhof (by Apache van het Trichelhof x Utharin van het Wolfharthof) have been the measure of all things in the children division for the past year. Also at the 2022 Championships she was untouchable, scoring three victories, the gold medal, and renewing her title from last year. The pair won the preliminary test with 74.107%, the team test with  79.100% and the individual test with 77.935% to finish first on a total of 231.142 points.  They train with Christine Vercammen.
Division newcomer Chloe Cleymans made an impression with the 13-year old Belgian warmblood bred Jondonderry (by Londonderry x Weltmeyer). The were second in the first two rounds (70.482%, and  75.125%) but faltered in the individual, dropping to sixth place with 67.588%. Still their overall total of 213.195 points was good enough for a well earned silver medal. The pair has only been together for two months. 
More experienced children team rider Elisa Verwimp and the 16-year old KWPN gelding Boemerang (by Daddy Cool x Roemer) finished with bronze after posting 68.625%,  71.725%, and 70.829% for a total of 211.179 that placed them third overall. They train with Jorinde Verwimp. 
"It's so much fun. I enjoyed it so much. three times first with a nice score. I was so happy. This is my last year in Children, I shed a tear," said Hennes, who will start her training for junior level to which she need to make the transition in 2023.
Junior Riders: Jette de Jong
In the junior riders division, Jette de Jong and her second horse, the 9-year old KWPN gelding Indini (by Chippendale x Romeo) were undefeated and won the gold medal with a 10% point advance. While in 2021 she got gold with number one, Heavenly Charming, this year Indini assisted her in a triple win. The pair scored 70.879% in the tea test, 71.559% in the individual test, and 75.655% in the freestyle for  218.093 points. Jette trains with her mother, Marielle Hoefsmit, and Anky van Grunsven, and her father arranges all her freestyles.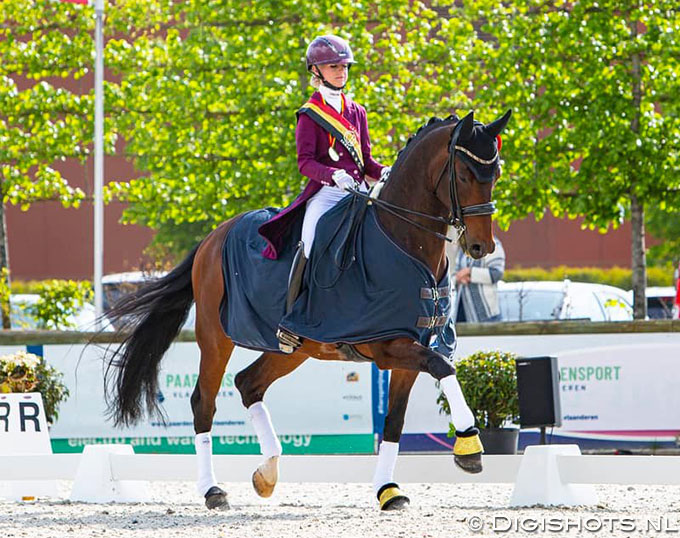 Aude Verheecke, who moved from ponies to horses this year, had a successful weekend on her 12-year old KWPN gelding Frapant (by Vivaldi x Gabor) and finished with silver on 208.263 points. She was fourth in the team test with 68.364%, second in the individual with 69.029%, and third in the Kur with 70.870%. Verheecke trains with Jorinde Verwimp.
Luxembourg based Clara Collard and the 13-year old KWPN gelding Escape (by Tuschinski x Kaiserstern) worked their way onto the podium for the bronze with 207.658 points. The pair was consistent in the first two rounds, posting 69.363% and 68.234%, but dropped to 6th place in the freestyle despite a 70.060% score. Their overall total placed them third. Clara trains with Carmen de Bondt. 
"It's fantastic. I'm super happy and proud. This is super special," said De Jong. "I'm very grateful to my parents for all the opportunities and the horses I get."
Young Riders: Amber van den Steen
After stellar performances at the CDI Opglabbeek in April, young rider Amber van den Steen seems to have unlocked a new level of riding and harmony with her 12-year old KWPN gelding Fame (by Ampere x Sultano). Long-time trained by Jeanette Haazen this duo was no match to its rivals and won all three rounds of the Belgian Championship, staying 10 percentage points ahead of the rest. They won the team test with 73.706%, the individual test with 74.647% and the kur to music with 77.795% to finish first on 226.148 points. She renewed her title from last year.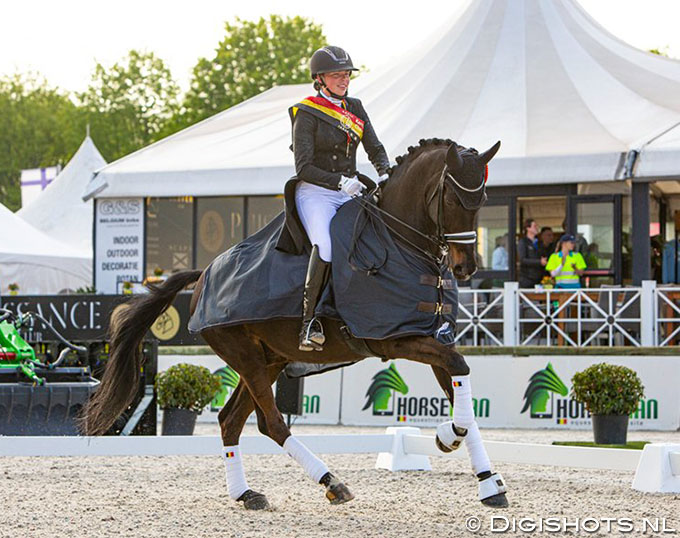 The silver medal was to Belgian junior champion Jette de Jong who rode her number one, Heavenly Charming (by Charmeur x United) a division higher. The 10-year old bay gelding was third in the team test (71.559)% and second in the individual and kur (70.912% and 74.025%) to finish with silver on 216.496 points. 
Belgian YR team rider Karoline Sofie Vestergaard  and her 13-year old Belgian warmblood bred Junior Hit (by Sandro Hit x Calvani) had silver last year and now scored bronze. They were second in the team test (71.853%) and third in the individual and Kur (70.294% and 73.085%) for a total of 215.232 points. The pair is coached by Mandy Bogaerts.
"I'm super proud that I can keep my title for another year," Amber smiled. "I'm very grateful to this horse and my top trainer Jeannette, without whom I would never have achieved this."
Under 25:  Laura Luyten
The Under 25 division featured seven combinations this year and was won by former Belgian young riders' team member Laura Luyten, who has made a successful transition to U25 Grand Prix level with her home bred J2L Lamborghini, an 11-year old Belgian warmblood gelding by Bon Bravour out of a San Remo x Cocktail dam.  The battle for gold was fierce though and decided by just one percentage point difference with the silver medalist.  Luyten, who trains with Dutch based Belgian Brecht d'Hoore, was second in the Inter II with 70.059%, first in the short Grand Prix with 70.359% and second in the Kur with 75.785%. Her point total of 216.203 put her first for the gold.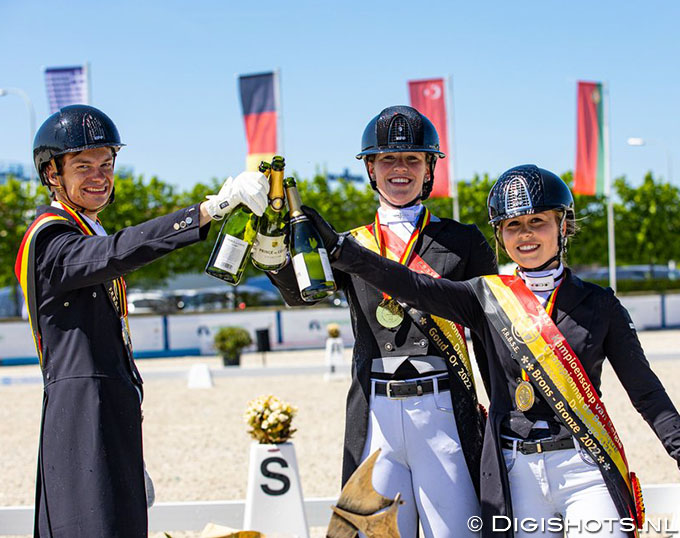 The Belgian Champion of 2019 and 2020, Nico Nyssen, landed the silver medal. After missing out on the 2021 Nationals, he was back this year with the 12-year old KWPN gelding Farrington (by Jazz x Samba Hit). Nyssen, who has been building his own business, first at Juliette Ramel's yard in Holland, then with Piet Lenskens in Peer, and now as the young horse rider at Edward Gal and Hans Peter Minderhoud's stable in The Netherlands, scored a total of 215.387 points. The pair won the Inter II with 70.647%, was second in the Short Grand Prix with 68.000%, and first again in the freestyle with 76.740%. Nyssen only began riding Farrington in January.
Last year's silver medal winner Suraya Hendrikx now finished with bronze on 208.353 points. She rode her 16-year old KWPN mare Black Beauty (by Gribaldi x OO Seven) to 68.735% in the Inter II, 67.128% in the short Grand Prix, and 72.490% in the freestyle. 
"It's fantastic but also a bit unexpected as I made my Under 25 debut only in February," Luyten said. "I can't find the words for it. I'm happy and proud. I said beforehand I wouldn't shed tears, but when I saw the scores on the board i couldn't help it. I had such a long journey with this horse and this was a great feeling."
Senior Small Tour: Isabel Cool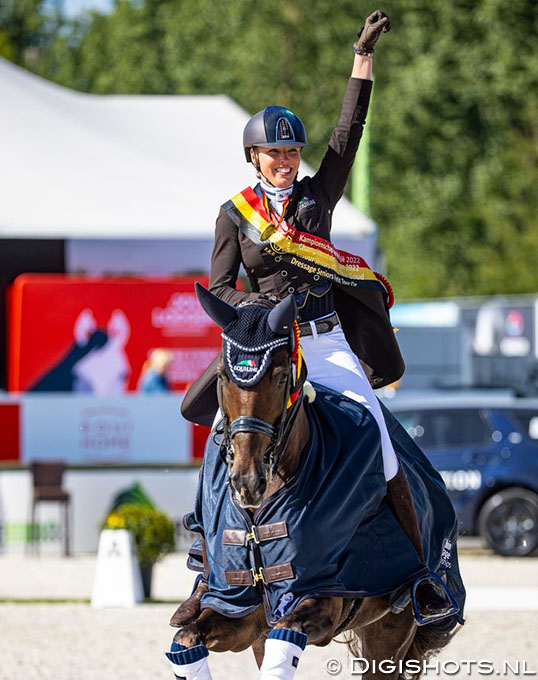 The biggest field of competitors assembled for the senior small tour championship with no less than 33 combinations in the first round. 
Former Belgian Grand Prix team rider Isabel Cool is working on bringing young horses back to the highest level. With the 9-year old SBS registered Herr Charmeur (by Charmeur x Alabastro), bred by international para rider Ciska Vermeulen, she dominated the small tour and won all three rounds. Cool collected the title with 219.789 points, having scored 73.676% in the Prix St Georges, 71.588% in the Intermediaire I, and 74.525% in the Inter I Kur. 
Under 25 rider Suraya Hendrikx was also successful with her rising star Benicia, a 9-year old Hanoverian mare by Benicio. They collected the silver medal with scores of 71.794%,  71.324%, and 74.080% (total 217.198 pts), while routinier Dominique Mohimont captured the bronze aboard  her 15-year old Oldenburg mare Toureine du Meugon (by Donnerball x Wolkentanz II). Mohimont produced 70.941%, 70.706%, and 72.240% earning rides. 
"It has been a great Championships and I am happy with the performance of my horses," said Cool, who showed three horses at the Nationals this year and also won the small tour consolation finals with her second ride Glorious Coolhorses. "It was right on the mark with Herr Charmeur from the start."
Senior Grand Prix: Larissa Pauluis
And finally the highlight division of the annual Championships was the senior Grand Prix tour in which Larissa Pauluis renewed her title of 2021, but this time her second Grand Prix horse First Step Valentin (by Vitalis x Fidermark) eclipsed her number one, Olympic team horse Flambeau (by Ampere x Zeoliet). The 10-year old Westfalian stallion Valentin beat Flambeau in the first two rounds, scoring 72.522% in the Grand Prix and 73.064% in the Special, so Larissa moved on to the final round, the freestyle, with Valentin, in which they scored a winning 76.860%.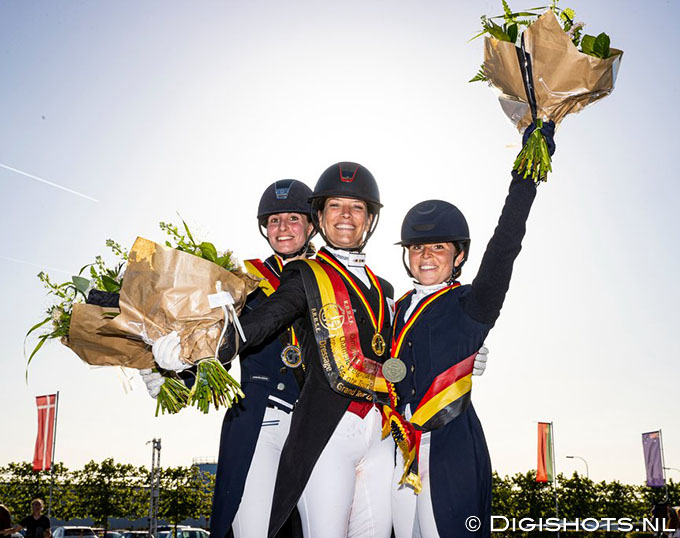 The big tour podium at the Belgians was quite sensational as not the Olympic team riders nor seasoned Grand Prix competitors captured the silver and bronze medal, but two clear outsiders. This makes the team selection for the upcoming World Championships in Herning all the more interesting! Furthermore it needs to be noted that one of Belgium's internationally highest scoring Grand Prix pairs, Laurence Vanommeslaghe on Edison, was absent from the Championships, having competed at the CDI Hagen two weeks before. 
The silver went to Amandine Prevost on the 12-year old Brandenburger stallion Quaterdance (by Quaterback x Expose). They were sixth in the Grand Prix (69.739%), third in the Special (71.213%) and second in the freestyle (74.090%) to finish as reserve champion with 215.042 points. Prevost's last Grand Prix partner was Vledder M, which she last rode down an international centerline in August 2016 ! In 2017 she briefly campaigned Entertainer Win T at international small tour level but then disappeared for five years from the CDI show scene, only to make her come back with Quaterdance this year in March 2022 at Grand Prix level at the CDI Ornago. Quaterdance is not a new ride, though. Prevost acquired him as a youngster, who is bred by the Brandenburg state stud, and successfully campaigned him as a youngster. In 2014 they were the Belgian AND French Young Horse Champions when the horse was four. In 2015 he reclaimed the French title and in 2016 he got silver.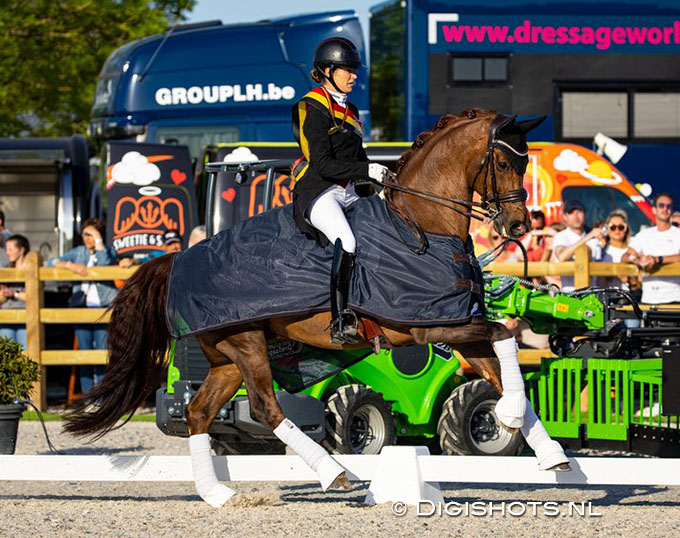 The bronze medal went to the Belgian shooting star of this year Charlotte Defalque with her long-time equine partner, a 16-year old KWPN gelding by Vivaldi x Koss, which she bought from Dominique Mohimont as a youngster. The pair had a super round at the CDI Doha in February and finally seems to bring more consistency to the table. Trained by Jeroen Devroe and Carmen de Bondt, Defalque was third in the Grand Prix (70.283%), fourth in the Special (70.617%) and third in the freestyle (73.900M) to finish with 214.800 points for bronze. 
"It's a little girl's dream. That's what it was," Pauluis took to social media after earning her title. "And the road this horse has gone; from not being loved in the auction to going to Braine-L'alleud (belgium). When I saw Valentin the first time i freedom, I didn't understand why the Germans let him go. The better for us, for me. I saw him evolve from three-year old to yesterday and we climbed a mountain in the last three weeks. It's stunning."
Related Links
Scores: 2022 Belgian Dressage Championships
Everars, Hennes, de Jong, Van den Steen, Vandeborne, Pauluis Win 2021 Belgian Dressage Championships