France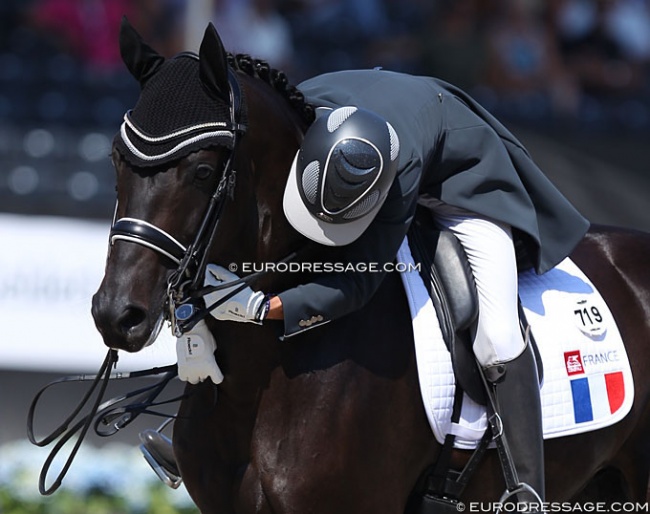 The 2022 FEI Nations Cup series continues this week with the first European leg at the CDIO Compiegne in France. Three teams underwent some last minute changes.
France
The French team will be competing on home turf and for the nations' cup Morgan Barbançon (Sir Donnerhall II), Isabelle Pinto (Hot Bit de la Gesse) and Pauline Basquin (Sertorius de Rima Z) were selected. 
Barbançon has withdrawn her Oldenburg stallion Sir Donnerhall II (by Sandro Hit x Donnerhall) because he developed hives and needed some medical treatment to control the allergic reaction. They will be replaced by Corentin Pottier on Gotilas (by Totilas).  
Great Britain
The British team for Compiegne includes Fiona Bigwood (Hawtins Delicato), Charlotte Fry (Glamourdale) and Richard Davison (Bubblingh).
After sustaining a mild concussion following a minor non riding-related incident, Davison has been forced to withdraw from the competition. He will be replaced by  Daniel Watson with Barbara Marceau's Butterfly IV (by Breitling x Dimaggio).
Portugal
The Portuguese team would be represented by Maria Caetano (Fenix de Tineo), Hugo Pereira (Falsario) and Vasco Mira Godinho (Garrett).
The latter pair will be staying home though and are replaced by Filipe Canelas on Fortuna.
Photo © Astrid Appels
Related Links
2022 CDIO Compiègne Sets New Standards with Brand New Stadium in Its Grand Parc Equestrian
Dujardin to Make CDI Debut with Imhotep at 2022 CDIO Compiegne
Riders Named to 2022 U.S. Young Rider European Tour and CDIO Compiegne