2022 Preis der Besten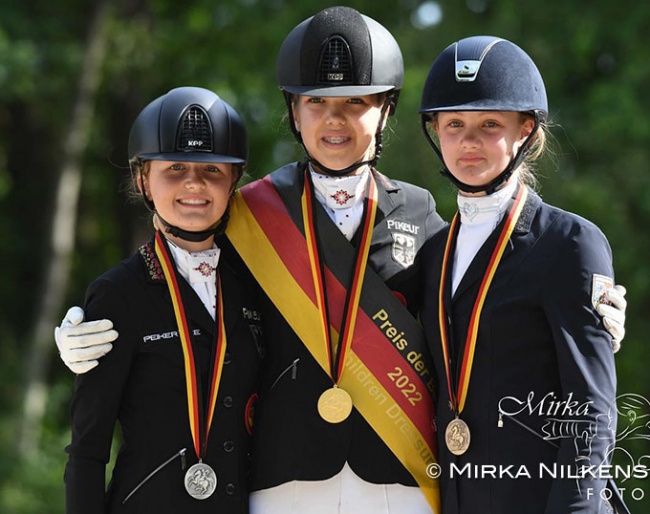 Children rider Martha Raupach, pony rider Julie Schmitz-Heinen, junior rider Allegra Schmitz-Morkramer, and young rider Lucie-Anouk Baumgurtel became the winners of the 2022 Preis der Besten held in Warendorf on 20 - 22 May 2022. 
The Preis der Besten is the annual spring meeting for German youth riders, where German selectors make their first official observation towards team selection for the summer European youth championships. 
In the children division Martha Raupach was undefeated on the WCYH finalist of 2021, the 7-year old Oldenburg bred Francis Drake (by Franklin x Don Schufro), winning both rounds with 85.025% and 85.338%. Totalling 170.363 points she held an almost 12 point advance to second placed Lotta Plaas aboard her 19-year old Trakehner Balsamico (by Hertug x Anduc), who third in both rounds (79.150% and 78.283% - total: 257.433 points). The third step on the podium was taken by Ava Osing aboard the 11-year old Trahner Hirtenglanz (by All Inclusive x Lord Luciano), although Raupach and her second horse, her 2021 European Championship ride Jack Sparrow  (by Expression x Vivaldi) , had the third highest overall score, but riders are only ranked with one horse. The 11-year old Osing posted 76.450% and 75.352% to finish third with 151.802 points. It is interesting to note that two Trakehners brought their riders on the podium, with the youngest kids in the FEI league; a testimony to their rideability.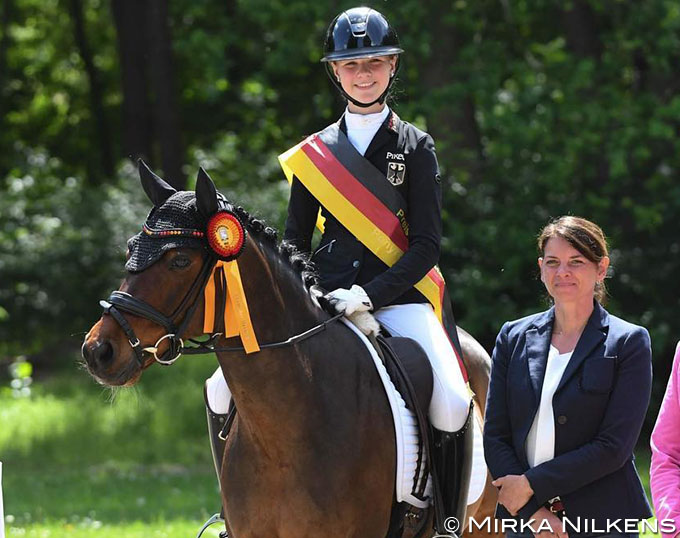 In the pony division, last year's Preis der Besten winner and European Pony Champion Rose Oatley was absent this year with Daddy Moon, so there was plenty of room for Julie Schmitz-Heinen to pilot her 12-year old Carleo Go (by Constantin x Weltmeyer) to victory after two winning tests with 76.590% and 76.805%. After scoring bronze at the 2022 Preis der Besten, this year it was gold with 153.395 points in total. Carolina Miesner and her 10-year old Novellini (by Nancho's Noble Classic x Don't Worry Junior) were the runners-up after placing second in round 1 (74.333%) and third in round 2 (73.561%). They totalled 147.894 points. Georgina Kraft and her 9-year old TI Daily Challenge (by Dressmann x Kaiserwalzer) landed bronze after fifth place with 72.744% and a second place with 73.683%. 
"It's a big honour to start in the Preis der Besten and then to also win it," said Julie Schmitz-Heinen. "We worked on the fine-tuning and improved what last year didn't work so well. It paid off."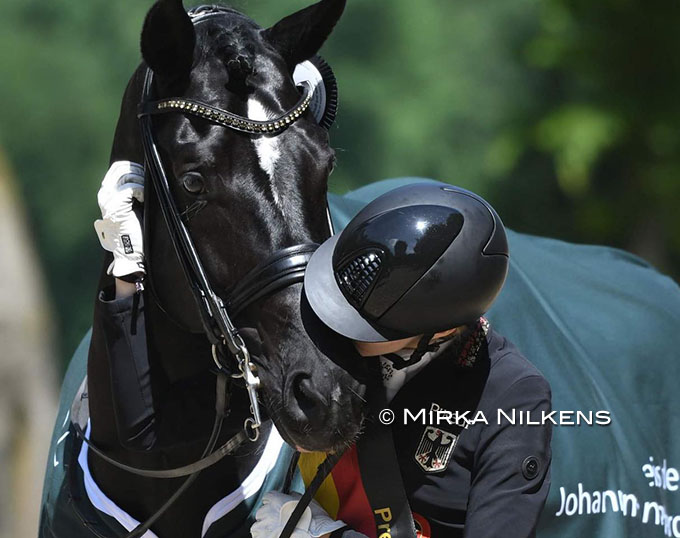 In the junior division Allegra Schmitz-Morkramer and the former licensed stallion Libertad (by Londontime x San Remo) were unbeatable with 156.728 points. Allegra and Libertad scored a double win in Warendorf with 77.649% and 79.079%. Lana-Pinou Baumgurtel and the 8-year old Westfalian mare Emma (by Escolar x Laurentianer) solidly rode to silver with two second places: 75.324% and 77.632%. Pinou was also third in the ranking with her second horse Founder (by Foundation x Sarkozy), but the actual podium place went to Carolina Miesner, who is moonlighting in the junior division with Exclusiv (by Edward x Wolkenstein II). They posted 72.297% (4th) and 73.763% (6th) to land on the third step of the podium with 146.060 points. 
"It was overwhelming to compete here in the Preis der Besten and the victory totally unexpected," said Allegra Schmitz-Morkramer, who also won the preis der besten qualifier in Hagen a month ago. "I've only been riding Libertad for a year. We gelled well and i'm in awe of him. He is in fact a very shy horse, but in the arena he beams. An absolute dream horse."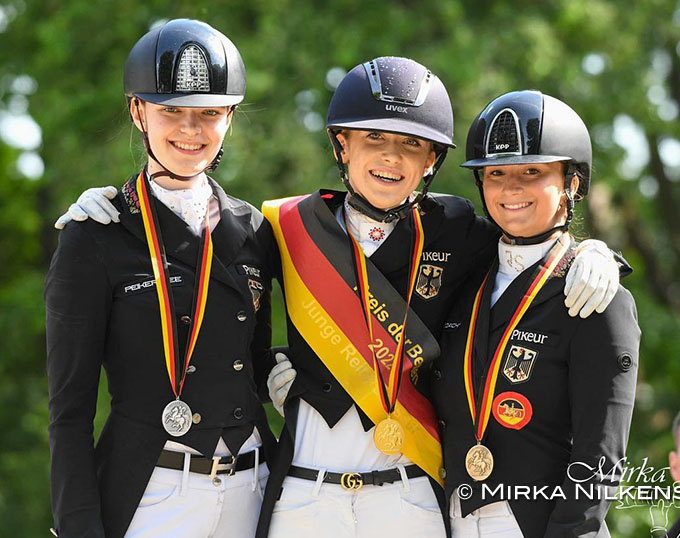 German team trainer Hans-Heinrich Meyer zu Strohen praised the riding of the juniors in the official press release: "There was excellent riding. A few pairs were really phenomenal. We had a very good feeling and also in the warm-up phase in the warm-up ring, which the pairs took into the test. I dearly wish that this riding will carry on into the 2022 season."  It has been reported that one junior pair was told by the stewards in the warm-up and told to turn it down a notch. 
In the young riders division, the 2021 European Junior Champion Lucie-Anouk Baumgurtel was no match to her rivals and topped the board and ranking with 154.237%. Riding the 10-year old KWPN bred Hugo (by Spielberg x San Remo), Baumgurtel scored 77.026% and 77.211% for the title. Helena Schmitz-Morkramer and the 12 -year old German Sport Horse bred Lifestyle (by Lord Fantastic x Samba Hit) finished on the silver step of the podium after being the runner-up twice with 74.842% and 75.237% (150.079 points). Jana Schrödter, who was the 2020 European Junior Rider Champion, finally found connection with the top in the German young rider division on Der Erbe OLD (by Dimaggio x De NIro) and placed third with 147.157 points. They received 73.789 (3rd) and 73.368% (3rd) from the judges over the weekend. 
Photos © Mirka Nilkens
Related Links
Scores: 2022 Preis der Besten
Combinations Announced for 2022 Preis der Besten
Previous Winners
Oatley, Paschertz, Baumgürtel, Collin Win 2021 Preis der Besten
Busch-Kuffner, Schmitz-Morkramer, Pistner, Rothenberger Win 2019 Preis der Besten
Baumgurtel, Schwierking, Erbe, Rothenberger Win 2018 Preis der Besten
Baumgurtel, Horstmann, Becks Win 2017 Preis der Besten
Schuster, Rothenberger, Becks Win 2016 Preis der Besten
Rothenberger and Becks Win 2015 Preis der Besten
Rothenberger, Abbelen, Rothenberger Win 2014 Preis der Besten
Photo Report: Rothenberger, Von Danwitz, Niemann Win 2013 Preis der Besten Title
Rothenberger, Niemann, Schurmann Win 2012 Preis der Besten
Linnemann, Schutte, Luttgen Win 2011 Preis der Besten
Photo Report: Krieg, de Ridder and Lutkemeier 2010 Preis der Besten Champions
Rothenberger Kids and Sieber Win 2009 Preis der Besten
Photo Report: 2008 Preis der Besten
Photo Report: 2007 Preis der Besten
Photo Report: 2006 Preis der Besten
Scores: 2004 Preis der Besten
Scores: 2003 Preis der Besten
Scores 2002 Preis der Besten
Torloxten and Giesen In the Picture at 2001 Preis der Besten
Scores: 2000 Preis der Besten
Kroncke, Kroncke and Maiwurm Win 1999 Preis der Besten