2022 CDI Hamburg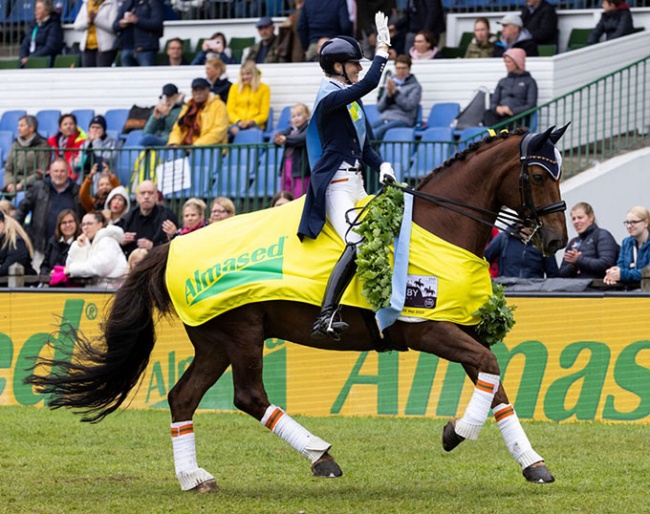 After a two-year corona break, the legendary Hamburg Dressage Derby was back on the schedule for 27 - 29 May and was won by a repeat winner, Kathleen Kröncke (née Keller).  The show dealt with some rainy weather throughout weekend but that didn't prevent the crowds from coming in droves to this historic horse show.
Originally from the hamburg area, Kathleen Keller - daughter of German professional and former Derby winner Dolf-Dietram Keller - has established a new life for herself in the U.K. after she married Nicolas Kröncke. Keller disappeared from social media and retreated into the Cotswolds where she is based at Charlotte Dunkerton's Cotswold Equestrian Club and trains with Spencer Wilton. Husband Nicolas rides in his leisure time as he's a commodities analyst and investment banker for Elliot Advisors in London.
Second Derby Title in 11 Years
Kathleen's return to Hamburg was just a brief family holiday, mixing business with pleasure, and she achieved an impressive feat, beating two established professionals - Frederic Wandres and Hendrik Lochthowe - along the say. 
The Hamburg Dressage derby is decided by a horse change finals and each rider competes in three short grand Prix tests on each other's horses. The 32-year old Kathleen reigned supreme with the highest total after three rides (206.833 points), scoring the highest marks not on her own horse Hampton Court (by Hochadel x Walt Disney - 68.300%) but on Lochthowe's Bricco Barone (by Bertoli W x Blue Hors Cavan - 72.200%). With Wandres' young Grand Prix horse Dom Perignon (by  Dimaggio x De Niro) she posted 68.300%
"I truly did not expect this," said a beaming Kröncke who won her first Derby title in 2011 as youngest rider ever. "Freddie and Hendrik are such good riders. It's unbelievable; their horses were so nice to ride and made it very easy for me."
Ladies First
Frederic Wandres, the Derby winner of 2019, was well on his way to capture his second title after posting 71.700% on Bricco Barone and 71.000% on his own Dom Perignon, but Kathleen's Hampton Court proved to be a challenge as he did not want to piaffe and there were mistakes in the tempi changes ( 61.633%). He scored a total of 205.033 points.
Hendrik Lochthowe landed third place with 203.866 points, after riding the high score of the day on his own Bricco Barone (72.500%) and 64.833% on Wandres' Dom Perignon. Also Hampton court was not the easiest for him in the piaffe, but he piloted the liver chestnut through the test and got 66.533%. 
When asked if he was disappointed to finish third, Lochthowe replied he was proud of his horse. "He showed with both riders how well he is to ride and he was very motivated this weekend and prepared to perfection," said Hendrik. "I'm very proud that both got along with him so well."
Related Links
Scores: 2022 CDI Hamburg
Frederic Wandres Wins the 2019 Hamburg Dressage Derby
Emma Kanerva Wins 2018 Hamburg Dressage Derby
Emile Faurie Wins 2017 Hamburg Dressage Derby
Borja Carrascosa Wins 2016 Hamburg Dressage Derby
Anabel Balkenhol Wins the 2015 Hamburg Dressage Derby
2014 Hamburg Dressage Derby: a Scandinavian Show Down
Fabienne Lutkemeier Wins the 2013 Hamburg Dressage Derby
Scores: 2011 CDI Hamburg
Scores: 2008 CDN Hamburg
Scores: 2007 CDN Hamburg
Scores: 2006 CDN Hamburg
Scores: 2005 CDN Hamburg
Scores: 2004 CDN Hamburg
Scores: 2003 CDN Hamburg
Scores: 2000 CDI Hamburg